Everywhere you look, golf equipment and devices offer various guarantees that aim to help you to improve your golf game. Lower scores, straight drives, and 50-foot lag putts are just some of the advertised promises that these devices give you.
While none of these devices will help you to straighten your tee shot, they are still incredibly useful in other aspects of the sport, and a necessity for those who take golf seriously.
In its most simple terms, a rangefinder identifies how far away the target is, which in turn helps you to decide what club to use and how much power to use in the swing.
After all, how can you hit a target if you have no idea how far away it is? To help you find the best rangefinder for your needs, we have reviewed several different ones ranging in price and features available.
If this is your first time purchasing a golf rangefinder, we've provided a detailed buyer's guide below.
If you already own one and are contemplating upgrading or replacing it, you are well aware that rangefinders are a game-changer that will surely help you score.
Here are the best rangefinders that you can buy right now. 
Our Top Pick
Some of the links on this website are affiliate links. This means that, at zero cost to you, we may earn an affiliate commission if you click through the link and finalize a purchase.
Editors Choice
Some of the links on this website are affiliate links. This means that, at zero cost to you, we may earn an affiliate commission if you click through the link and finalize a purchase.
01/27/2023 12:49 pm GMT
Best Value
Some of the links on this website are affiliate links. This means that, at zero cost to you, we may earn an affiliate commission if you click through the link and finalize a purchase.
01/27/2023 11:46 am GMT
---
Distance measuring devices have become a vital part of the contemporary golf game.
The market has become flooded with GPS watches, GPS displays on golf carts, and rangefinders which have all become indispensable pieces of equipment for the majority of golfers.
Bushnell has long been the market leader in the rangefinder industry, producing rangefinders, binoculars, scopes, and a number of other products for the wildlife, hunting, and golf sectors.
Bushell's most popular products though have always been their rangefinders. While not every Bushnell model is outstanding, the Bushnell Pro X2 is another top-of-the-line product from the industry's leaders.
Bushnell's Pro X2 is another example of cutting-edge technology combined with exceptional durability, use, and aesthetics.
This is why Bushnell rangefinders routinely rank first in many lists about golf equipment.
Is this to say you should hurry out and get their most recent model? Most certainly not. Conducting research before purchasing is always the best strategy for avoiding buyer's remorse.
Here is everything you need to know about the Pro X2
Key Features
Pinseeker with JOLT: When the rangefinder detects a flag, the user is notified by a vibration (jolt). This is beneficial when shooting at a flag that is concealed behind shrubs or vegetation since it prevents you from picking the incorrect club due to you now having an accurate measurement
Slope Switch technology: To maintain compliance in tournaments, this enables you to toggle the slope on and off. While rangefinders are now allowed to be in competition (subject to local officials' approval), some features, such as slope compensation features are not. By turning this off, you are able to use the other features of the device when you play in competitions.
Slope compensation technology: The equipment adjusts the reading to account for the incline/decline of the hole. Without the modifications, your uphill shots would be too short and your downhill shots would be too long.
Bushnell's Dual Display Technology (DDT): This includes a color toggle into the display, enabling you to vary the contrast between the crosshairs, numbers, and your target, making it easier to see the readings
Pinseeker JOLT
Without indication letting you know that you have latched onto the pin, it is easy to aim and shoot at the incorrect target.
At times, the woods behind a green can be close enough to trick you into believing you're on target while remaining far enough away to trick you to pick the incorrect club.
Pinseeker JOLT Technology delivers a small vibration when the rangefinder properly finds the pin while shooting at it.
This method ensures that the user has the proper distance to the pin and has not unintentionally acquired the distance to a tree 30 yards behind the green.
This is now a standard feature on Bushnell models, having been featured on the prior four or five.
Slope Switch Technology
When rangefinders originally became available, the bulk of rangefinders did not have slope correction.
As the technology evolved, models with slope compensation were available, although versions with switchable modes were not accessible until later.
Bushnell introduced a variation roughly three years ago that allowed users to switch out an attachment on the front of the rangefinder to enable or disable slope correcting technology.
Slope Compensation Technology
While the ability to compute undulation may seem insignificant to some players, if your home course is located on the side of a mountain, having a rangefinder equipped with slope correction technology may be extremely useful.
Professional players and amateurs playing in USGA and major amateur events also benefit from slope adjustment technology.
Golfers can make exact notes in their yardage books for use during competitions by using these slope-calculating rangefinders during practice rounds.
Dual Display Technology (DDT)
With a single press of the Mode button, the user may shift between a blazing red vivid display and a clear black display.
This is a fantastic feature since it enables users to adjust the display color to the one that is most visible in changing lighting circumstances.
Usability
Switching between the two modes is now as simple as flicking a switch, making it a very quick and user-friendly process.
The two separate display color options allow for excellent visibility in a range of lighting settings. With the flick of a switch, slope switch technology is accessible with no attachments are required, boosting the user experience.
Accuracy
You'd expect one of the best golf rangefinders to be incredibly accurate, and the X2 exceeds that expectation with a range of 5 – 1300 yards and up to 1/2 yards per yard accuracy.
Pinseeker JOLT technology indicates to users that they shot the pin properly, creating confidence in their chosen distance.
The availability of slope adjustment technology adds another level of precision to the distance measurement procedure.
Quality
The metal body and extra weight of the X2 emphasize the sensation that you are holding something of great quality and give the player confidence in the X2's quickness and precision.
Price
While the Pro X2 is expensive as it usually costs around $450, it is a gadget that can be used for a lengthy amount of time. Bushnell offers a trade-up program that enables users to turn in older gadgets for newer models.
Also, the Pro X2 is backed by a two-year warranty from the date of purchase, so even if this very durable device does break, you will be able to get a replacement or maybe even a refund.
Summary
Bushnell's Pro X2 golf rangefinder is the company's best to date. It's a well-designed rangefinder with all the high-end features you'd expect at this pricing point.
Our Top Pick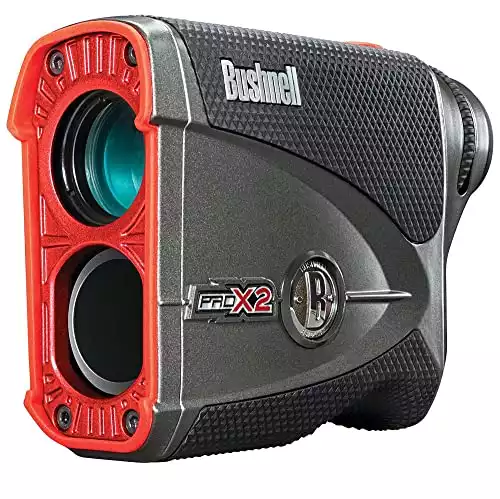 Bushnell Pro X2 Golf Laser Rangefinder
All of Bushnell Golf's industry-leading laser rangefinder innovations are packed into the Pro X2.
Tour-trusted Slope-Switch Technology engages Bushnell Golf's patented Slope Technology to give the golfer compensated distance based the hole's incline/decline - and turns off for a USGA-conforming device when needed.
There's PinSeeker with JOLT Technology to eliminate any doubt that you have locked onto the flag. All of it is wrapped in fully-waterproof metal housing to give the golfer the ultimate golf laser rangefinder.
Some of the links on this website are affiliate links. This means that, at zero cost to you, we may earn an affiliate commission if you click through the link and finalize a purchase.
The Pro X2 rangefinder is exceptionally user-friendly; its ergonomic design gives a firm grip, the rubber casing protects against falls and bumps, and the rangefinder is waterproof, allowing it to be used in all weather conditions.
It's rugged, with a rubber-coated aluminum case, and its waterproofing ensures optimum durability in the event of a spill or a sudden downpour.
The slope switch technology provides additional freedom for golf competitors.
Slope compensation can be used in practice rounds and then converted to lawful use in tournaments that permit the use of distance measuring devices with the click of a button.
In summary, the Pro X2 is precise, packed with technology, convenient to tote in your golf bag, and a long-lasting gadget. It is one of the best rangefinders that you can buy. 
Nikon has seen considerable success in the optical industry as a whole, so it's unsurprising that they also produce a competent rangefinder.
Nikon's Coolshot Pro is a fashionable, small device that costs about the same as the Bushnell X2. Additionally, the device's characteristics set it apart from nearly every other rangefinder on the market.
This tournament-legal tracker has enough appealing new features to nearly guarantee that your playing partners will be clamoring with you to give it a try. Read on for our Nikon Coolshot Pro review!
Key Features
Stabilize
Stability is critical while using this rangefinder. The "Stabilize" technology utilized in this device is specifically designed to safeguard both your site line and the laser beam that shoots out and acquires the reading.
This may sound unnecessary, but it is really valuable since it protects against the most unpredictable feature of any range finder: the user.
A lot of times, inaccurate readings gained from a rangefinder are not due to the device itself, but because of user error. Even the smallest shake of the hand can lead to inaccurate measurements.
When using a typical rangefinder, several readings may be required to determine if you have an accurate reading. Even then, much of the time, it is a question of guesswork.
Essentially, this gadget's stabilized technology protects it from tremors or shakiness generated by the user's hand.
While this is not a complete course correction, it should result in an increase in accuracy of about 20%. Naturally, when taking a reading to aid you in selecting a club or how much power you should have in your swing, this is a significant amount.
Locked On
The "Locked On" feature works nicely in tandem with the stabilizing technology. The majority of rangefinders show that they are locked on after receiving a read, suggesting that you have got your final number. The trouble is that there are times when you are unsure of what you have locked on to. Maybe the device has locked onto the green. Perhaps it tree is concealed behind the green.
Given the possibility that the proper number may be the difference between a birdie and a double bogey, you'll surely want to know what exactly it is that you are aiming at.
Nikon's "Locked On" feature assists in resolving this issue by bracketing the target subject with a green circle, indicating that you are locked onto the pin.
Waterproof/Fog-Resistant
If you're the type of golfer that won't let the weather prevent you from playing a round with your friends, then you're going to want a rangefinder that's as tough in all conditions.
While not all rangefinders will be able to perform in rain, sleet, or foggy conditions, the Nikon, on the other hand, will be fairly durable.
The rangefinder is protected from the elements by a waterproof, fog-proof casing. And, given the rangefinder's price, you'll be relieved to have that added layer of protection.
Slope Technology
For golfers who play on steep courses, slope reading technology will be incredibly useful.
Any annoying downhill holes, as well as steep uphill ones, will become far easier to manage once you understand how much slope you have to contend with.
This feature will almost definitely help you to shave off some points.
Can It Be Used In Tournaments?
The Nikon Coolshoot Pro is equipped with slope reading technology. While having this item on hand is useful for practice rounds and ordinary weekend games, it is also not authorized in competitive play with the slope feature active.
When the slope reading feature is deactivated, a light on the side of the device comes on, indicating that this feature has been disabled. This is pretty useful as it shows your fellow competitors that you are not cheating.
This is a wonderful feature since it practically provides you with the best of both worlds, and means that you do not have to buy a separate device for tournament play.
Are There Any Downsides?
It is fair to say that nothing is perfect, and that is true for the Coolshot Pro.
While it is an excellent device, there are a few tiny aspects that are just a bit annoying. These don't really affect gameplay but rather usability.
These are issues that you may be able to handle, but it is worth a mention.
The Case
Like almost all rangefinders these days, the Coolshot Pro comes with a case. The problem is that the case for this device is rather flimsy.
Considering the price of this device, you will want it to have the best protection possible, which this case simply does not provide.
Considering that even low-cost rangefinders come with a full-body zip case, it is just a bit annoying that Nikon has not added one of these.
The Cost
The cost of cutting-edge technology is excessively high. The Coolshot Pro Stabilized has a suggested retail price of around $450.
This is not a cheap item – but nothing worthwhile is these days. You're paying a premium for innovative features – better usability through stabilization, an exceptionally clear lens from a leading camera manufacturer, a quick target pick-up, and a respected brand name.
If you can handle the high price, it is worth the purchase.
How Does It Compare To Other Rangefinders?
Perhaps the closest and most comparable rival to this technology is the Bushnell X2. Both devices give you a significant amount of information, have similar features, and cost roughly the same. Each has a durable shell, switchable slope technology, and a high level of precision.
What actually distinguishes them is the stabilizing function seen in the Coolshot Pro, particularly when combined with the locking brackets.
While these features may seem unnecessary, they add to Nikon's competitive user-friendliness and accuracy. Both of these characteristics make this rangefinder a more attractive option.
Summary
The Nikon is identical in many ways to the Bushnell X2's technology, yet it edges ahead due to a few key pieces of technology.
For instance, the "Locked On"/"Stabilize" capabilities are a straightforward yet valuable addition that the majority of users will enjoy.Is this a product that fits your needs?
If you're in the market for a high-end rangefinder, your options are simply this or the Bushnell X2.
The X2 boasts an enhanced shell, a durable aluminum body with good weight distribution, and the Bushnell suite of standard features.
However, with the Coolshot Pro, you get the related steadiness and reduced time required to acquire a target. It's a difficult choice, and you will have to think carefully about which features you want to prioritize. 
Bushnell developed several enhancements in response to another product, the Tour V3's immense success, including a 30% decrease in size.
Additionally, they improved the speed and slope adjustment systems for the pin seeker. Do not be deceived by its small size; this is a very rugged, high-quality laser rangefinder that you will love to use.
What's In The Box?
When you buy this new and improved device, you will find several added extras in the box. Here is everything you get:
The rangefinder
A sturdy case that can be clipped to your golf bag
Silicone cover for added protection
A cloth to clean the lense
Key Features
Rangefinder With Slope
A traditional rangefinder without slope thinks you're shooting at a target parallel to your position, not uphill or downhill.
The difficulty is that an uphill shot will fly farther than one aimed at a level target since the ball will have less time to travel to the target before colliding with the ground.
For uphill and downhill shots, the Slope feature determines the real distance to your target. You won't have to use any guesswork when determining the slope thanks to this handy feature.
The Tour V4 Shift introduces a revolutionary new of activating and deactivating slope compensation.
The Bushnell Tour X and Leupold GX4i2 laser rangefinders both included brightly colored faceplates that could be removed to disable the slope feature.
This enables tour officials to identify whether a player is using their slope-enabled rangefinder inappropriately.
The difficulty is that you are working with two distinct components. Although the faceplate may be carried in a bag, it is also prone to be misplaced.
The Tour V4 removed the slope toggle in favor of a side button that, when triggered, shows the words "Slope Edition."
This gives you the same effect of identifying that your slope compensation is turned off, but now you don't have to carry around two separate pieces of the device.
Pinseeker
Bushnell's Pinseeker technology aids in finding the flag in a busy environment, such as a location surrounded by trees.
When the unit identifies a large number of potential targets inside the crosshair zone, a ringed flag icon is displayed in the bottom left corner.
When this indicator displays, the distance reading is for the item that is closest to the camera. The Pinseeker also uses Bushnell's JOLT technology, so when the device has locked on to the flag you will feel a small vibration to indicate this.
Battery Life
A CR-2 lithium-ion battery powers the Bushnell Tour V4. While several early rangefinders had worries about battery life, the V4 has been reported to endure over 40 rounds.
The viewfinder screen will indicate "loB" when the battery is low. The handbook recommends replacing the battery once every 12 months, though in case of emergency you may want to carry a spare in your bag.
Other Key Features
This device is jam-packed with things that will improve your game.
Fast focus system
Ranges 5-1000 yards, with 400+ yards to the flag
Accurate down to 1 yard
Stable-grip technology to keep your hand steady and prevent you from dropping it
5X magnification
2-year warranty
Is It Tournament Legal?
The Tour V4 is tournament legal thanks to the slope shift feature, which enables you to turn off the slope feature easily. Just remember to turn off this feature before every competition.
How To Use It
The Tour V4 is quite simple to operate. To turn it on, just press the power/fire button. After that, point at your target and press and hold the main button until the lens displays the distance reading.
The gadget will automatically shut off after 30 seconds of inactivity. If you have problems locking in on the target after ten seconds, simply release the button and try again.
Is It Worth The Cost?
When first released, the Tour V4 cost around $400. However, since then prices have dropped to around $300, which is much more affordable. This is because Bushnell keeps releasing updated models and lowering the pieces of the older ones.
Considering all of the features in this device, the successful products from this line, and Bushnell's own great reputation, this device is very good value for money.
If you're looking for outstanding value at a reasonable price, this is the perfect device for you.
What's Good About This Device?
There are many advantages when it comes to the Tour V4. These are just some of them.
Water-resistant – if you are suddenly caught in some rain, this device won't be damaged by the water
Super compact – this device is so small it can fit in your pocket, and it is comfortable to hold in your hand
Large yard range – this device has a 5-1000 yard range, with a practical range of around 350 yards. You can even still see objects that are around 700 yards away
Pinseeker feature – this makes acquiring your target mich easier
Shoots quickly – there is nothing worse than waiting around when you want to play golf, but with this device, you will only have to wait 10 seconds at most
What's Bad About This Device?
A lot of the negatives of this device come from the fact that newer models of this range just perform better due to how technology has advanced.
These are the worst aspects of the V4, though they probably will not impact your gameplay that much.
Accuracy – on the V4, the accuracy is to 1 yard, while on newer devices they are accurate to 1/2 a yard
Magnification – through the V4 has 5X magnification, newer models have 6-7X
Hard to keep steady – though being small and light is an advantage, this can make it difficult to keep steady with one hand. It might be best to hold this device in both hands when you are taking measurements.
Summary
Best Value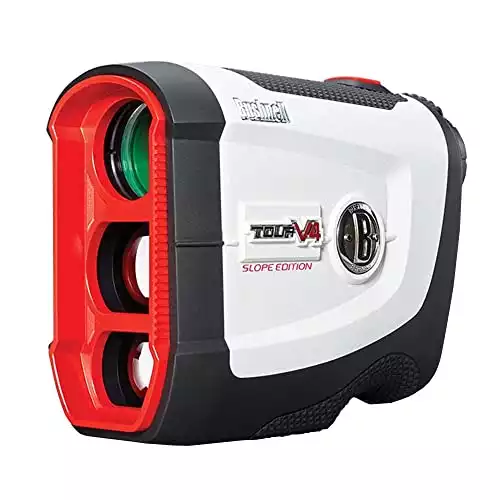 Bushnell Tour V4 Shift (Slope) Golf Laser Rangefinder
The perfect combination of size, speed, accuracy, JOLT and Slope. Slope-Switch Technology lets the golfer easily toggle in and out of Bushnell's patented Slope function.
PinSeeker with JOLT Technology provides the golfer with short vibrating bursts to reinforce the laser has locked onto the flag.
The Tour V4 Shift is legal for tournament play when Slope Mode is disabled.
Some of the links on this website are affiliate links. This means that, at zero cost to you, we may earn an affiliate commission if you click through the link and finalize a purchase.
01/27/2023 11:46 am GMT
The Bushnell Tour V4 is a good pick if you're looking for a high-quality rangefinder from a recognized brand.
It contains various enhancements over the V3 model, most notably the ability to fit comfortably in the palm of your hand and the use of a slope switch rather than a faceplate.
Laser rangefinders are an inexpensive and effective method to enhance your game and boost your confidence on the golf course.
The finest laser rangefinders must provide superior accuracy, battery life, zoom, and the ability to lock onto a target.
Additionally, having a gadget that is lightweight and comfortable to carry is important.
The NX7 laser rangefinder is a newcomer to the market that excels at meeting all of these criteria while being significantly less expensive than the competition.
It's one of the best laser rangefinders that you can get for the price.
NX7 Pro With Slope
Precision Pro now includes slope technology in the NX7 Pro for players seeking a bit more technology in their golf laser rangefinder.
The NX7 Pro distinguishes itself from the previous model, the NX7, by offering yardage to an elevated hole. This is especially beneficial on courses with significant elevation changes or on unknown tracks.
The NX7 pro displays both the precise yardage to the flag pin and the elevation-adjusted yardage when slope technology is activated.
Additionally, the NX7 Pro comes equipped with pulse vibration technology that alerts you when your target has been locked onto.
This is extremely handy for calculating the distance to a target in the presence of background or foreground items such as trees or landscaping. While this feature is not allowed to be used in tournaments, it can easily be switched off so that you can still use this rangefinder in these situations.
Key Features
Easy To Use And Very Accurate
The Precision Pro NX7 is just as precise as the best golf laser rangefinders on the market today. The NX7 Pro is capable of measuring distances down to a tenth of a yard and is accurate to within one yard of any target.
Target Acquisition Technology (TAG)
To lock onto a target with the NX7 Pro, just click the top button to display crosshairs pointing in the direction of the target. Then you repeat this again. The sights will glow until the yardage is identified and displayed.
Although the display is not the best-looking one found on a rangefinder, it does the job well.
Additionally, the NX7 Pro has Target Acquisition Technology (TAG), which prevents the device from picking up on nearby objects when attempting to find a specific target.
This laser rangefinder is capable of detecting targets as far as 400 yards away – a significant distance.
It is, however, only as accurate as the user; if your hand trembles or you are unable to maintain a steady focus on the target, you should laser the flag pin twice to confirm you have hit the appropriate target.
It Is Fast
You may doubt the necessity of fast speeds while utilizing a laser rangefinder, but you don't want to be a slow golfer holding up other teams on the green.
While lasers travel at the speed of light, latching onto the correct target is an entirely different story.
After latching on to a target, the Precision Pro NX7 provides a readout of the distance in less than a second. This prevents you from being the slow person who is always scanning the golf field.
6X Magnification
The NX7 Pro golf laser rangefinder provides a clear image of your target. The rangefinder has a 6x zoom, which is greater than that of some of the other best golf laser rangefinders on the market.
This gives an excellent view of your target from a distance and helps you to more accurately lock the crosshairs on the flag pin or other target.
Multiple Distance Measuring Methods
The Precision Pro NX7 provides seamless switching between distance measurement methods. You're probably used to measuring distances in yards if you reside in the United States.
On the other hand, those of you traveling internationally will almost certainly prefer to estimate distances in meters. You can switch between yards and meters with a simple button click, and all of this is totally tournament legal.
Other Features
There are a few small characteristics worth noticing about this laser rangefinder. At times, the details are just as important as the big picture issues on which we all want to focus.
For example, even if you have the most exact laser rangefinder in the world, if it is powered by $15 batteries that must be replaced every two weeks, the device will be worth far less.
Additionally, it's aggravating when the object feels strange in your hand or breaks easily when dropped. Here are some of the smaller, more basic features of the NX7 Pro that really make a difference when it comes to the quality and usability of this gadget.
Very durable – this device is both water and shock-resistant, so a bit of a splash or a few drops should not damage the rangefinder at all
A good size – this rangefinder is the perfect size to hold comfortably in your hand without it feeling awkward
2-year warranty – if the device does somehow become damaged or breaks, thanks to the warranty you will be able to get a replacement or maybe even a refund
Summary
Runner Up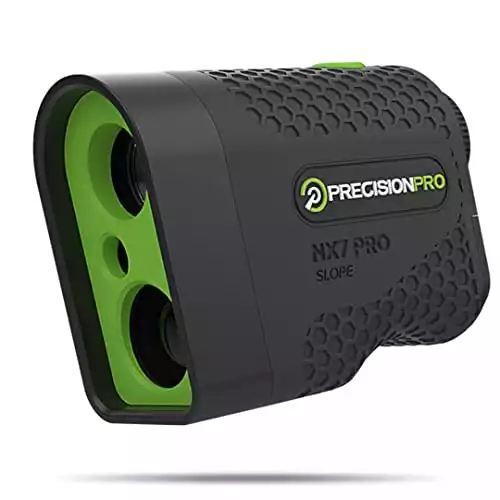 Precision Pro NX7 Golf Rangefinder with Slope
NEW UPDATED DESIGN: The Precision Pro Golf NX7 Pro Slope Golf Range Finder has been re-designed and engineered to provide accurate distances on sloped or flat surfaces. With a faster laser speed, and new ergonomic design, our Pro Slope technology makes it user friendly and helps you select the correct golf club.
ADAPTIVE SLOPE TECHNOLOGY: Our NX7 Pro Slope golf laser rangefinder is infused with Pro Slope technology that provides a "play as" distance to make club selection simple. The slope function can be easily turned off for legal tournament play.
Some of the links on this website are affiliate links. This means that, at zero cost to you, we may earn an affiliate commission if you click through the link and finalize a purchase.
The Precision Pro NX7 golf laser rangefinder comes equipped with everything you need to enhance your game.
At a fraction of the cost of the leading golf laser rangefinders on the market, it easily competes with these other devices. This device has no real downsides but does have several advantages. It is precise, simple to operate, durable, and cost-effective.
This is an excellent entry-level laser rangefinder. It is one of the best laser rangefinders you can buy for this price. 
The VPRO500 rangefinder has a 400-yard range, 6X magnification, and is quite cheap compared to other similar products. This rangefinder weighs around 1lb, which is the standard weight of most rangefinders.
The VPRO feels solid, operates admirably, and is a good entry-level rangefinder for golfers who rely on their eyes or GPS devices for distance measurements.
Who Are TecTecTec?
TecTecTec is not a household name in either the golf or non-golf worlds. There is little public information about the company, and their product line is rather diverse, with golf rangefinders and a GoPro clone (plus a few digital projectors on their Euro website).
While this lack of focus on golf may cause reasonable worries about TecTecTec's capacity to develop a high-quality rangefinder, the business is creating a strong reputation with its VPRO500 rangefinder thanks to its low pricing and great customer support.
As a younger company, it is questionable if TecTecTec will survive in the long run, although early indicators are favorable.
What's In The Box?
When you buy this device, don't expect any fancy added extras because what you get in the box is very simple and basic.
All you get is the device itself, a user manual, and a case. The case is very durable and sturdy looking though, so that's a plus.
Features
The VPRO500 is a compact, lightweight rangefinder that features a 6x magnification, an appropriate pin sensor, and a rugged hard case.
The lens is large and provides a clear view of the thing being measured. While the Pinseeker tool is not perfect, it is more exact than guessing the position using a GPS.
Between shots, it fits easily in your pocket, and its water-resistance allows you to leave it on the damp, early-morning grass while you take your shot if you prefer not to put it back in the case (Of course, the safest choice is to use the case.)
Here are some of the main features of this device:
No slope which makes it tournament legal
A range of up to 450 yards, which is accurate to one yard
6X magnification
Weather-proofed
Pin seeking Technology
1-year warranty
Pros
Pretty cheap – compared to many other rangefinders this is a very cheap device
High magnification – while most rangefinders have 5X magnification, this device has 6X
Very good customer service – this is one of the biggest advantages of TecTecTec in general, as their customer service is known to be incredible
Cons
Accuracy issues – the VPR is not as accurate as rangefinders from other brands such as Bushnell's
New company with little track record – while buying from new companies is not always a bad thing, we do not know how well the business is run or if it will survive in the coming years
Unsure about long-term durability – similar to the above point, as these devices have not been out for very long, we cannot know how long they will last with constant use
Summary
The VPRO500 rangefinder boasts a 6x magnification, a realistic 400-yard range, and exceptionally inexpensive pricing. This gadget weighs considerably more than the Bushnell V3 of comparable size (both still under 1lb).
Runner Up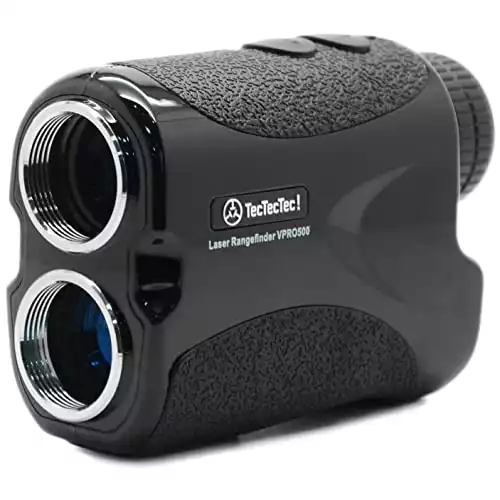 TecTecTec VPRO500 Golf Rangefinder
The VPRO500 delivers fast and extremely accurate measurements right down to the decimal. Target Lock Technology makes it easier to lock onto a target even if your hands are shaky. The VPRO500 is durable and built to last. Its very lightweight at just 6.52 oz and compact at 4.09 x 2.83 x 1.61 inches, ergonomic, and rain resistant. It comes fully equipped with a premium shock-resistant protective case. The case has both a zipper and quick release closures. A long-lasting CR-2 lithium battery is also included along with a wrist strap, microfiber cleaning cloth, and an easy to read manual. The VPRO500 is a reliable choice for any level of golfer.
Pros:
Reasonably affordable price tag

Just as accurate as higher end rangefinders (+/- 1 yard)

Excellent pin seeker and continuous scan modes
Cons:
No GPS functionality

The battery is not rechargeable

No slope or elevation compensation
Some of the links on this website are affiliate links. This means that, at zero cost to you, we may earn an affiliate commission if you click through the link and finalize a purchase.
01/27/2023 11:14 pm GMT
While certain specs of this item exceed those of the V3 (magnification, comparable range, and accuracy), this item appears to have a few more reported defects.
Bear in mind that TecTecTec offers a one-year warranty, ensuring that you are protected. The VPRO feels solid, operates admirably, and is a good entry-level rangefinder for golfers who rely on their eyes or GPS devices for distance measurements.
---
Best Golf Rangefinder Buying Guide
Here are all the essential features you need to look out for when buying a rangefinder
Laser Or GPS Rangefinder?
All rangefinders fall into one of two categories – laser and GPS (though sometimes you may find hybrid models).
With a laser rangefinder, you may aim directly at a target and acquire an exact distance measurement to the nearest few yards.
The margin of error associated with new rangefinder technology is so minimal that it is far smaller than your shotmaking margin of error.
This indicates that using a laser rangefinder will always be far more accurate than your own guesswork.
GPS rangefinders calculate your distance to a series of predefined targets – often the front, center, and back of the green – while some also include distances to nearby hazards like as sand traps or water hazards.
Accuracy
A rangefinder is worthless if the data it produces is wrong. This is the most critical requirement. Fortunately, practically every rangefinder on the market now is more accurate than golfers themselves.
Often these devices are accurate down to 1 yard, while the more expensive models are accurate down to 1/2 a yard.
Range
How far is it capable of reliably shooting? While you may want to buy a rangefinder with the largest range possible, you also need to make sure that the magnification is up to scratch to make this work.
Greater magnification is necessary to shoot at that range, which makes smaller distances look uncomfortably close-up. Even if you are a champion of the Long Drive, a practical range of 400 yards is standard on most devices.
Magnification
A lengthy range is irrelevant if you are unable to view the target from your current position. When buying a rangefinder, make sure that the magnification is enough for viewing distant targets.
In most cases, rangefinders come with 5X magnification, though for more feature heavy models, this could rise to 6X or even 7X.
Ease Of Use
Any piece of electronics, including rangefinders, will require some time to master. Luckily, almost all rangefinders are super easy to master as they only have a few buttons on them, with some only having one.
The more important thing you have to consider is if you can take the item easily from your bag/pocket/case and quickly find the target before shooting.
With often a time delay of less than a second between pressing the button and obtaining a readout, it doesn't get much easier than that.
Price
Typically, rangefinders cost between $140 and $400, with most costing around $250.
While the $150 rangefinders are extremely durable and functional, the more expensive versions give brand/quality assurance while also providing some useful additional features such as slope computation, pin-seeking technology, and extended warranties.
As with any piece of technology, you get what you pay for, so sometimes it may be worth considering a more expensive model if it has the features that you want.
Speed
How quickly does the rangefinder deliver distance data? You should be able to shoot these devices in a matter of seconds and instantly acquire a readout.
Because the laser travels at the speed of light (from the target and bouncing back to you), the remaining time is spent completing computations.
Because speeds are extremely fast across all major models, any criticisms are likely to be about the convenience of use rather than processing performance.
Battery Durability
Will the battery die in the middle of a very long round? Most rangefinder batteries will last you the bulk of the golf season, if not the entire season, with some being advertised at lasting up to 40 rounds.
If you are worried about the battery dying midway through a game, perhaps take some spares with you to the course just in case.
Waterproofing
Is the rangefinder capable of surviving an unexpected downpour? What if you drop it from your cart and it falls into a puddle?
Water is an enemy of all electrical devices because it corrodes the metal components contained inside them.
Although the mix of plastic and rubber used to create rangefinder shells has improved greatly over the years, making them more resistant to water damage, if you often play in rainy conditions, you'll want a waterproof rangefinder.
There is a difference between 'waterproofed' and 'water-resistant' with the first being better at protecting the device from water damage than the second. This is just something to keep in mind when you are looking at various rangefinders.
Durability
What happens if you drop it or if it falls from your cart as you drive around the course? Durable design ensures that your device will survive any accidental drops or fumble with no damage done.
Case/Storage
Improved casing helps protect your device while also making it more accessible on the course. What is frequently an afterthought can have a huge impact on your choice.
Pin Seeking Technology
Laser golf rangefinders can be challenging to use on far targets or when the colors of the backdrop do not contrast adequately with the flagstick.
Even with normal unstable human hands, shooting a flag from 200 yards or more can be more difficult than shooting the forests behind it.
To compensate, manufacturers developed a technique that relies on voodoo magic to more easily lock onto the pin (pins now have reflectors that make it easier to pick up).
Bushnell calls theirs the PinSeeker, whereas Leupold calls it the Pinhunter – you get the idea.
Calculation Of The Slope
Is your shot ascending or descending? Certain models' slope adjustment capability will correct for this automatically.
Looks
While functionality always takes precedence over aesthetics, a rangefinder that you feel looks better should win a tiebreaker.
Conclusion
Rangefinders have the capacity to help you improve your shotmaking and overall approach on the course.
Additionally, they contribute greatly to your practice sessions' improvement of your estimation abilities.
Golf rangefinders are a very worthwhile purchase that both beginners and pros will benefit from.