You know what? When I go golfing, I like to walk around rather than use the golf cart. It's about the sun on your face and the light breeze on your skin.
And if you're anything like me, you're gonna want to invest in a push cart that's durable, sturdy, and easy to maneuver on the golf course.
But, golf clubs can be heavy, and when you're handling them you have to be careful not to cause an injury.
So you're going to need a top quality push cart that's truly up to the job.
That's where articles like this one come in. Today, I'm going to give you my honest review on the Clicgear Rovic RV1S Push Cart.
I will kick things off by covering the basics such as its size and weight etc., before going into its maneuverability and stability, and general performance when I brought it onto the course.
Then, I will answer all your most frequently asked questions on the subject, before rounding off with my final thoughts.
Size and Weight
First off, you don't have to worry about whether the push cart is big enough to carry all your golf clubs, seeing as it measures 45 by 31 by 44.5 inches
Thanks to its aluminum frame, the Clicgear Rovic RV1S is quite lightweight, coming in at about 17 pounds.
It's much more lightweight than other push carts on the market, but without being cheaply made.
Wheels & Maneuverability
The Clicgear Rovic RV1S features 3 wheels altogether, including a large 360 degree swiveling wheel, which makes the cart a breeze to maneuver and get into position.
I always found that it rolled around really smoothly, and could easily handle more difficult terrain.
When I tried the cart out for myself, I found that although it was a little tricky to handle when going downhill, the handbrake came in really handy.
Sadly, however, it's not very good on gravel, but I guess that's to be expected, and you can't have everything.
Stability & Durability
To be perfectly honest with you, I was kinda worried that with only three wheels, and one of them a swivel wheel that can turn all the way around, that the push cart wasn't going to be sufficiently stable and secure when at rest…
But, I'm pleased to report that I was pleasantly surprised.
Even when you're on a hill, once you lock the swivel wheel and put the handbrake on, you have absolutely nothing to worry about, and the push cart will remain securely in place right up until you're on the go again.
And with the aluminum frame being so lightweight, I was dubious about the cart's ability to hold all of my clubs.
But I found I was able to hold and carry all of my clubs on it with no problem at all.
On Board Storage
The Clicgear Rovic RV1S is great for on board storage.
There's a place for your scorecard, your snacks, your laser rangefinder, your golf GPS unit, your umbrella, and there's not one but two cup holders.
Folding Down
When you're not using the cart, it folds down incredibly easily for storage in just one click.
And once folded, its dimensions come to a mere 60 by 38 by 33 cm, which is pretty compact if you ask me. Perfect for getting into the trunk of your car.
Accessories
Clicgear also sells a nice range of accessories to go with this push cart. My favorite one is a cart seat, which is perfect when you want to rest up as your opponents take their turn.
Alternatives to the Clicgear Rovic RV1S
In addition to the Rovic RV1S, Clicgear also produced the Rovic RV1C, which has a lot in common with the RV1S, but without a swivel wheel, and with less on-board storage space.
I have tried out both of these, and I would argue that the RV1S is better than the RV1C, because of its superior maneuverability.
Value for Money
When this article was written, the manufacturer was charging $259 for the cart, which admittedly sounds rather expensive.
However, golf is generally an expensive hobby, as many hobbies are. And if you have the budget for such luxury items, then why not go ahead and enjoy them?
There are golf push carts out there that you can pick up for as little as $40, but to be honest, these tend to be pretty rubbish.
And at the other end of the scale, you can expect to pay about $450. So at $259, it's actually pretty much a mid-priced product.
What's being said about it elsewhere on the net?
I'm pleased to report that generally speaking, there's plenty of praise for the Clicgear Rovic RV1S across the net.
For example, although Clicgear allows negative customer reviews on its website, the average customer rating on there was still a full 5 stars out of 5 when this article was written.
Likewise, on Amazon.com, the cart is generally showing an average customer rating of at least 4 and a half stars out of 5, if not a full 5 stars.
On YouTube, the reviews are also very positive, and the cart gets a lot of praise for its easy maneuverability and for being very well-made, sturdy and durable.
---
Summary of Pros and Cons
Our Pick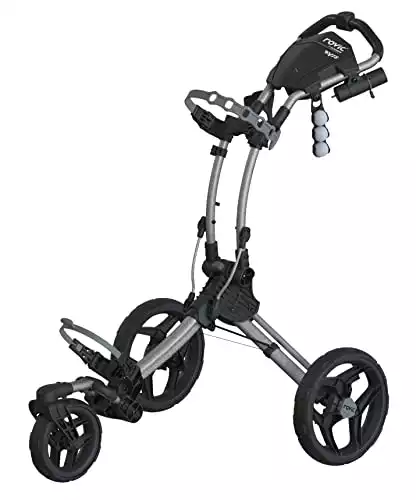 Rovic Clicgear Golf RV1S Swivel 3 Wheel Push Golf Trolley
The new Rovic RV1S is our most compact and versatile three wheel cart in the Rovic range. Easy to fold and a bit lighter than our other carts, it make a great way to start walking when you play golf. Along with a full swivel front wheel, the cart features solid aluminum and new plastic construction like you would expect on a Clicgear cart. It's very easy to drive and the patented folding design, makes for an easy and straight forward fold. The RV1S can also fit a wide range of Clicgear accessories making it a very user friendly and yet still a lower priced option.
Pros:
Very easy to push and maneuver

Made with top quality components

Lightweight to push around

Easily foldable
Cons:
Premium product at a premium price

Not great for pushing over gravel
Some of the links on this website are affiliate links. This means that, at zero cost to you, we may earn an affiliate commission if you click through the link and finalize a purchase.
01/27/2023 09:06 am GMT
Pros
Very easy to push and maneuver, thanks to the swivel wheel
Made with top quality components for sturdiness, reliability and durability
Lightweight to push around, and folds down both easily and compactly
Cons
Premium product at a premium price
Not great for pushing over gravel
It's a little stiff when you first try to fold it down
Some online retailers don't always have it in stock
---
Answers To Your Most Frequently Asked Questions
Is it just for cart bags, or will it work with stand golf bags as well?
The Clicgear Rovic RV1S is also perfectly compatible with stand bags as well as the normal cart bag (which is good to know, seeing as they are more readily available).
---
Wrap Up
I was really pleased with the Clicgear Rovic RV1S overall, and it surpassed my expectations.
Not only was it a breeze to maneuver and push around the golf course, even with all my clubs in there, but the surplus on-board storage came in really handy.
I would 100% recommend it to anyone who has the budget for it, without hesitation.
I think it's way better than a lot of the cheaper alternatives out there.