When playing the game it is important to have the right golf bag. A golf bag is more than just any bag for there are different kinds and they each hold a different responsibility.
In this article, we will be highlighting the different golf bags, their properties and guiding you on choosing the best ones.
---
The Different Type Of Golf Bags
With so many golf clubs to carry, one can only imagine how tall a bag needs to be. But before we look into height itself, we will be analyzing the different type of golf bags both big and small.
It is important for a player to recognize the equipment as well as knowing their options when it comes to luggage.
Stand Bags
A stand bag is a bag which values practically. This bag comes with retractable legs which allow it to stand upright by itself.
This is an ideal item to have to carry your clubs, especially if you are a golfer who prefers to carry their bags. Not only is this easy to use but acts as a helping hand.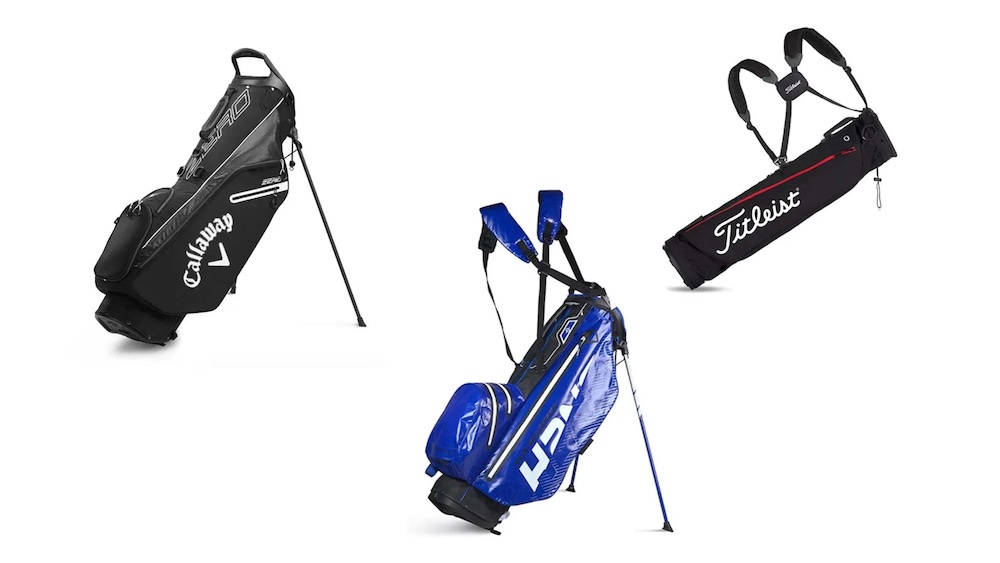 Tour Bag (Staff Bag)
If you are in need of some extra storage space, the tour bag is for you. This bag is well known for its large size making it a well-functioning and practical piece of equipment.
A bag of this tremendous size will allow you to carry your clubs, balls, even clothing. If you are looking for a bag made for life, this is the right choice for you.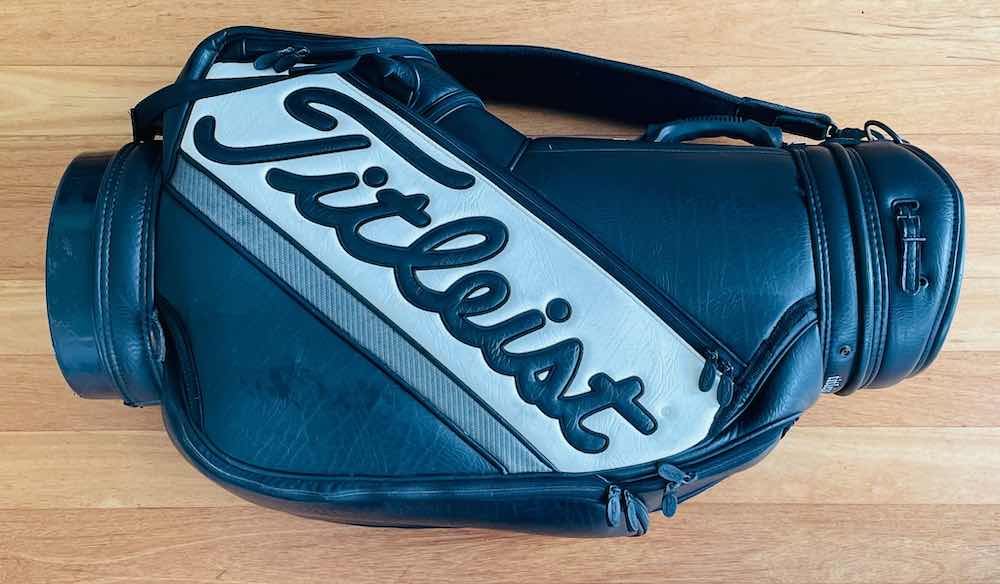 Waterproof Bag
Being a golfer, you may know the struggles of unpredicted rainfall. Although some are blessed to golf in the sun all day long, you may be unlucky enough to live in an area where it is prone to raining.
If this is the case, it is ideal to have a waterproof bag stashed away for safekeeping.
A waterproof bag works to protect your equipment inside as well as being light in weight making it easy enough to carry.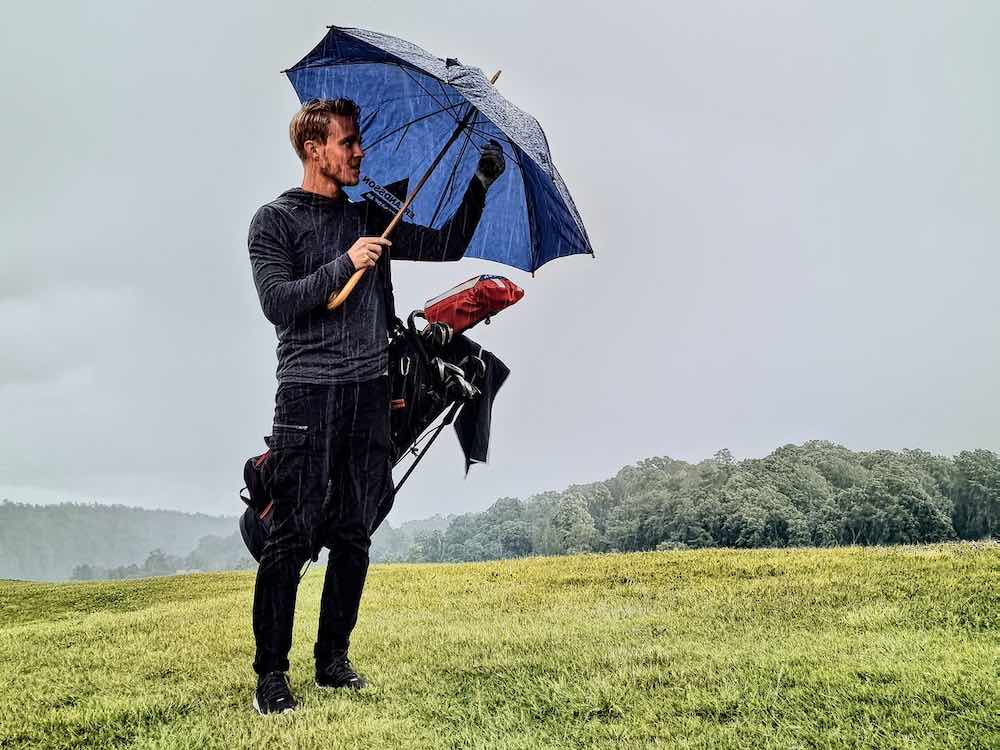 Cart Bag
Cart bags are ideal for those who need that extra helping hand. Propped with wheels, you can now say goodbye to heavy lifting and introduce this bag into your life.
The wheels on the bag allow you to pull your bag along with you and offers easy mobility.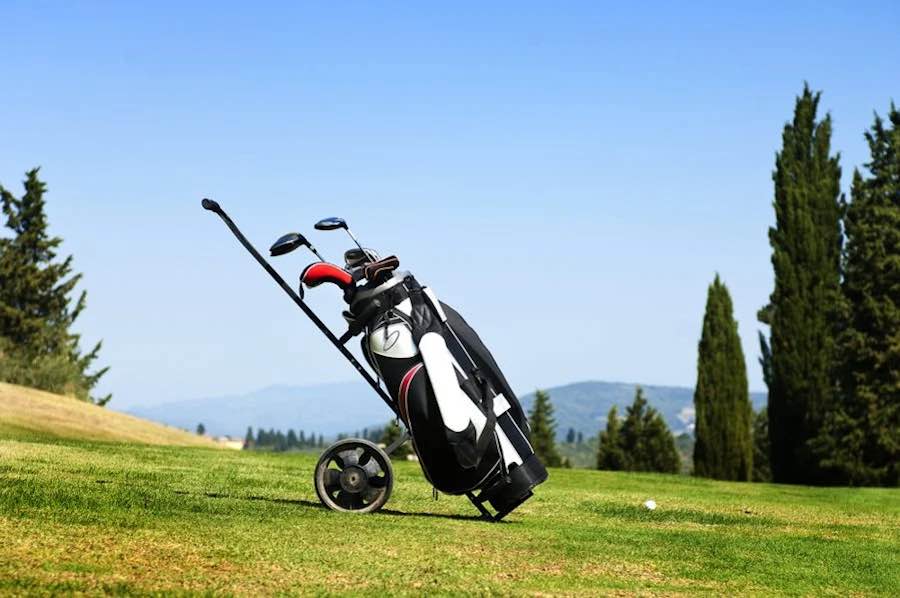 Carry Bag
A carry bag is the perfect choice for those who strive for a sense of independence. With this bag you are in charge of carrying your bag, however it has been made so the bag will not strain the person holding it.
By using materials such as nylon, this eases any stress on a person's back and comes with straps to make the carrying process easier.
It is important to be careful not to overload the bag, however, and know how to manage your weight.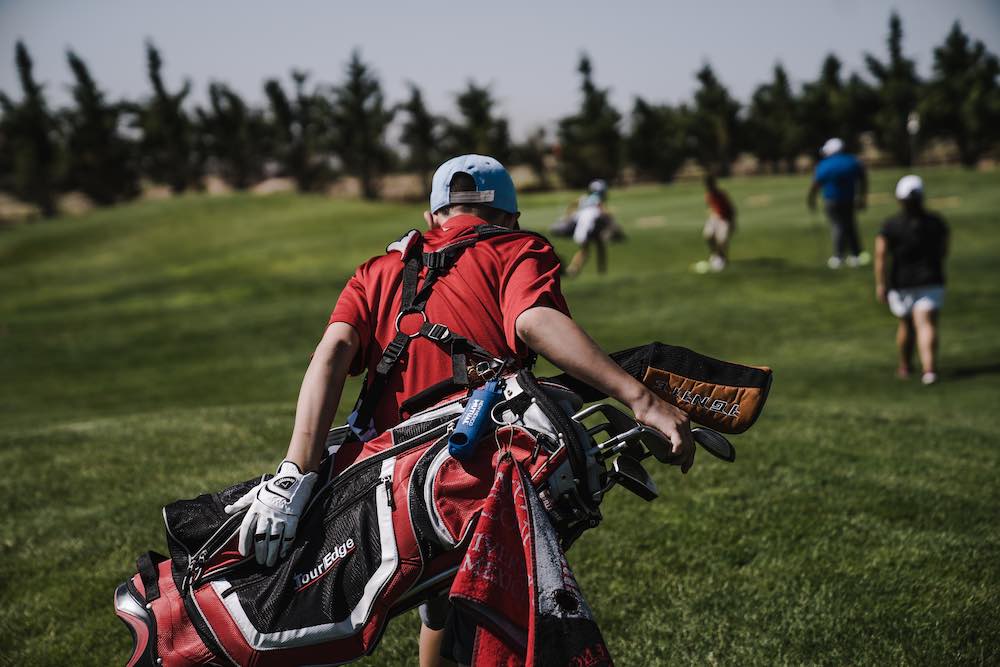 ---
Does Size of Golf Bag Matter?
With so many options of bags to choose from, it is easy to get distracted by a bag's features and forget the importance of its size.
A bag's size is a vital part to the product for it allows you to carry just the right amount of equipment. No one wants to be in a position where they don't have enough room to carry all their golf clubs or their bag is too big for their body.
When it comes to bags, it is important to have sizing in mind. Naturally, depending on the individual the size of the bag can differ, however there is a general size that is the ideal option.
A Bag's Average Size (Height And Weight)
The average height of a golf bag measures up to around 36 inches, however this all changes depending on the clubs you choose to carry. With clubs, you can find your bag measuring up to 50 inches high.
When it comes to weight, it is important to know your limits. It is suggested for a golfer to carry up to 14 clubs at most and this can end up weighing around 30 pounds altogether.
Weight is just as important as height as you want to feel comfortable whilst moving around the course. This can apply to any bag whether you are pulling a cart bag or hauling a carry bag.
Weight is very significant to the flow of the game – the last thing you want is a heavy bag throwing you off course.
---
What To Look For In A Golf Bag
When choosing a golf bag there is plenty to look for. What is great about these bags is that many of them come with features to support the needs of the golfer.
Without these features, using a bag would be a lot more of a challenge. You wouldn't choose to use an ordinary everyday bag, so it is essential to have a bag with the right assets.
Club Dividers
Golf clubs can be an expensive piece of equipment and because of this you want to know that it will last long. That is why club dividers were made.
Club dividers are made to store your golf clubs in the bag whilst preventing them from rubbing against one another using dividers. These dividers are used to protect what is valuable and keep your clubs in the best shape.
The number of dividers with the bag vary, so it is important to do extensive research before choosing the right bag for you.
Hooks And Pockets
It is always handy to have the extra storage space for the smaller products. A bag with additional pockets and hooks works brilliantly to provide extra space, thus allowing comfort and support.
Use the pockets to carry your water bottle or the hooks for your towel. This is a small accessory to the bag but is essential for organization and a clean space.
Strap
One of the most important things for a golfer is for them to feel comfortable. There is a fair amount of walking involved in golf and with this you will be expected to carry your bag wherever you go.
Because of this, you want to be able to have a bag which will guarantee you that comfort. When choosing a bag, always concern yourself with the strap.
Your strap needs to be well padded and able to sit comfortably on your shoulders with no concerns.
Weight
When choosing your bag, it is important to think about what you will be putting inside that bag beforehand.
If you are someone who needs to carry a lot of supplies then it is important to choose a bag which is strong and is appropriately made to carry a heavy load.
Good choices are cart bags for their wheels allow easier mobility and can support larger weights. You can also choose to use a tour bag; these bags are famous for their large size and will be sure to support its contents.
Price
When it comes to purchasing a golf bag you want to buy something that will last. For it to last the bag has to be made with good quality materials, be able to hold heavy equipment, be sturdy and hold features that will benefit you long term.
If you are after a bag like this, it is best to look at prices around $150. This may seem pricey however it is what needs to be spent for good quality.
If you do have more to spend then continue searching for higher priced bags (you can find bags as high as $400), however if you are new to the game or are working on a budget then you can easily find a bag worth $90/$100.
Knowing the prices is important – the last thing you want is to spend too much on a bag which will not do you justice. Always spend your money wisely.
---
How Do You Know You Have A Good Golf Bag?
Aside from what you should be looking for in a bag, you should also know when you have found yourself a good bag.
Anyone can have a "good" bag however there are certain qualities which show your bag is the best.
Brand
Brand names are not always everything, but we all understand that a brand gains its followers for a reason. If there is a brand famous for their golf bags, it is always worth checking them out. More than likely, they will be reliable and provide a good quality bag.
Material
Another way you know your bag is good is from the material it is made from. Many golf bags strive to be lightweight as this makes it easier for players to carry their bags around the field.
In order for it to be light in weight, the bag is made from materials including nylon and plastic. As well as this, some golfers may choose to have a bag to carry their heavy items.
If this is the case, they will have a bag that is sturdy and made from solid materials that provides them with the highest quality.
Your bag's material makes all the difference and is the difference between a high functioning and low functioning accessory.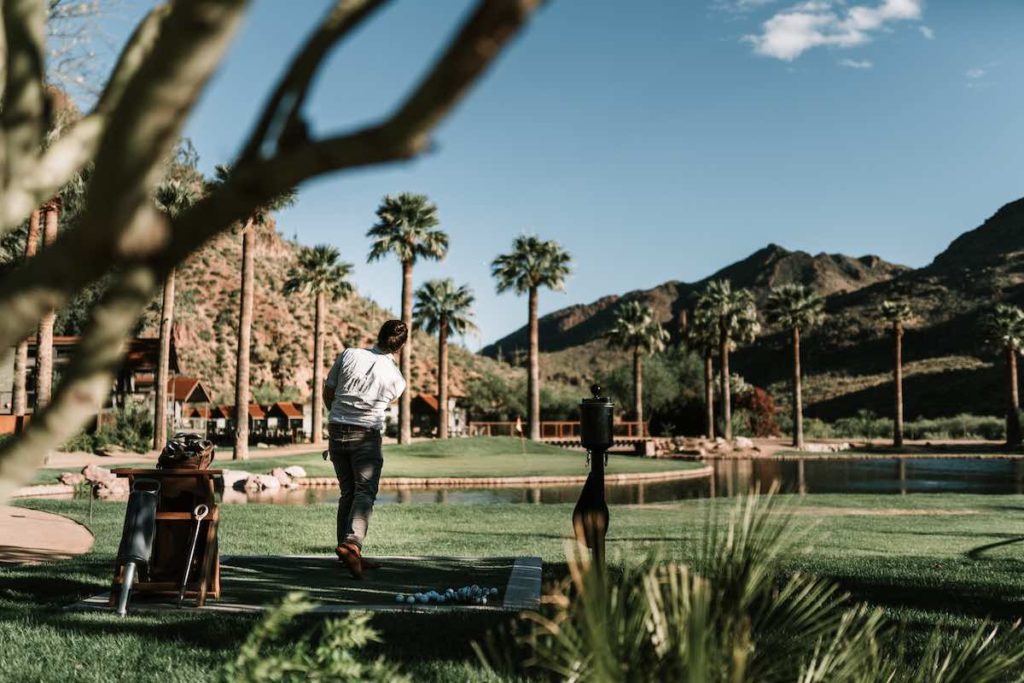 What Are the Best Golf Bag Brands?
To get a bag worth your money it is important to know where to look. Because of this, we have come up with a list of some of the best known brands to help guide you on your search for an ideal golf bag.
Cart Bags
Motocaddy
Motocaddy are a great brand to choose when looking for a cart bag. They are well known, reliable and their bags are made with efficiency in mind.
One of our top choices from the brand is the Motocaddy Protekta Bag. These are a great option as they are completely waterproof, come with nine pockets and are made to protect your clubs.
Another product from this brand is the Motocaddy Pro Series Cart Bag. Similarly to the other bag, this one prioritizes organization, allowing you to place your clubs and balls in the bag efficiently.
A bonus to this product bag is that it also comes in three colors giving you plenty of option to choose from – you will be sure to stand out with this bag.
Titleist
Another brand that many know and love is Titleist. This is an American brand which has been famed for their great equipment, selling golfing products from balls and clubs to headwear and gloves.
A great choice of bag from them is the Titleist Tour Bag. This is a bag for someone who is in need of durability and is wanting a great design to match. The one downside to this bag, however, is its heaviness.
Stand Bags
Callaway
Callaway is another favorite of ours for their great products and versatility. Not only do they provide their buyers with a range of options but they also cater for women.
It can be difficult for women to find equipment suitable for them, so having this option says a lot of good about the company.
If you are looking for a bag which will provide comfort, look no further than the Callaway Hyperlite Zero Double Strap Stand Bag.
This is a bag that is known for is light weight, coming in an incredible nine colors. Along with seven pockets, there is plenty of room to put in your extra items. This is a perfect option for older golfers.
Ping
Ping is another company known for their products, specializing in bags and clubs. What makes them an ideal brand is how they pride themselves in their company and products they sell.
One of our favorites of there is the Hoofer Stand Bag. With this bag, you are giving the choice of a multitude of colors allowing a modern design.
As well as this, the bag is also multifunctional – choose to use the bag with the stand or use the strap to carry.
---
How To Ensure Your Golf Bag Lasts
Now that we know everything of the golf bag – height, weight, brand, features – it is now time to learn how to make sure your golf bag lasts.
For a bag to be long lasting, it is up to the individual to take good care of it. It is one thing to have a bag made from great material and of good quality, but is another thing to know how to take good care of it.
How Long Does The Average Golf Bag Last?
The length of time a person keeps their golf bag for is all dependent on the individual. On average, you should find your golf bag lasting at least five years if it is well kept, however you will find people changing their bags after two years.
Not only is this based on the way the bag is kept, but it is based on the brand too. the better the brand, the better the quality, the longer your golf bag will last.
As golf bags can be high in price, it is important to choose one that will last and that you will not want to replace.
Storing Your Golf Bag
Instead of throwing your golf bag in the corner after a long game, learn to store your bag the correct way.
Garage
The garage is a great place to store your golf bag for its convenience and space. There is no chance of your bag getting squashed and this is a safe area.
It is important to acknowledge the garage's temperature too. Make sure that it is not too humid and if so, find a way to work around this.
Bedroom
Another place you can choose to store your golf bag is in your bedroom. This is a good place if you have the extra room and is a great choice for temperature control.
In the bedroom, you don't have to worry about the humidity and know that your golf bag will be in a comfortable environment.
Car
When looking at storage places to avoid, we can easily look at the car, specifically the trunk. Although the trunk of your vehicle may seem like an effective storage place, it is often that cars heat up.
With your golf bag in an overheated car, this raises risks of damage to your clubs and other equipment.
However, this is not to say that this can never be done. If you know that the air will be cool then go ahead and store your bad in the trunk. It is an effective way to store your bag and handy as you will always have your bag on you.
Final Thoughts
When choosing a golf bag you want it to last. You will find many that are strong, sturdy and made for all types of players. Whether you are someone who requires a waterproof bag or a stand bag with retractable legs, there is a bag for everyone.
On average, you will find golf bags reaching as tall as 36 inches, 50 inches high with clubs. It is safe to go for a bag with an average height such as this as it provides the most storage space and is of a sensible size.
There is no better feeling than having equipment that is right for you, and this is something that all golf bags offer.
With their extensive features and myriad of colors, there is a bag made for everyone. These features work not only for convenience but for practicality too.
There are bags designed with older players in mind, those who may suffer from bad mobility, or for those who simply want a unique style.
Whatever golf bag you choose, just know that you will be owning something that will last.