Some of the handiest technology available to golfers is golf GPS.
There are a number of ways to access this tech so you no longer have to rely on guesses to know all your yardages; applications on the Apple Watch, digital watches designed specifically for golfers.
But, for all they offer, these devices tend to cost a pretty penny, and you might be looking for something that gets the job done, without breaking the bank.
Enter the GolfBuddy Voice 2 SE. We've got all you need to know about this compact and affordable upgrade to the original GolfBuddy, so read on to find out if it's the right golf GPS for you.
We'll also be answering some of the most frequently asked questions regarding the GolfBuddy Voice 2 SE. You can purchase the product at Costco and on the official GolfBuddy website. ​
Our Pick
GolfBuddy Voice 2 Bundle
PLAY MODE: Provides yards (or meters) to the front, back and center of the green of the course hole being played.
SHOT DISTANCE MEASUREMENT: Measure the distance covered by each golf shot.
DYNAMIC GREEN VIEW: View current hole number, par information, and shape of the green for current hole.
MULTI-LINGUAL: Choose between 11 display languages, 8 preloaded.
Some of the links on this website are affiliate links. This means that, at zero cost to you, we may earn an affiliate commission if you click through the link and finalize a purchase.
05/20/2022 11:59 pm GMT
Key Features
The main selling point of the GB Voice 2 SE, to the point where it's in the name, is that it's a talking GPS device.
Naturally this makes it a very accessible tool for golfers who don't want to keep having to check a small screen, and the voice options available make it even better (two different voices, and eight preloaded languages plus three more you can download).
But the fact that it talks isn't the only feature worth mentioning. The GB Voice 2 SE boasts up to 20 hours of battery life while in Golf Mode, which is up from the 14 hours offered by the GB Voice 2 (which, we should clarify, is not the same device).
It offers distance readings to the front, the center, and the back of a course's green. It's also preloaded with 40,000 golf courses across the world, and more can be added via free updates.
The device features a clip on the back, meaning you can easily attach it to your bag, your pants, or wherever. You can check the time even in Golf Mode, and it comes in two colors: blue and white, or black. The SE is a small device, though, as are all these Voice products- so it might not have every feature you're looking for in a golf GPS.
There's no touch screen, nor touch targeting, manual pin positioning, digital scoreboard, nor stat tracker. Still, in terms of value for money it's a nifty little device.But we're getting ahead of ourselves. Time for our review…
Review
The most impressive thing about the Voice 2 SE compared to its predecessors is by far the 20 hours of battery life – six more hours than the Voice 2.
Obviously the life of all rechargeable batteries declines with time, and this one will be no different, but starting out with 20 hours puts you in very good stead for the long term. The SE is just as compact as its predecessors (1.8 x 1.9 x 0.5 inches, with a weight of just 1.1 pounds), and we struggle to see how it could be any easier to use.
At the time of writing the Voice 2 SE hasn't been on the market for long, so we can't really comment on its durability, but both of the GB Voice devices before it were lauded for their lifespans.
Besides that, GolfBuddy products are just generally very highly regarded by the golfing community.
Alternative GolfBuddy Products
The Voice 2 SE sounding a little too simple for your liking? There are a number of other GolfBuddy products worth checking out, if you're willing to pay a little more.​
Great alternative
Golf Buddy Aim Golf GPS Watch
The aim W11 GPS Golf Watch provides accurate distance measurements, with a 1.3" TFT-LCD color touch screen that provides distance calculations to the front, center, and back of the green, and distances to targets and hazards. The watch automatically recognizes which hole you are playing and has manual pin placement, a digital scorecard, and a rechargeable lithium-ion battery which lasts up to 13 hours in golf mode.
Pros:
Green undulation feature as well as slope adjusted distances
Dynamic shot distance allows you to calculate the length of every shot
Automatic course and hole detection
Cons:
Touchscreen can be unresponsive
Some of the links on this website are affiliate links. This means that, at zero cost to you, we may earn an affiliate commission if you click through the link and finalize a purchase.
05/18/2022 07:53 am GMT
This product is ideal if you're looking for something you can strap to your wrist.
The Dynamic Shot Distance feature allows you to better analyze the target, and unlike the Voice 2 SE, the display of this watch is in full color.
The touch screen is highly responsive, and the low light setting means you'll be able to play a round regardless of the hour.
It's also highly waterproof, which is ideal if you're constantly getting rained on while you play. ​
Great value
Golf Buddy Laser Lite Rangefinder With Slope
The GOLF BUDDY LASER LITE - This compact and sporty golf laser rangefinder has slope compensation with on/off functionality and clear measurement with bright 6X magnification viewfinder.
Fast and Accurate - Fast measurement in 0.5 seconds with 1-click scan and accurate measurement with vibration alert. The jolt vibrates ensure you are picking up the flag rather than the landscape behind and the 0.5-second one-click measure makes it extremely fast at picking up your targets.
Pros:
IPX4 waterproof rated
Ergonomic and compact design
Three available modes to help improve your swing
Cons:
Pin detection can be somewhat inaccurate, requiring multiple scans
Some of the links on this website are affiliate links. This means that, at zero cost to you, we may earn an affiliate commission if you click through the link and finalize a purchase.
05/19/2022 12:33 am GMT
The Laser Lite Rangefinder might look a little heftier than the other products we've mentioned, but it's surprisingly ergonomic. It can measure your distance from a target in half a second, and offers 6x magnification.
There's also a handy slope feature that can determine distances based on the elevation of the terrain.
The best part? It tends to be not much more expensive than the Aim Golf GPS Watch, never mind the Voice 2 SE. The GolfBuddy Laser Lite Rangefinder can be purchased on Amazon, or on the GolfBuddy official website.
GB VOICE 2 SE By GOLFBUDDY – FAQ's
Can You Turn Off The Voice?
While the voice component is one of its main selling points, there's bound to be certain contexts in which it would be more appropriate to have it turned off.

Luckily when you're playing with others and you want to just be looking at the screen, you can turn off the voice.
Do You Require A Subscription To Use The GolfBuddy Voice 2 SE?
Unlike many of the golf GPS apps available on the Apple Watch, you do not require a subscription to use the Voice 2 SE.

It's a one-time payment for the device itself, and then it's ready for use right out of the box. Updates will become available over time, but these will also be free.
Conclusion
We highly recommend this golf GPS device if you're on the hunt for something affordable.
There are a score of golf GPS products available, and a lot of them have more to offer than this- but for the price, you'll struggle to find better value.
If all you're really looking for is a device that can measure distances while you're on the golf course, this will likely do the job for many years. Be aware, though, that certain stores (Amazon included) appear to be listing the Voice 2 SE as the Voice 2, and vice versa.
As we said before, there's not a huge difference, but you don't want to be getting the wrong product when the SE is the better option.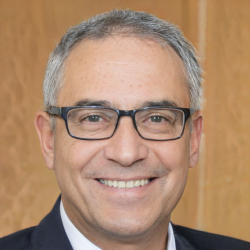 Latest posts by Andrew Barrett
(see all)