Golf is a sport that has many different aspects to it and many different areas for you to improve your game.
The driving range can be the perfect place for you to stretch your legs and get a good taste of how your abilities will fare once you hit the course.
When it comes to practicing your skills, the driving range is the perfect place. But how do they work and what can they help you with? We've got the answers for you!
---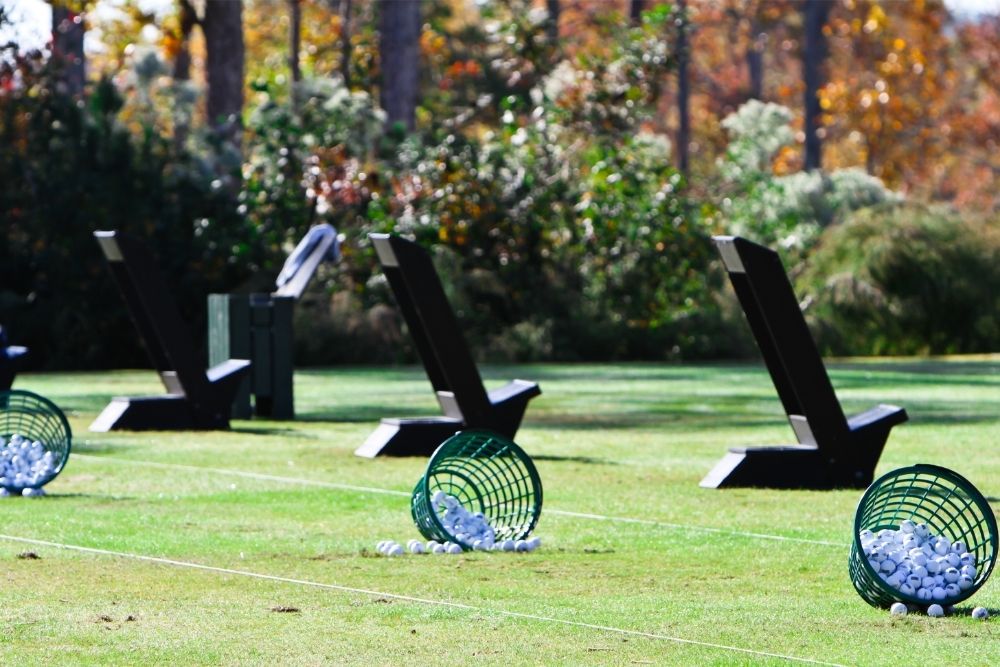 What Areas Of Golf Can The Driving Range Help Me With?
As previously stated, there are lots of different areas to golf that require more attention than others. Starting your game off right with a good drive is always a good place to start.
As the name suggests, driving ranges are used perfectly to help improve the driving part of your golf game. However, they can offer some other types of practice for other areas of your game.
For example, despite the name 'driving range', you can use a plethora of golf clubs at the facilities, making it a multi-purpose location to practice.
A lot of driving ranges will feature targets for you to aim for in front of you. These can be tires, physical targets, signs, and other big items for you to aim at.
This way you can use different clubs for different distances.
The only type of club that doesn't really work at a driving range, is the putter. This is down to the fact that the putter is only used at short distances, rather than the longer distances than driving ranges tend to stretch to.
However, putting ranges are frequent, as well as mini-golf courses.
This may sound like an unprofessional place to practice your skills but the differences in gradients and the obstacles on the different holes are used to simulate the variation of greens that you're likely to face on a golf course.
One of the main reasons to use a driving range is to test how far you can hit the ball and the accuracy of your shots.
Because of the long, straight design of the range, it's a great imitation of some clear fairways that a lot of courses present.
However, with the previously mentioned targets, it can be a good idea to aim for these and test your accuracy over smaller distances.
This is a great way to simulate the shots that are used by clubs such as the 7-iron, pitching wedge, and other higher number clubs.
On top of this, the driving range is a great place for golfers who want to try out their new equipment, ready for the real thing.
Devices like rangefinders are great for checking the distances over large areas, with the driving range being a great place to try them out if you have a new one.
It's also great for those who want to ease into their new clubs.
When testing out a new set of clubs you may want to try them in a controlled space where you have different targets to aim for.
Nobody wants to put their game at an advantage when playing against their friends, so making use of the driving range can be a good place to try your equipment freely.
It's also a great place to try out new golf gloves and other equipment like sunglasses and golf tees.
---
How Does A Driving Range Work?
Driving ranges are a great place for any golfer to try and display their skills, coming in lots of shapes and sizes. However, the simplest form of driving range is very straightforward.
The way to use a driving range is to bring your own clubs or to rent some if they're available at the facilities.
It's usually best to bring your own if you have them, so you can test the clubs you're going to be using regularly.
Some places will charge per club, so it's best to bring your own so you have the options there.
Of course, when using a driving range you don't use your own golf balls. This would be extremely expensive in the long run and would involve losing a lot of balls.
The system works by paying a set fee for a certain amount of balls. This can be anywhere from 10-100 balls, for example.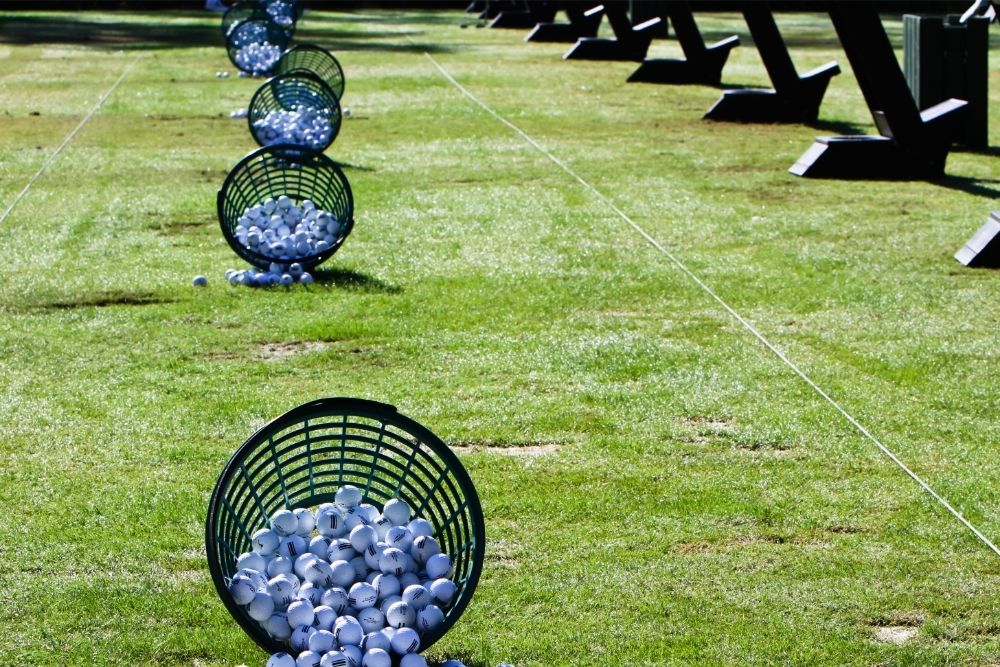 You then have that amount of balls to hit down the driving range and to test your skills. If you want to purchase more, then you simply have to go and refill your bucket.
The driving range staff will then drive out in a protected vehicle of some sort and collect the balls up, ready to reuse for the next round of customers.
Either that or they will collect the balls when there are no customers at the range.
This ensures the safety of the ball-collecting staff and allows for the range to always have enough balls for the customers to use.
Some ranges will have areas big enough for one or two people at a time, set out like a cubicle, with walls on either side to remain somewhat private.
However, some ranges have a set amount of spaces for golf tees facing over a field or a lake, with a good amount of spaces and room for golfers to use.
With regards to golf tees, some facilities will use an automated system with golf tees provided for you.
Other places will request that you bring your own or purchase your own tees at the site so that you can get a more authentic experience.
Final Thoughts
Driving ranges are a great place to practice your skills, no matter what level of golfing ability you possess.
Of course, it can be great to practice your golfing prowess on the golf course, but when it comes to wanting to improve your general game, the driving range is the perfect location.
Whether you want to practice the large distances you can try to reach or the accuracy of your shots, the driving range has it all!
Why wait? Find your local driving range and give it a go for yourself.