There's no doubt that golf is a game of inches, as there's no other sports that are similar. It is said that golf is a sport that is simple to learn, but takes a lifetime to master.
When a person tries golf for the first time, he or she usually becomes hooked on the thrill of making progress. It is a game in which you are trying to improve your score each day by getting better at it.
Unlike other sports where you are directly competing against another person, golf has a different approach to the game.
When it comes to golf, one of the most important things is to concentrate on beating yourself!
The reason for this is that your competition does not affect whether you end up with a low or high score.
Throughout this guide, we will aim to explain everything you need to know about golf scores, and how to determine what is a good score and what is a bad score.
---
What Is an Average Golf Score In General?
For every 18 holes of golf played, the average score is 90 strokes. On a par 72 golf course, this score represents the score of an amateur golfer playing on the course.
In golf, a good score is considered to be 108 strokes or less, while a bad score is considered to be 120 strokes or more.
Due to the nature of golf, there are different levels of skill for a variety of golfers. Among the professional golfers, there are the once a year golfers, and there are many variations in between.
A professional player's definition of a good score will be completely different from that of an amateur. When playing golf, it's important to never compare your score with others.
It is highly likely that it took years of practice for them to achieve the scores that they now achieve. You will learn to play better by playing more. It is as simple as that, and everyone works at a different pace.
Rules of Golf Scoring
Below you will find information explaining what golf scoring means and the key terms you should be aware of if you play it or someone mentions it to you.
It is important that you know how these expressions impact your final score from the very first time you use them.
By the end of this article, you will become more comfortable with these expressions or already know a lot about them.
Hole In One
The ball must be put in the hole in just one shot.
Par
A neutral score means getting the ball in the hole that has been set by the course and not scoring above or below that.
Birdie
Getting the ball in the hole that was one stroke less than the par score.
Eagle
Getting the ball in the hole that was two strokes less than the par score.
Albatross
Getting the ball in the hole that was three strokes less than the par score.
Condor
Getting the ball in the hole that was four strokes less than the par score.
Bogey
Getting the ball in the hole by one shot over the par score.
Double Bogey
Getting the ball in the hole by two shots over the par score.
Triple Bogey
Getting the ball in the hole by three shots over the par score.
---
What Is The Average Score For 18 Holes?
There are two different sizes of golf courses when it comes to golf courses. There are two golf courses at your disposal: one full sized golf course consisting of 18 holes, and another that is just 9 holes.
The 18 hole golf course is the one that is always played by professional and intermediate players. A round on an 18-hole course stretches out to a greater distance than a round on a nine-hole course.
It is one of the most enjoyable features of the extra fairway that golfers can hit some long shots, while really testing their skills.
Five shots are needed per hole on average. Golf courses and their pars are different on each course and so you will need to take this into account depending on the course you are visiting.
However, most of the courses will tend to have similar pars to each other based on distances.
---
What About The Average Score For 9 Holes?
A quick round of nine holes can be just as enjoyable sometimes as a round of 18 holes. The best courses for this type of game are the par three golf courses.
You should be able to find a course near you that offers this style of play and it might be a good fit for the type of golfer you are.
We consider 9 holes to be the perfect length for a golf match, giving you a great sense of accomplishment and leaving you wanting more.
The most common place for beginners and amateurs to play their first games of golf is on a par 3 course.
Courses of this type are 9 holes long, which means that they are much shorter than full 18 hole courses. In other words, the maximum number of shots required to score par at each hole is just three.
Nine-hole courses usually offer hole-in-one opportunities on at least two of the holes. A hole in one is the ultimate goal for any golfer; especially beginners. We still love them now!
---
A Good Golf Score And A Bad Golf Score
We would consider anything under 120 strokes a good score in golf. It is true that this number is higher than the average, but we are still talking about a respectable score in this case.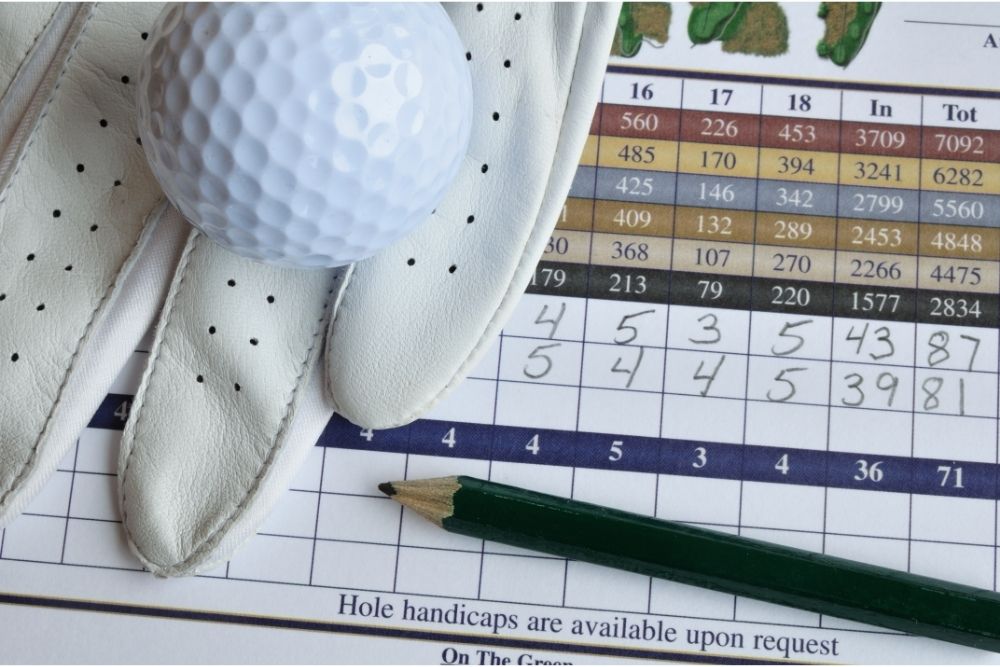 The score of 120 would be an excellent result for someone picking up golf clubs for the first time and if that's you, then you should be very proud of your achievement.
Once you continue to practice and work on your golf game, you won't have a problem reaching the average score of 90 in no time.
We'd say if one has a score in the 121+ range in golf, then that is a bad score. There is nothing to be ashamed of if you are currently at this level, so don't feel shy about it.
If you are having trouble getting started, it simply means you have some additional work to do and progress will take some time.
When you get a score of 121, you're taking at the very least 30% more shots to complete a 18-hole course than the average golfer would, which is 90 strokes.
If you play more rounds of golf, you will certainly improve, so don't be discouraged by this statistic.
---
Frequently Asked Questions about Golf Scores
What Is The Lowest Round In PGA Tour History?
There is a record score of 58 in a PGA Tour tournament for a round of golf. So far, only one score has been posted, by Jim Furyk. It was Furyk's round of 58 in the final round of the 2016 Travelers Championship at the TPC River Highlands in Connecticut that set the all-time record. It was Aug. 7, 2016, and Furyk's 58 was a 12-under score at TPC River Highlands. The golf course that was set up for that round had a distance of just over 6,800 yards with a par of 70.
For Handicap Posting Purposes, What Is My Maximum Hole Score?
Assuming that you have an established handicap index, the maximum score for each hole played is no more than a net double bogey. This is equal to a double bogey plus any handicap strokes you are entitled to receive based on your course handicap. As an example, an individual with a Course Handicap of 15 gets one handicap stroke on holes that have a stroke index from 1 through 15.
---
Summary
Each golfer learns at their own pace and every golfer improves at his or her own rate, so it is important not to measure up to anyone else.
As time goes on, you will gain a better understanding of your own strengths and weaknesses and be able to determine where you will need to improve in order to achieve a better score.
You shouldn't let this prevent you from enjoying the sport of golf. Hopefully now that you know what we consider to be a good and bad score, you will be able to work on improving your score.