A scratch golfer is someone who can play any rated golf course to a handicap of zero. This is worked out via the player's average over time, with their best 50% of rounds played.
A scratch golfer doesn't shoot par every round, but they do shoot near par every round, sometimes a little lower and sometimes a little higher.
While the definition of a scratch golfer is straightforward, there is often confusion regarding the difference between a scratch golfer and a professional golfer.
But what else is there to know about scratch golfers? The following article will break down every aspect of this player type, before answering some of the most frequently asked questions regarding scratch golfers.
---
Scratch Golfer Statistics
Let's take a look at the average statistics regarding scratch golfers:
Fairway hit percentage
53%
Avg driving distance
251 yards
The greens in regulation hit percentage is 70.33% for a Top 25 PGA Tour golfer, and the fairways hit percentage is 66.40%.
They make 1.57 putts per hole, and their average driving distance is much higher than that of a scratch golfer at 305.7.
---
Tips For Becoming A Scratch Golfer
It's a lot of work, reaching the level of scratch golfer, and it's not going to happen overnight.
But there are a number of things you can focus on in order to improve your game, and if you stick with it, who knows?
Perfect That Swing
The first step to improving your handicap is mastering your swing. This is what will make the difference between being a novice golfer and an expert golfer.
Get in the habit of maintaining the right stance. Make sure that your legs are about a shoulder's width apart for a middle iron, and slightly further apart for the longer clubs.
When it comes to putting or chipping you can bring your stance in by a couple of inches.
Your front foot should be pointed slightly outwards, in the direction of the target, while your back foot should be at roughly a 90 degree angle from your target.
Your weight should be spread evenly across your heels and your toes.
Your upper spine, knees, and the balls of your feet should all line up vertically, with the knee of your back leg turned slightly inward towards your target.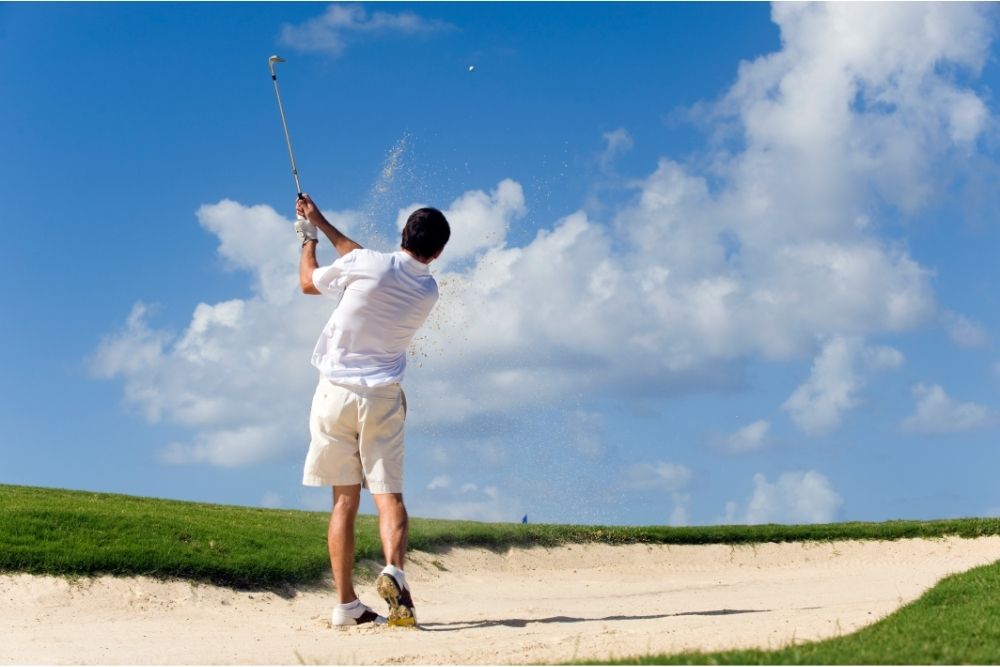 The power of your shot will be dictated by how you turn your shoulders on the backswing – a straight spine will make for more consistent, longer drives.
Bear in mind that ball placement is also a factor. Your arms should be hanging comfortably, rather than stretching out, but they also shouldn't be too close to your body.
The best ball placement varies depending on which club you're using.
For short irons, the ball should be placed in the middle of your body's stance. For longer clubs the ball should be roughly half an inch away from your front foot.
When using a driver, the ball should be just inside your front foot.
Distance Control
Another vital aspect is managing your distance control. You should always be measuring, and you should always know how far you're hitting the ball with every shot.
This will help you to determine how much power certain shots will need.
Get Your Speed Up
The speed you should be aiming for is around 100mph. This can take a good amount of practice, but you'll get there eventually.
A fast swing is one of the key aspects to achieving a handicap of zero.
Practice Your Putting
You must also be practicing your putting, focusing on things like rhythm, and how to minimize strain.
Think about stance; your belt buckle should be right by the head of your club. Maintain a steady tempo until you're hitting the ball.
Get The Right Gear
Acquiring the right clubs is just as important as mastering technique.
The best clubs will differ from player to player. You'll probably need to experiment with a variety of different clubs before you settle on the right ones for you.
Track Your Stats
Tracking your statistics is vital for progressing in any aspect of your life, and golf is no different.
You should not only be logging your scores every game, but there are also a number of mobile apps you can use to analyze various aspects of your game.
This will make it easier to acknowledge your greatest weakness and target them.
Golf requires so many different kinds of shots, so one single weakness can really impede your game. Being great at putting doesn't mean much when you're not a great driver too.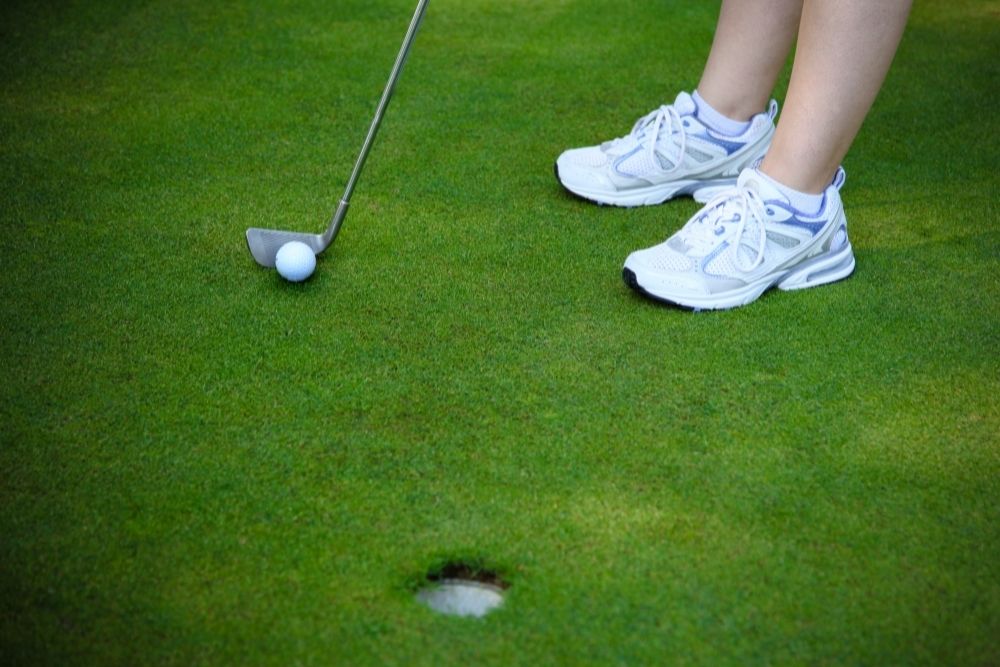 After each round you play, you should be tracking fairways in regulation, green in regulation, your up & down percentage, and your number of putts per green (as well as the distances of said putts).
If you want to go a step further you can also track the exact distances of each of your shots, as well as the wind, the lie, and the proximity to the hole.
Play With Low Handicap Golfers
If you can, try to play with golfers that have low handicaps. It's a lot easier to learn from players that are beating you.
Playing with experienced golfers usually makes you more focused, and more intent on sticking to a routine. While it may seem intimidating at first, your future self will thank you.
---
Frequently Asked Questions Regarding Scratch Golfers
How Many Golfers Are Scratch Golfers?
There are no official figures regarding the amount of golfers that are scratch golfers, but it's widely accepted that the percentage is no more than 2%. Some studies have found that, in the United States, 16% of players have a handicap of 8 or lower. Single digit handicaps are rare, never mind zero handicaps.
Would A Professional Golfer Have A Handicap?
While they're not exactly banned from professional golf, you'd struggle to find a pro with a handicap. The vast majority of professional golfers don't even enter their tournament scores. They don't need a handicap- that's why they're the pros. If they did keep score, it's estimated that most professional players would have a handicap of +5.4. A 'plus' handicap like this is a handicap that's better than zero (which, as we know, is considered 'scratch').
What Is A Bogey Golfer?
A 'bogey golfer' is a player whose score is an average of a bogey per hole, or one over par per hole. So if they were playing on a golf course with a par of 72, a bogey golfer would have an average score of 90. While this might seem like a poor score compared to the other types of golfers we've discussed in this article, it's worth bearing in mind that most golfers don't even break 100. The USGA (United States Golf Association) has a more specific definition for 'bogey golfer'. In their eyes a bogey golfer is a player with a handicap of between 17.5 to 22.4 strokes for males, and 21.5 to 26.4 for females.
---
Conclusion
A scratch golfer is a player who has a handicap of zero on any rated course. It's an important term to be aware of when it comes to the handicap system.
The majority of players won't reach this stage, and even fewer will become professional players, but that doesn't mean you can't gradually improve your game over time.
Invest in the right clubs, practice as often as possible, work on distance control and perfecting your swing, and you'll be well on your way to a decent handicap (if not a zero handicap).