Are you looking for a rangefinder that you can use for golf and hunting but don't know where to start?
Perhaps you don't have the budget for two separate rangefinders and want to get a rangefinder suitable for both tasks? Or maybe you are curious and want to know more? Whatever your reason might be, we have the answer for you!
Keep reading to find our top tips for finding a rangefinder that is suitable for golf and hunting!
---
What To Look For When Buying A Rangefinder
Let's dive straight into it!
We've got some of our top tips for buying a rangefinder. Keep reading to see what you should be looking out for when making your purchase.
Distance Differences
When purchasing your rangefinder, you will want to consider its distance differences. For golf, rangefinders typically use the nearest or first target priority mode.
Now you might be wondering, what does this do? Well, it finds the nearest object and ignores distant objects like other golfers, animals, and trees so that you can get the shot you need!
Hunting rangefinders, however, use distant target priority mode. This mode ignores nearby objects like trees and bushes and finds your distant target.
Distant target modes allow you to hone in on animals far away while hunting and line up your shot.
So as you can see, golf and hunting require different distance modes. So you will need a rangefinder that has both options so that neither your hunting nor golf game needs to suffer from an unsuitable rangefinder.
Look for rangefinders like the Nikon Monarch 7i VR that comes with Tru Target Technology! Here you can flick through the different distant modes and set the mode that you want for the task at hand.
Having the flexibility to choose the mode that you want is an essential feature to look for when purchasing a rangefinder for both golf and hunting.

Check Yardage Distances
Often, golf rangefinders don't have the best ranging distances. Typically, when playing golf, you don't need a range of more than 500 yards.
Most golf rangefinders will also come with a maximum flag distance of 600 and a ranging distance of 150-400 to the flag.
While this is fine for golf, it's not ideal for hunting. Hunting rangefinders have a greater yardage distance as their targets can be between 75 and 1300 yards away.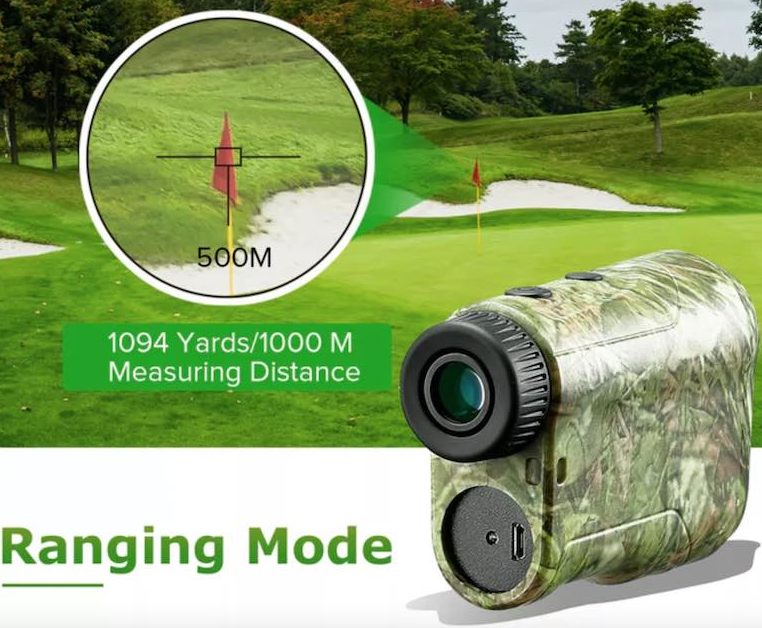 When hunting, you need a laser rangefinder that can pick up reflective targets from a great distance.
Some rangefinders will offer ranges of up to a mile, it's likely that its readings will only be accurate to 900 yards, or less. But don't worry, these distances will still be great for hunting, they just might be a bit much for your golfing needs.
That said, you can use a hunting rangefinder for golf! Whereas a golf rangefinder isn't going to be ideal for hunting unless your targets are 250 yards or closer.
It's worth considering the type of hunting you want to do and your usual target distances before selecting your new rangefinder.
It's also worth considering non-reflective surfaces, changing weather, and heat mirages that can impact your rangefinder.
These factors can disrupt your rangefinder's ability to pick up distance readings, so take care and be sure to check the reading before proceeding!
As yardage distance matters when hunting and playing golf, it's worth opting for a rangefinder that can range up to 1,000 yards! The Laser Link XL 1000 is a good option to consider here.
Display
Another feature to consider is the display on the rangefinder. Golf and hunting rangefinders tend to offer LED and LCD displays. Both options come with their own sets of pros and cons that are worth considering before making your purchase.
The biggest difference that you will want to consider is the time of day that the rangefinder is used.
When it comes to golf, typically you play during the daytime, meaning your rangefinder needs to be suitable for daytime use. And for hunting, you will want a rangefinder that is suitable for twilight and dusk hours too.
So what display should you choose? Well, LED displays are a fine choice for cloudy days on the golf course and can also be used during the early twilight hours when hunting.
It's worth noting that although the adjustable brightness settings allow you to see the readings no matter the weather, they can impact your night vision when hunting after sunset.
Which one should you use for golf and hunting then? An LDC screen and a backlight would be your best option. This way, you can see readings without your night vision being impacted.
It can be tricky to find a rangefinder that comes with a backlight option, as usually, it is exclusive to hunting rangefinders.
Weatherproof is a Must
One thing that your rangefinder needs to have is a weatherproofing feature! Whether you are playing golf or hunting, you will be thankful for a weatherproofed rangefinder when the heavens open!
Typically, when it rains during golf, you call it a day and head back to the car. Although you are unlikely to be in the rain for long, we still think it's worth having a weatherproofed rangefinder to avoid any damage.
Especially, if you will also use the rangefinder for hunting. Even if it rains, you can continue hunting. Look for a rangefinder that can survive being underwater, like the Leica Pinmaster II.
A trip underwater is an ultimate test for a rangefinder, and if it can survive that, you know it can survive any bad weather you might find on the golf course or crouched behind a bush!
Look For Specific Features
Finally, you will want to look at the specific features that your rangefinder offers. Rangefinders created for gold will come with swing rate measuring, club suggestions, a shot distance calculator, and some simple reticles.
Hunting rangefinders will have entirely different features. Here you can expect to find ballistic data, more complicated relics, and some longer yardage ranges.
They might also have a camouflage cover to help keep you hidden when hunting.
Now, you aren't going to find one rangefinder that comes with all of these features, so you do run the risk of missing out on the full potential of these rangefinders.
While you will save money by purchasing a rangefinder that is suitable for golf and hunting, you do lose out on some features that can help you enhance your skills.
We aren't saying you should spend more and grab two rangefinders, but you should be aware of the downsides of purchasing one rangefinder.
Final Thoughts
And there you have it, all the features that you need to consider when purchasing your rangefinder! Be sure to keep in mind the distances, display, and if it's been weatherproofed or not before making your decision.
Ideally, you want a rangefinder that can offer you wonderful distances for both golf and hunting. So whether you want to shoot a rangefinder on the golf course or ping in the field, you can now do both with one rangefinder!
By choosing just one you can save some money, and grab a rangefinder that will help you score a hole in one and your prey!