If you are looking for a solid way to improve your golf game, then a golf rangefinder is an essential tool for you to use.
They are designed to help you estimate the distance and accuracy of our shot, letting you know how hard you should hit your golf ball.
This is done using either GPS signal from satellites or laser beams to measure the distance between you and your target.
GPS rangefinders are faster than laser rangefinders but not as accurate, so it's recommended that you pick yourself up a laser rangefinder so you can get the most out of your new golfing gadget.
They are perfect for both newbie or pro golfers, so they are definitely worth your investment. But – which rangefinder should you get?
Well, you have probably heard the name Precision Pro thrown around by other golfers. They manufacture some of the best selling rangefinders out there, but over the years they have released quite a few that it can be difficult telling them apart.
That's where we come in. We are going to be comparing some of Precision Pro's best rangefinders so you can decide which one (if any) is the best option for you.
We will be looking at the Precision Pro NX9 Slope, the NX7 Slope, and the Nexus Slope to see what these three models have in common and what separates them from each other.
So, if you are a bit confused about which Precision Pro rangefinder you should buy, take a look at the similarities and differences between these three models before you take the plunge and buy your very own rangefinder! 
---
Our Pick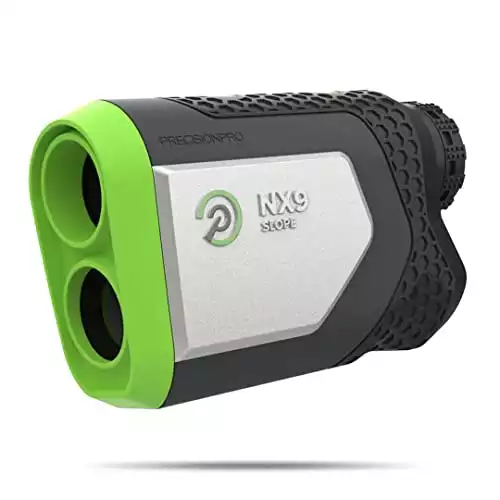 SLOPE GOLF RANGEFINDER: The Precision Pro Golf NX9 Slope Golf Rangefinder is the ultimate golf accessory to locate precise distances within one yard. It has been built with high definition options and brighter resolution.
BUILT-IN MAGNETIC CART MOUNT + SHOCK PROOF DESIGN : The built-in magnet keeps the rangefinder secured to the golf cart. Our NX9 Slope Golf Rangefinder is built with a shock-proof design for enhanced durability and strength.
Pros:
Lifetime battery replacement service

Magnetic strip on the side

Pulse vibration activates on any target, not just flags

Water-resistant, and shockproof design to protect the rangefinder from splashes and impacts
Cons:
May be difficult for tournament managers to tell if you are using slope or non-slope more

Limited maximum range of 600yds
Some of the links on this website are affiliate links. This means that, at zero cost to you, we may earn an affiliate commission if you click through the link and finalize a purchase.
10/01/2023 05:53 am GMT
The NX9 Slope is the latest rangefinder model produced by Precision Pro. Released in 2020, it is meant to build on previous models to improve accuracy and be more useful to golfers.
However, that does not mean it works out in practice – so what does the NX9 feature that makes it everyone's first recommendation?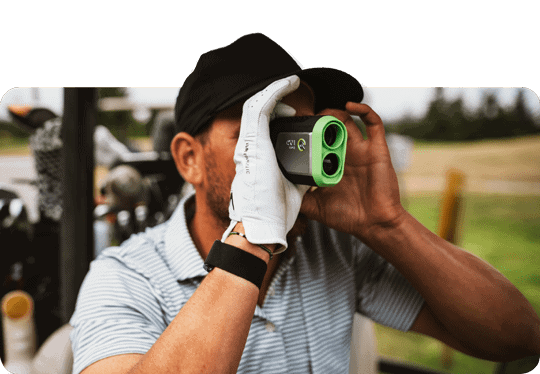 The Precision Pro NX9 Slope rangefinder boasts a lot of features that can help improve every golfer's game.
It has a built-in magnetic mount and a shock-proof design to make it secure and convenient.
It's 7x magnification optics is displayed on a 22m viewfinder that delivers a very clear image of your course. This can help you choose your precise aiming point with greater accuracy.
Speaking of accuracy, this rangefinder has a 600 yard range with adaptive slope technology to help give you correct measurements of distance so you know just how hard you need to swing your club.
Overall, the NX9 Slope has a lot of features that endears it to golfers, so it is easy to see why this is one of the most recommended models of rangefinders out there.
The Procision Pro NX9 Slope is available at both Amazon.com and Precisionprogolf.com.​
---
Our Pick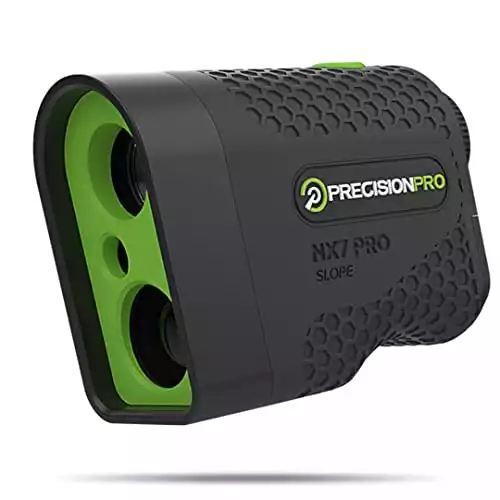 NEW UPDATED DESIGN: The Precision Pro Golf NX7 Pro Slope Golf Range Finder has been re-designed and engineered to provide accurate distances on sloped or flat surfaces. With a faster laser speed, and new ergonomic design, our Pro Slope technology makes it user friendly and helps you select the correct golf club.
ADAPTIVE SLOPE TECHNOLOGY: Our NX7 Pro Slope golf laser rangefinder is infused with Pro Slope technology that provides a "play as" distance to make club selection simple. The slope function can be easily turned off for legal tournament play.
Some of the links on this website are affiliate links. This means that, at zero cost to you, we may earn an affiliate commission if you click through the link and finalize a purchase.
09/30/2023 08:08 pm GMT
Now, we move onto the Precision Pro NX7 Slope. This model is slightly older than the NX9 as it was first released in 2018, a whole two years earlier.
This means that while the NX9 might feature more up to date technology, the NX7 will most likely have a lower price tag that will make it more appealing to those on a budget.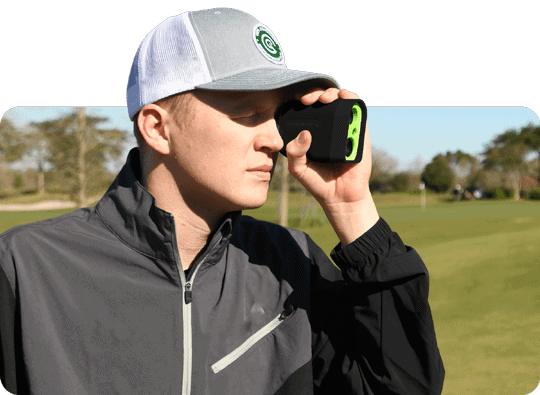 However, the whole point of having a rangefinder is for accuracy – so does the NX7 function well enough to improve your game?
The Precision Pro NX7 Slope brought an updated design to the older Nexus models. With fast laser speed and ergonomic design, the NX7 Slope was designed to be user friendly to help you select the right golf club.
It is very quick, clear and precise thanks to its adaptive slope technology to consider inclines and declines when calculating distances to help you put enough power into your swing to get your ball exactly where you want it to be.
Want to play in tournaments? Then just switch off the slope technology with the touch of a button to make your rangefinder tournament legal.
Just pick out your pinpoint using the clear optics of the NX7, with 6x magnification, to help pick out a clear target.
Use your NX7 Slope at any point within its 600 yard range to help take some points off your scorecard and improve your overall golf game.
Overall, it is a very accurate rangefinder that uses well researched and developed technology to help its users take less swings during their game.
The Precision Pro NX7 slope is available at both Amazon.com and Procisionprogolf.com. ​
---
Our Pick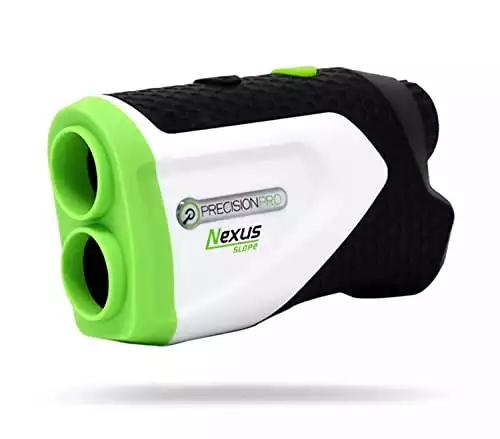 To play your best golf you need correct information. The Nexus Laser Rangefinder gives you exact distances to the flag making club selection simple and consistent. Our laser technology is accurate to 1 yard and shoots distances to the 1/10 of a yard. The Advanced Target Lock Function filters out background objects ensuring you shoot the flag, not what's behind the flag.
Play better, practice better, and improve your accuracy with the Nexus Laser Rangefinder.
Some of the links on this website are affiliate links. This means that, at zero cost to you, we may earn an affiliate commission if you click through the link and finalize a purchase.
The oldest of the three models is the Precision Pro Nexus Slope. This rangefinder was released all the way back in 2015 so it's quite an old rangefinder – but it is also the most affordable on our list.
So for those who want a great bargain and save a lot of your hard earned money, you might be tempted to go for the Nexus.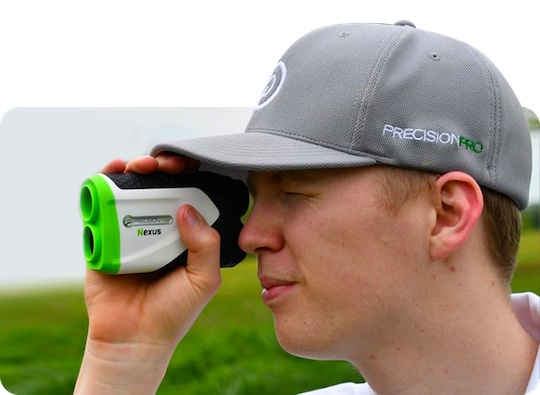 However, is it good enough to actually use and improve your game, or will you still be wasting your money due to outdated technology and inaccuracy?
The Precision Pro Nexus Slope rangefinder uses laser technology to give you accurate measurements of the distance between yourself and your target point.
It uses adaptive slope technology to include slants and slopes in its calculations. This will help make sure that you don't get caught out by a slight incline when it comes to choosing the right club and putting the amount of required power to get your ball where you want it to be.
Using target acquisition technology (TAG), you can use your rangefinder within its 400 yard range and improve your accuracy with its 6x magnification optics feature.
This will help you focus on your target for more accurate readings and measurements. So, the Precision Pro Nexus Slope is a very good rangefinder with accurate readings when used in its range.
It holds up in accuracy to the newer models despite its age, making it all the more tempting when combined with its far more affordable price tag.
The Precision Pro Nexus Slope is only available on Amazon.com.
Comparing The Precision Pro Rangefinders
So now that we have looked at each Precision Pro rangefinder individually, let's start comparing them against one another to see their differences and similarities.
This way you can see which Precision Pro rangefinder has the most features that will benefit you and your game.
What Stays The Same
First, let's cover what all three models have in common. First is that they all include adaptive slope technology. This is a great feature to have in any rangefinder as it determines the slope of the green compared to where you are standing.
When calculating distances, it takes the slope into consideration to help give you a more accurate reading on the measurements.
This way, you don't have to do the mental math of hitting the ball lighter and accounting for roll if you are at the top of a slope playing downhill.
All three Precision Pro rangefinders include this feature for a more accurate reading, plus they all range a minimum of 400 yards.
This means that you can use your rangefinder at least 400 yards away on all three rangefinders, which is a lot of distance that you can cover with one swing.
Also, all three models are covered with a warranty. They all are covered for at least 1 year so you can feel more confident using your rangefinder knowing that if you find an issue, you are financially covered.
---
The Nexus Slope VS The NX7 Slope And The NX9 Slope
Because it is the oldest model, there are a few features and differences that the Nexus Slope fails to have that both the NX7 and the NX9 do.
Firstly, the Nexus Slope only has a range of 400 yards maximum, while both the NX9 Slope and NX7 Slope have ranges reaching 600 yards.
Those 200 yards could possibly mean one less swing of your golf club and one less point on your scorecard.
So, if you want to be able to hit a golf ball further and improve your game, you will be better off choosing one of the more recent models of the Precision Pro rangefinder. That is not the only difference.
The Nexus Slope does not feature Precision Pro's lifetime battery replacement guarantee whereas both the NX7 and NX9 do.
So, if you ever find the battery on your Nexus Slope slowly starting to get weaker and weaker, you are not covered to get a free replacement.
With the NX7 and NX9, however, you are. This is definitely something to consider if you are the kind of person who wants their rangefinder to last for a very long time without needing many replacements or repairs.
With the Nexus Slope, you could find yourself spending more on repairing it or finding a replacement than you would with the two newer rangefinder models.
So, it's clear that when it comes to golfing features that will benefit your game, the Nexus Slope lags behind the NX7 and NX9.
Years of advancement in technology have allowed these newer models to improve their range, but which one of the two comes out on top?
The NX9 Slope VS The NX7 Slope
So it all comes down between the NX9 Slope and the NX7 Slope. Both have a lot in common – their battery lifetime guarantee, their 600 yard range, and their adaptive slope technology.
This makes them both very good rangefinders to consider buying, but what is it that separates them?
One huge difference between the two is the optics. The older NX7 features 6x magnification to give you very clear optics through the rangefinder, allowing you to easily find the hole and accurately use your rangefinder even if you have shaky hands.
However, the NX9 built on the NX7's optics by enhancing it to 7x magnification and including new HD Optics.
This means that the newer NX9 Slope model gives you an even clearer and more magnified image of the green, allowing you to use your rangefinder far more accurately than with the NX7.
While this does not mean that the NX7 Slope is a useless rangefinder, it is still very good to use but it is slightly less clear and accurate than the NX9 – and that could be what costs you a few precious swings.
Another difference between the two is that the NX9 Slope now includes a new magnetic grip feature that will allow you to attach your rangefinder to your cart or anything metal.
This means you are less likely to lose or drop or damage your rangefinder, increasing it's life and making sure you have it on hand at all times, which is very convenient and useful.
This safety feature is not included with the NX7 Slope so it is more likely to fall from your cart or slip out of your bag.
This could cost you hundreds of dollars to repair or replace your rangefinder, so it is definitely something you should consider if you have been known to be a little accident prone.
Of course, there is another difference between the two that we touched on earlier – the price. Being the newer model, the NX9 Slope will cost you more to buy than the older but still very functional NX7.
If you are on a budget or are not particularly impressed by the slight enhancement in optics the NX9 offers, then you might be better off going with the NX7.
Price can be a dealbreaker for a lot of people, so carefully consider if these differences between the NX7 and the NX9 is worth spending a lot more money.
Conclusion
So – which one is better? The Precision Pro Nexus Slope, NX7 Slope or NX9 Slope?
Really, it all depends on you and your preferences. The Nexus Slope might be more appealing to golfers on a budget or usually play on shorter courses, while the NX9 might appeal to golfers who like all the bells and whistles including better optics and safety features.
Meanwhile, the NX7 Slope is a perfect medium between the two. So, although the NX9 Slope undoubtedly has the most game-improving features and newer technology, it is not necessarily the 'best' rangefinder for all golfers.
Carefully consider the differences and similarities outlined above and choose which Precision Pro rangefinder is best for you.