Golf launch monitors are a great way to help improve your golf technique. They keep track of your distances with each swing and help you understand your shot patterns way more clearly.
This way, you can learn how to focus the power on your swings, land more hits perfectly and get more golf balls on the green. So, it's no wonder why a lot of golfers are turning to launch monitors to help perfect their technique. The only issue now is – which one do you get?
There are lots of different golf launch monitors available, each with different features and design. The thing is that launch monitors can be a bit pricey, so you can't afford to buy one only to find out that it is not the right one for you.
Voice Caddie have a pretty solid reputation in the golfing world, so you will probably be recommended one of their products at some point but that does not mean everything they make is the best option out there. That is why we are here to help you out.
There are three main launch monitors in their range; the SC100, the SC200, and the SC300. We are going to be reviewing each one, looking at their features and accuracy, and comparing them to each other so you can pick out the best Swing (Voice) Caddie golf monitor for you.
---
Our Pick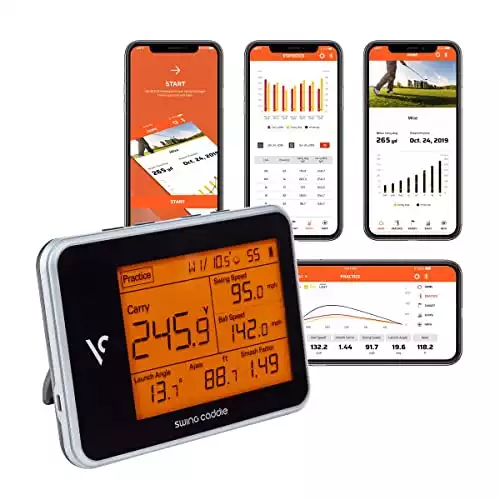 Voice Caddie Swing Caddie SC300 & SC300i
Swing Caddie SC300 is the latest addition to our family of portable launch monitors. The SC300 is truly portable and provides golfers with complete swing and ball flight metrics found in professional launch monitors, including launch angle and apex data. Using the latest in Doppler radar technology, and calibrating atmospheric pressure sensors, the SC300 provides uncompromised precision.
SC300 connects directly to a personal phone or tablet via Bluetooth allowing golfers to track their real-time, integrated data. Voice output of distance and remote control provides the highest levels of user convenience.
Some of the links on this website are affiliate links. This means that, at zero cost to you, we may earn an affiliate commission if you click through the link and finalize a purchase.
06/09/2023 08:00 pm GMT
The Swing Caddie SC300 is the first in the most recent generation of launch monitors from Voice Caddie.
The first SC300 was released in 2019, and is the only launch monitor on our list today that is still available on the Voice Caddie website.
This of course means that is also the most expensive Swing Caddie on our list but is the price justified by the product? Let's take a look!
Design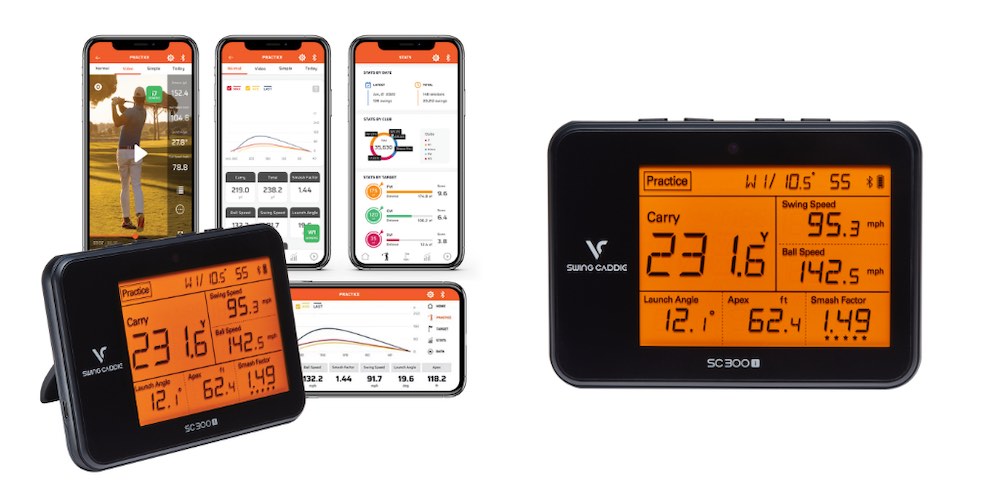 Whereas the SC100 and the SC200 looked fairly similar, the SC300 is completely different. Voice Caddie have done away with the smartphone like design and remodeled their launch monitors to look more like a thick smart tablet instead.
It is far more streamlined and sophisticated, with a larger screen to make reading your information way easier.
Although we said it is larger than the previous models, it is still light and portable although you can no longer fit it inside your pocket.
We think that this design is the best so far as it just looks more modern and easier to read. Good job!
Features
Finally, it seems that the Swing Caddies have caught up and decided to feature a link to apps that help you store and see your statistics on your phone.
This means you can sit back and review your performance wherever you are and without having to move your launch monitor. Even better news is that this is not the only feature Voice Caddie have improved with their launch monitor range.
The SC300 now measures carry/total distance, smash factor, launch angle, swing speed, apex (max height) and ball speed.
So, with the SC300, you get more reading and information to help you perfect your golfing technique! It still features the voice output feature, so it will read out the distance to you and it also comes with a remote for you to control your SC300 from a distance.
However, the SC300 has gotten rid of the random mode and only features practice and target modes.
This is a disappointment but the two modes that the SC300 do feature are still great for helping you to improve at your golf. But like we said before – accuracy is one of the most important parts of a good launch monitor.
Does the SC300 hold up or is it all about to come crumbling down?
Accuracy
When we tested out the SC300, we were very impressed with its accuracy and performance.
It was great at measuring carry distances although the greatest variances was in the apex height measurements. Despite this, any variances we found were only a few percentages out. Although no launch monitor will be perfect for every single swing, we think that the SC300 did a better job at catching and reading more swings and more accurately.
As for the problem with the variances between shorter and longer clubs, the issue is still there but way less noticeable.
It seems that Voice Caddie is starting to pay attention to our complaints and starting to work on the issue – here's hoping that it is completely resolved in the next generation!
---
Our Pick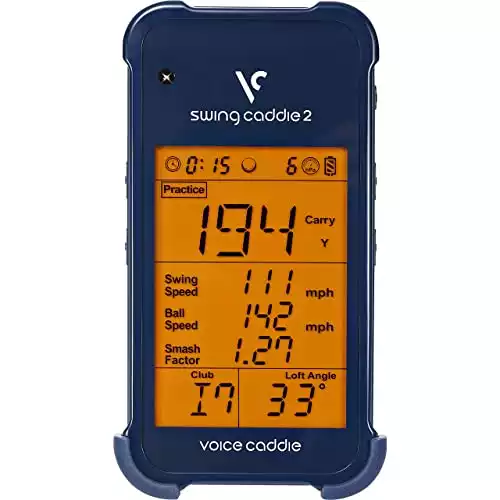 Voice / Swing Caddie SC 200 Portable Golf Launch Monitor
The new Voice Caddie Swing Caddie SC200 is the most advanced launch monitor with a reasonable price. Designed with distance voice output, instant feedback via LCD display, and distance adjustment by atmospheric pressure. This will help you improve your game with features like loft angle selection, daily and overall stats for each club and a shot count and time display.
Some of the links on this website are affiliate links. This means that, at zero cost to you, we may earn an affiliate commission if you click through the link and finalize a purchase.
The updated SC200 was released not that long after the SC100. It came out in 2015 and like with the SC100, it is no longer available on Voice Caddie's own website.
However, they are still being manufactured and sold on websites like Amazon or you can get one second hand. Because it is slightly younger than the SC100, it's no surprise that it comes with a higher price tag but just because something is younger does not always mean that it is better.
Does the SC200 have any additional features that justifies its price difference?
Design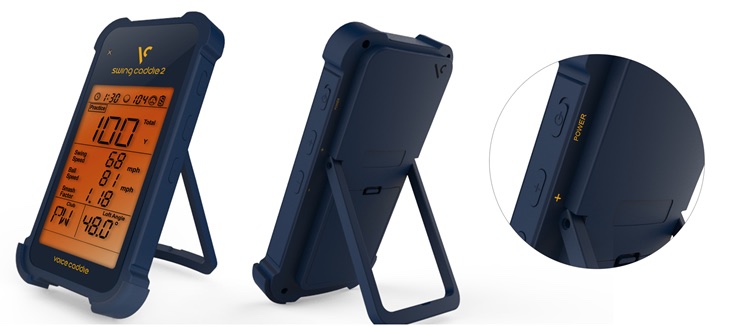 Appearance wise, we cannot see much of a difference between the SC100 and the SC200.
It is slightly larger but still light and compact enough to be carried around easily. The design still feels a little chunky, and the screen is much busier – but this is helpful for seeing all your readings at once.
The SC200 also is available with more color options, including blue, so you do have more choice when it comes to how your launch monitor looks. However, the visual difference between the two is lacking and they are very similar in design and appearance.
Features
Just like with its design, when it comes to features and use, we cannot find a big difference between the SC100 and the SC200. The SC200 also measures the same information as the SC100 including carry distance, swing speed, ball speed, and smash factor.
It also features the exact same modes as the SC100. It even comes with the same control so you can reset your launch monitor without having to move back and forth.
The difference between the two is that the SC200 features a barometric pressure calibrator to help give more accurate readings and that it will read out your distance to you instead of you having to look at the launch monitor to read it from the screen.
That can be handy, but does it justify the price hike? Well, it all comes down to our accuracy test!
Accuracy
Like with the SC100, the SC200 is pretty accurate but it is not perfect. We still saw the same issue where the SC200 read shorter clubs way better than longer ones. Sometimes it would miss reading a shot, other times it would tell us a shot we sliced carried a good distance.
These instances were few and far between but it is disappointing to see that the SC200 has not improved on the difference in accuracy between short and long clubs.
Considering the price difference, we would have liked to have seen this issue resolved, but now it looks like all our hopes rest on the SC300. As for our top pick between the SC100 and the SC200, we'd say go with the SC100.
It's way more affordable with very little difference between the two – but can the SC100 still beat out the last Swing Caddie on our list?
---
Our Pick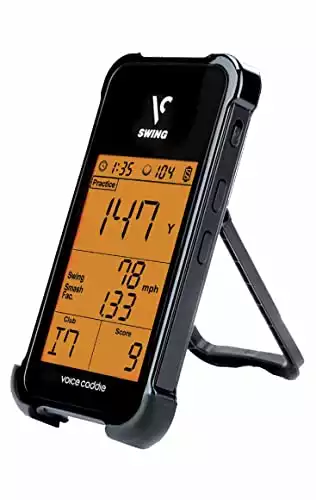 Voice /Swing Caddie SC 100 Portable
The Swing Caddie SC100 is a standalone portable golf launch monitor designed to help golfers visualize their swings. It provides instant visual feedback and stores stats for each club, without any separate device or smartphone application and its remote control makes it effortless to use. Swing Caddie is ideal for both practice and play and creates a fresh new experience for golfers of all levels. Note:Distance of SC100 behind you is within 4 feet. For known high hitters we recommend placing further back up to 10 ft.
Some of the links on this website are affiliate links. This means that, at zero cost to you, we may earn an affiliate commission if you click through the link and finalize a purchase.
The Swing Caddie SC100 is the first in Voice Caddie's own range of launch monitors, first being released all the way back in 2014.
Although now it is no longer available on Voice Caddie's own website, there are still plenty of SC100s available for sale through second-hand or on Amazon.
This makes the SC100 the more affordable option out of the three, but also the oldest and potentially the most outdated. So – has time really worn away the SC100's use?
Design
The SC100 looks and feels similar to a smartphone. It is light and easy to carry around, and comes with a fair sized screen that lights up pretty well so you can clearly see the readings from a few feet away. You can purchase your SC100 in either black or white so you have the choice to match your aesthetics.
The design is very sophisticated although it does look fairly chunky, especially on the corners. However, this makes the SC100 more protected from damage.
The materials used to make the SC100 are also very high quality, further adding to its durability. Overall, it is a good design although we do wish that it was more modernized and streamlined.
Features
Unlike with most gadgets these days, there is no app you can link to your SC100 to record your data.
To some, this might be a downside but to others this could be a plus, especially for golfers who aren't very tech-savvy and just want something simple to help improve their technique.
Despite this, the SC100 still has a good amount of features and modes for you to use. It features a practice mode, target more and random mode to help challenge you in different areas.
It is capable of measuring carry distance, swing speed, ball speed and smash factor to help to understand your shot patterns with each kind of club.
It also comes with a remote to control your monitor from afar – that's pretty handy! Overall, it keeps your practice varied and you can focus on certain areas you think you may be struggling with – but is it accurate enough to use?
Accuracy
Accuracy is probably the most important thing to look for in a launch monitor. After all, if it is not accurate enough, how can you use it to improve your golf technique?
So, we tried out the SC100 for ourselves and it was…mixed. When trying out with shorter cubs like the sand wedge and 7 iron, the accuracy was great and things were looking hopeful for the SC100.
However, when we switched clubs to hybrids and woods, things started to get a little less accurate.
It wasn't too bad (varying at around 30% at some points) but we noticed a few shots that we completely missed were registering as pretty good – so it wasn't very consistent.
Overall, we still like the SC100 but perhaps it's best to only use it with shorter clubs. The mishaps with consistency does give us a little doubt in its credibility, but this was clearly improved with the SC200 and SC300.
---
Conclusion
So which Swing Caddie is best? We are going to go for the SC300. It's more accurate, better designed and has more features – including a heftier price tag.
So unless you are a serious golfer, perhaps sticking with the more affordable option is the best route for you.
The SC100 is the most affordable Swing Caddie if you can get it, and still works pretty well.
While we much prefer the SC300, it is only the most useful to serious golfers who spend a lot of time out on the green.
These golfers will get the most out of the SC300 and seriously improve their technique, while hobbyists who don't want to sink hundreds of dollars into a launch monitor will be better off getting a cheaper one.