In my view, going into a golf game without some kind of rangefinder or GPS device isn't much better than going in blind. If you don't have a good idea of how far away the hole is, how are you supposed to know which club to use next, or how fast you need to swing?
But with so many different rangefinders and GPS devices on the market, it can be hard to know which one to choose. Which is why you should read articles like this one, where someone has taken the time to test and review the product so that you don't have to.
In this article, I'm going to tell you all about the TecTecTec VPRO500, which is a laser rangefinder, including my own personal experience with it. Later on, I will be summarizing its various pros and cons, before reaching a conclusion in my final verdict at the end.
Please feel free to scroll ahead to any section that catches your attention. Here goes!
Let's not beat around the bush and get straight into the features!
---
Our Pick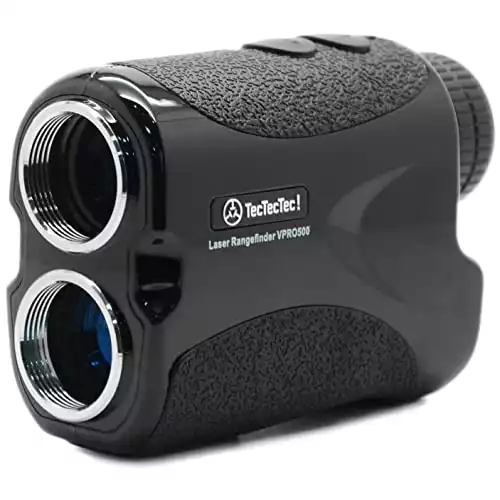 TecTecTec VPRO500 Golf Rangefinder
The VPRO500 delivers fast and extremely accurate measurements right down to the decimal. Target Lock Technology makes it easier to lock onto a target even if your hands are shaky. The VPRO500 is durable and built to last. Its very lightweight at just 6.52 oz and compact at 4.09 x 2.83 x 1.61 inches, ergonomic, and rain resistant. It comes fully equipped with a premium shock-resistant protective case. The case has both a zipper and quick release closures. A long-lasting CR-2 lithium battery is also included along with a wrist strap, microfiber cleaning cloth, and an easy to read manual. The VPRO500 is a reliable choice for any level of golfer.
Pros:
Reasonably affordable price tag

Just as accurate as higher end rangefinders (+/- 1 yard)

Excellent pin seeker and continuous scan modes
Cons:
No GPS functionality

The battery is not rechargeable

No slope or elevation compensation
Some of the links on this website are affiliate links. This means that, at zero cost to you, we may earn an affiliate commission if you click through the link and finalize a purchase.
10/01/2023 01:38 am GMT
---
Features
Ultra-Clear Optics
I would argue that it's the ultra-clear optics of this model that are its star feature. It's what the TecTecTec brand really prides itself on.
The VPRO500 features advanced multi-layered optics to ensure exceptional clarity and sharpness, which makes all the difference when you're trying to lock onto the pin.
Pinseeker Mode
It features advanced laser technology to really zero in on the pin.
Scan Mode
I really like using the scan mode. It's a great way to get the lay of the land during the game, and makes you aware of where the hazards are, so you can plan ahead to make your next few moves.
It finds and takes multiple readings quickly, and it can even find targets that are surrounded by background objects, which is a neat trick.
Accuracy and Power
I was also quite impressed to learn that the VPRO500 is just as accurate with its yardages as the high-end laser rangefinders, coming in at plus or minus one yard.
It can scan distances up to 540 yards. At first, this sounds quite far, but it's only half the distance scanned by most other laser rangefinders.
Accompanying Accessories
The VPRO500 comes with some very handy accessories. These include a premium, shock resistant, protective case, a wrist strap, a cleaning cloth, and a long-lasting non-rechargeable lithium CR2 3-volt battery.
After-Sales Service
The VPRO500 comes backed by a "love it or your money back" 30-day guarantee, which is really what swayed me to buy it and try it out for myself.
But that's not all, the rangefinder also comes backed by a lengthy 2-year warranty, which is twice as long as the warranty of a lot of the other rangefinders out there. Then, there's also lifetime customer support.
My Personal Experience With The VPRO500 
I found the VPRO500 very lightweight to carry around, and if I wasn't planning on writing a review on it, I would have forgotten I had it on my person.
I was carrying it in its protective case, which did a great job of keeping the rangefinder out of the rain when a shower hit.
I did get it out in the rain a couple of times, since the rain was only light, and this didn't seem to hinder its performance at all.
I accidentally dropped it at one point, and I was worried that it would stop working after that, but I'm pleased to report that the case's shock resistance seems to have worked, and I was
Following on from that, I thought I'd make use of the accompanying wrist strap, and it felt very safe and secure on my wrist.
Anyway, I found the rangefinder incredibly easy to use. I read the quick start guide first, and I found the instructions clear and easy to follow.
On the golf course, I found that the yardages I was given matched that of the other rangefinder I was comparing it against (a Bushnell). But I wasn't surprised with that, it was exactly what I was expecting. So I was more than happy with its accuracy.
Value For Money
When this article was written, the VPRO500 cost about $150 give or take. It's very much a mid-priced model, given how you can pick up a budget rangefinder for about $50, whereas on the higher end of the spectrum you can expect to pay upwards of $300.
I would argue that it does offer good value for money, but if you have a larger budget, then I'd advise you to take a look at some of the more expensive, more heavily featured models around.
---
Summary Of Pros And Cons
Pros:
Reasonably affordable price tag
Just as accurate as higher end rangefinders (+/- 1 yard)
Excellent pin seeker and continuous scan modes
Cons:
No GPS functionality
The battery is not rechargeable
No slope or elevation compensation
My Final Verdict
I'll be the first to admit that the VPRO500 is not the best golf rangefinder out there, and it lacks a lot of the features in the high-end models.
But, if you have a limited budget (which you quite possibly do given how much your clubs probably cost you) then the VPRO500 could quickly become an essential piece of kit for you if you don't already have a rangefinder.
I've had a very good experience with it so far and have no reservations about recommending it to anyone else. As to who should buy it, I would argue that it's really useful for beginners, intermediate improvers, or even more experienced golfers.
What's more, I would argue that some of the features of more expensive rangefinders aren't that great anyway. What use is it when your rangefinder vibrates once it's found the pin? You can see whether you've got the pin, and if you can't, there's not much use in playing golf in the first place.