A good caddy is vital to a successful game of golf. They help to keep a close and accurate track of your performance, give advice and motivation to keep you playing at your best, and generally make sure that you don't lose the ball in the vast playing fields!
However, not everyone has, or has access to, a good caddy. Sometimes it is left up to the player to keep good track of the ball, while also maintaining control over their score and their current performance.
Recent innovation of smart caddies comes to shake up the game. In previous years, smart caddies were largely viewed as gimmicks with little accuracy; in no way a replacement for a good personal caddy.
However, Arccos' new Caddie Smart Sensors promise to change the reputation of smart caddies once and for all.
But how good are these products in the heat of the moment? Do they really compare to a human caddy? And can they provide accurate play data from moment to moment?
---
How Accurate Is The Arccos Caddie Smart Sensor?
One of the biggest complaints that have been lobbied against previous attempts at smart caddies is how inaccurate they are.
So many times a ball has been driven across the field, only for the smart caddie to completely lose track of where it has ended up, and how good the player's swing was.
Luckily, the Arccos Caddie Smart Sensors seem ready to make this a problem of the past.
In our tests of these sensors, we found that they were accurate more than 95% of the time, with the sensors accurately conveying where the ball had ended up, and how powerful the swing was to get it there.
This increased accuracy means that the Arccos Caddie Smart Sensors really can take over from human caddies, as they can provide moment-to-moment advice and feedback on your play so that you can improve little by little with every single swing.
How Easy Are The Arccos Caddie Smart Sensors To Use?
This is another point where the Arccos Caddie Smart Sensors really shine. It takes only a small amount of setup before you're hitting the green and getting accurate readings of your play.
In order to use the sensors, you simply screw in one of the small sensor modules on the top of the grips of each club or putter you plan to use.
Once they have been screwed in, you merely need to pair them to the Arccos Caddie app. After that, you're ready to go!
The Arccos Caddie app is very easy to use and features a very simple user interface so that you can get the information you need with very little hassle.
However, that doesn't mean it is only giving you basic information, as you can still access in-depth insight into your play via the many menus within the app.
What is the Range of the Arccos Caddie Smart Sensors?
These sensors have an incredible range that allows you to get a full overhead view of the golf course right from your smartphone.
The app uses GPS to get map data of your current course and overlays the play information, such as your current distance from the hole, and the suggested level of power to use in your next swing.
The GPS map makes it easy to find where your ball ends up with each swing, so you won't be spending hours hunting it down.
However, in our tests of the Arccos Caddie Smart Sensors, we found that our smartphones and smartwatches needed to be close in proximity to the sensors attached to our clubs.
Simply placing it in your front pocket is sufficient, but this does mean that you cannot place it in a bag or another container during the use of the app.
If the app loses connection with the sensor modules, then you will receive very inaccurate data, if any at all. This could be a major downside for some users.
What Can The Arccos Caddie Smart Sensors Be Used With?
Each Arccos Caddie Smart Sensor must be paired with the companion app, in order to provide you with accurate play data.
This application can easily be downloaded to your smart devices, such as a smartphone or a smartwatch, to get accurate data in your pocket without needing any extra or clunky peripherals.
The Arccos Caddie app is compatible with both iOS devices and Android devices so that you don't have to worry about your phone being incompatible.
The accuracy and data provided are the same on both operating systems, as it is the sensor modules that are doing the majority of the heavy lifting.
What Is The Battery Life Like On The Arccos Caddie Smart Sensors?
The battery life on each sensor module is around a whopping 2 to 3 years, depending on how often you use them.
This is a very healthy battery life and means that you won't have to worry for a long time about them running out of power and accuracy.
However, the batteries within each module are permanent and cannot be changed or charged up between uses.
While the batteries may last a long time, the fact that the batteries cannot be changed by the user could be a serious setback for some.
Once a customer has purchased a set of Arccos Caddie Smart Sensors they are able to access a discounted price on all replacement sensors on a permanent basis. You can buy them in batches, or just one sensor at a time.
How Customizable Are The Arccos Caddie Smart Sensors?
The sensor modules themselves are not necessarily overly customizable, as there is very little you would need to customize, thanks to how powerful they are.
Though, you can choose where you want to use the sensors, and which clubs or putters you want to attach them to.
The Arccos Caddie app offers customizability with regard to the data it presents. The app is designed to be simple and only present the most crucial information to the user at a glance.
However, if the user were to explore the application, they would be able to access even more in-depth insight in order to customize their experience with the product.
If the user is looking to improve their play in specific ways, such as the power of their swing, then they can access data that will help them to improve it.
The Arccos Caddie app will also perform similar functions to a human caddie, such as giving you personal recommendations on what clubs you should use for a certain hit. This helps to make you a more informed player every step of the way.
Do The Arccos Caddie Smart Sensors Have Any Extra Features?
As well as its accurate data and its expertly designed mobile application, the Arccos Caddie Smart Sensors also come with an extra bevy of exciting features.
One of the most exciting and innovative features of these sensors is their ability to take weather conditions into account before you make your swing.
Many smart caddie devices simply give you drive advice based on the terrain ahead and the club you are using.
Unlike those, however, the Arccos sensors will actively seek to cater their recommendations to the current weather conditions. They will recommend the level of power to aim for, as well as which club you should use.
We found that these recommendations really did hold up to scrutiny. Any time we decided that we would ignore the recommendations of the sensors, we would find, shortly after, that we wished we had followed the advice, as our golf balls had careened off course!
They really are that accurate. You can also cater the recommendations and data to what your goals are within your play. Want to improve on your swing?
Set the application to provide advice and data on your swing and you can use every swing you make as a learning point for the next. You'll find that there is a marked improvement in no time.
Finally, it's also worth mentioning that purchasing a set of Arccos Caddie Smart Sensors also nets you a year's subscription to the smartphone application's advanced features.
However, this does mean that, without the extra subscription, the sensor modules would prove to be rather useless.​
Our Pick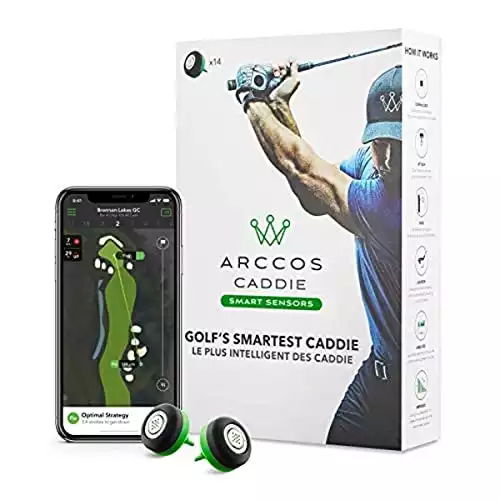 Arccos Caddie Smart Sensors, AI Powered GPS Rangefinder
Winner of four-straight Golf Digest Editor's Choice Awards for "Best Game Analyzer, " Arccos Caddie is golf's first and only fully-automatic performance tracking system. It features 14 sensors, one for every club in your bag.
Access to the award winning Arccos Caddie app, golf's Smartest Caddie.
Automatic shot tracking, hands-free fully automatic data capture.
A. I. Powered GPS Rangefinder, first-ever rangefinder that adjusts in real-time for wind (including gusts), elevation, temperature, humidity and altitude providing the most precise yardage in the game the Arccos Caddie Number.
Some of the links on this website are affiliate links. This means that, at zero cost to you, we may earn an affiliate commission if you click through the link and finalize a purchase.
09/25/2023 07:57 pm GMT
Specs For The Arccos Caddie Smart Sensors
Power Source: CR2032 Lithium Batteries
Battery Life: 2 – 3 Years
Batteries Included?: Yes
Materials: Plastic
Height: 50 Centimetre Box
Pros
Each sensor module connects effortlessly to your clubs, and to the Arccos Caddie application.
The Arccos application provides in-depth and to-the-minute insight into how you play so that you can use it effectively for improvement and practice.
Each sensor module has an incredible 2 to 3-year battery life, so you can expect to use them for many years to come.
Cons
A subscription to Arccos is required to get the full list of benefits and features. It comes as standard with the first purchase, but the annual $99 fee could be very off-putting for many.
The batteries inside of the modules cannot be replaced and also cannot be charged. Thus you would need to buy new modules every time each one runs out of its battery.
The distance between the clubs and your smart device needs to be as small as possible. If the distance is too great, you may get inaccurate readings.
---
Frequently Asked Questions about the Arccos Caddie
How Does Arccos Caddie Sensor Work?
The individual Arccos sensor modules operate via a small transmitter situated within. Whenever you hit the golf ball with your club, it will read the speed and the power of the impact. This data will be compiled and then transmitted to your smart device, so that you can judge your performance right away.
How Does Arccos Track Distance?
In order to determine the distance of each shot within a round of golf, the Arccos app and sensors will take a look at the distance between each shot. Say you first hit the ball with a driver. Once you catch back up with the ball, and then change your club and move to hit again, it will know where the ball ended up from the first hit.
Does Arccos Measure Swing Speed?
Yes. As part of its aim of improving your play, the Arccos sensors will accurately measure the power and speed of each swing. This helps you to get a far more in-depth and accurate sense of how you play.
---
To Conclude
At this point, we couldn't be more enthusiastic about the Arccos Caddie Smart Sensors. They work so much better than any other smart caddie we have ever used, and they provided us with plenty of accurate data as and when it was needed.
This helped to create a noticeable improvement in our play.The sensors are more than easy to install, simply screwing into the top of each club's handle, and then connecting to the associated mobile application.
You can be stuck into informed golfing in mere minutes.Speaking of the Arccos Caddie application, it's worth mentioning just how user-friendly it is.
If you're new to smart caddies, it provides more than enough information on the surface to prove useful, while all manner of extra data sets and settings can be accessed with a few button presses.
This makes the application perfect for those who need a little bit more in-depth insight into their play and how to improve it.