You know what? When Garmin released the Approach S10 just two short years after they released the S20, my first thought was "Why bother?".
The Garmin Approach S20 is an all-singing, all-dancing model of a GPS golf watch. Not only is it an excellent golf GPS watch, but it also doubles as both a smartwatch and a fitness tracker.
In fact, I think the only thing you can't do with it is make contactless payments. You can even use it with the Garmin TruSwing sensor for advanced swing metrics!
But then my eyes drifted to the price tag, and suddenly it all made sense… The Garmin Approach S10 is basically a budget golf GPS watch available at a fraction of the price of some of the other golf GPS watches on the market.
In fact, when this article was written, the Approach S10 was selling at $100 less than the S20.
What's more, even though the S20 has been around two years longer than the S10, the S10 has seen about two and a half times as many sales as the S20.
---
Introduction to the Garmin S10
Let's be clear on this. The S10 is not a better watch in terms of how many features it has. It is neither a fitness tracker nor a smartwatch, but is still an incredibly popular GPS watch with golfers.
And I reckon that has to be the reason why. Because of its affordability and sheer simplicity. I mean, do you really want to be bothered on the golf course by your social media notifications. I don't for one.
And I have no real desire for a fitness tracker either. I'm in pretty good shape and I don't care a fig how many steps I do on the course. That's not what I'm there for.
So, that's my introduction to the Garmin Approach S10, now for a more thorough look at its specs and features.
---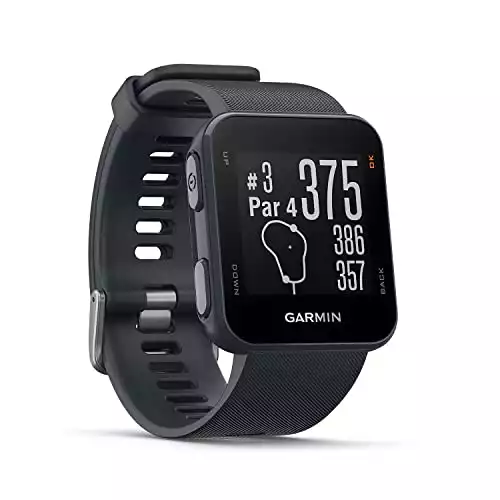 Garmin Approach S10
If you want to stay focused on your game and the course, this is your golf Watch. Based on your location, the easy-to-use approach S10 golf Watch automatically chooses the course you're playing from more than 41, 000 preloaded courses worldwide with free lifetime updates. Then it provides yardages to the front, back and middle of the Green as well as hazards and doglegs. Complete a hole, and it automatically transitions to the next hole as you walk from the Green to the next Tee box. And if you really crush one, you can measure the distance for bragging Rights.
Pros:
41,000 preloaded golf courses worldwide

Accurate yardages using GPS

Golf statistics tracking

12 hours battery life in GPS mode

Available in a choice of 3 colors

Relatively affordable price tag

No pesky smart notifications
Cons:
Doesn't double as a smartwatch

No Bluetooth connectivity, so it can't pair with Garmin Truswing sensors
Some of the links on this website are affiliate links. This means that, at zero cost to you, we may earn an affiliate commission if you click through the link and finalize a purchase.
11/23/2023 11:05 pm GMT
Aesthetic
The Garmin Approach S10 has a somewhat sporty, streamlined, and masculine look. It's available in two main color options, black or a dark granite blue on a silicone band.
The screen is perfectly square in shape, measuring 23 by 23 mm. (In terms of inches, this works out at about 1.2 inches diagonally.
The screen is clear and easy to read, even under direct sunlight. I know this because I tested it myself. And the screen has a high resolution, featuring white detail against a plain black background.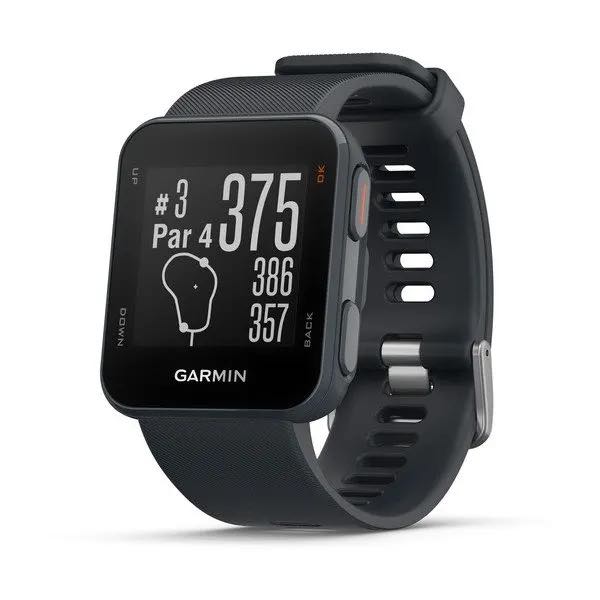 I quite like it's no-nonsense black and white screen, there's no needless color on there to distract from simply seeing the yardages.
PreLoaded Courses
The Garmin Approach S10 comes preloaded with golf courses from all over the world. It features over 41,000 golf courses altogether, which is just as many as offered on the S20.
To see if your favorite golf courses are already included on the watch. Check out the repository at Garmin.

At the time of writing this article, there were thousands of US based courses there (17,958 to be exact)
What's more, as more courses get added or updated, you don't have to miss out, because you get free updates for the entire lifespan of the watch.
GPS Accuracy
For me, this is the aspect of a golf GPS watch that counts the most. When I tested this out, I also took a handheld GPS device with me, just to see how the two compare.
The watch will show you the shape of the green, which in mind is always the best way to start. But the key feature here really is how it will show you the yardages to the front, the back, and the center of the green.
Not to mention the yardages to the bunkers, the doglegs, or any water.I was pleased with the strength of the GPS signal on the watch, and also with the accuracy of the device as well.
The yardages that came up on the watch matched those I had on the handheld GPS device. I was able to learn how far I was hitting with each shot and how far to each hole.
I also like how you can use the watch to keep your score throughout the game. It sure saves having to carry a scorecard around.
I give it a 10 out of 10 score for performance, and a 10 out of 10 score for price.
What it Doesn't Do
As I mentioned earlier, the S10 is not a smartwatch, nor a fitness tracker, and nor does it have Bluetooth to hook up with other gadgets. And as I discussed earlier, this could be seen as a blessing.
But there are also other areas where it could perform better, but doesn't. Most notably, it doesn't feature a Pin Pointer or track your stats (only your actual score).
Ease Of Use
I loved just how easy the watch is to use. It's not a touchscreen display, but it instead features 4 regular buttons at the right and left of the screen.
I prefer this because it means that you don't have to worry about accidentally pressing something that you didn't mean to press.
Battery Life
The watch battery is rechargeable, and the battery can last up to 12 hours on a full charge when in GPS mode. Which, as you know, is long enough for several rounds of golf.
When you take it out of GPS mode it will last even longer, and works just fine as a regular digital watch, as well.
GPS Watch VS Laser Rangefinder
To be perfectly honest, I still prefer using a laser rangefinder over a GPS watch for accuracy.
But I can certainly see why someone would prefer to use a GPS watch… A watch couldn't be easier to carry around with you, it's there secured on your wrist, leaving your hands completely free to hold a golf club, or the bag, or your sunglasses, or anything else.
What's more, have you ever tried fitting your rangefinder into your golf bag? They're not designed for it.
Not to mention that a regular laser rangefinder isn't going to show you a picture of the green.
You would need a laser rangefinder with GPS for that. And they cost hundreds of dollars, several times more than what you'd expect to pay for the S10.
Wrap Up
All in all, I have to admit, that despite the bargain affordable price tag, I was quite impressed with the accuracy and performance of the Garmin Approach S10.
It may not have as many bells and whistles as some of the other GPS golf watches on the market, but it does exactly what it's supposed to do, and it does so well.
If you have a limited budget for your golf gadgets, then you could do a lot worse than investing in the S10.
I was quite pleased with it, and I'm somewhat of a tough customer. I'm going to keep my S10 as a backup, should there ever come a problem with my S20. Or if I just fancy a round of golf without any pesky smart notifications.