If you are interested in buying some new golf clubs, then you may have come across the Cleveland HB Irons while on your search.
In this article, we are going to review these clubs and share our honest impressions about how well they work. These irons are pretty strange-looking, even for hybrid clubs, which is one of the things that makes these clubs very unique.
To summarize, if you enjoy hitting hybrid clubs, you're likely to enjoy these irons.
Most players with a mid to high handicap struggle with their long irons, and hybrid clubs are an excellent solution.
They offer far more forgiveness and usually are significantly simpler to strike. They can help with an increase in height, which helps with distance.
We wouldn't recommend these clubs if your handicap is low, but for the average mid- to high-handicapper, the Launcher HB irons are quite beneficial.
Here is everything you need to know about this club so you can decide if it is right for you!
Overview
This hybrid-like iron is designed to promote forgiveness, produce a higher ball flight, and assist you in hitting your strokes straighter than traditional iron could.
Even though the hybrid clubs are excellent tools to have with you on the golf course, these might look unusual to someone who has never used one before.
When seen from the front, they look to be the same as a conventional iron, but when viewed from the top, the difference is instantly noticeable.
Though the HB Irons look a little odd at first, learning how to use them is super quick and easy.
These clubs don't sound or feel like your standard hybrids, which may be a pleasant surprise to you.
Each time they are struck, they generate a deep sound and deliver a solid sensation, much like a regular cavity back iron would.
Overall, they are pretty substantial, sound wonderful, and have a good sense of balance about them.
Our Pick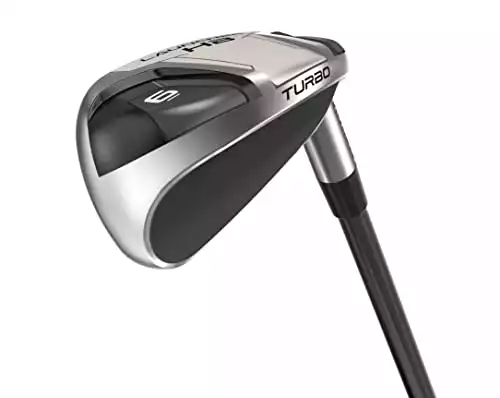 Cleveland Golf Launcher Turbo HB Iron Set
The Launcher HB Turbo Irons deliver maximum forgiveness and a higher trajectory for game improvement players seeking more accurate, longer shots. Get hybrid technology in every iron and start hitting it higher, straighter, and farther today with the Cleveland Launcher HB Turbo Irons.
Pros:
Great performance

Can hit higher and further

Great forgiveness
Cons:
Expensive

It may feel a bit strange to use
Some of the links on this website are affiliate links. This means that, at zero cost to you, we may earn an affiliate commission if you click through the link and finalize a purchase.
10/01/2023 08:38 am GMT
The Design
Cleveland Golf isn't shy about highlighting the fact that its irons are massive, and for players that fit into that SGI group, that size may create a sense of security.
However, even though the top line is somewhat thick, the blend of polished and matte chrome finishes keeps it from being too overpowering.
With a progressive shaped set, the size of the signature HiBore Crown lowers as the loft increases, resulting in a more aesthetically attractive appearance.
In terms of design, the sole is quite similar to its predecessor, with little branding and sharp lines that help to break up the large surface area of the club.
Key Features
A Hollow Core Construction Is Used
Because they are more forgiving than traditional cavity back designs, hollow body iron clubs are becoming increasingly popular.
In Cleveland's opinion, the Launcher HB moves weight to the perimeter of the head, which results in a very high maximum open angle of attack (MOI) and a stable head design.
For you, this means maintaining steady ball speed and lengths on both toe and heel strokes, which will only help you improve your accuracy over time as your technique improves.
HiBore Crown
A stepped crown, similar to the one found in HB woods, removes mass from above the golf ball's equator and repositions it lower and deeper, enhancing launch and forgiveness but lowering spin at the expense of distance and consistency.
This results in an incredibly playable and forgiving alternative to the HB.
Face With A Thin Yet Extremely Strong Structure
In addition to allowing for greater mass to be freed up from the face, which allows for more perimeter weighting, the HB bends more upon contact, resulting in higher ball speeds and longer carry lengths in general.
Progressive Form
Long irons have heads that are fashioned like hybrids, which provide additional forgiveness and aid in the launch of shots into the air.
This aids in the launch of shots into the air, particularly when using a slower swing speed.
The short irons have a much more iron-like feel to them, which aids in improving control of the club.
Performance
As very forgiving irons as can be found, the Cleveland HB irons live up to the company's large forgiveness boast.
Any decent contact sends the ball soaring high and straight in all directions after making contact.
Another contributing factor is the HiBore profile, which is hollow and places the weight low and deep in the skull in addition to being hollow.
They are also an excellent alternative for golfers who want to lessen their swings because of the low spin and minimum offset of the irons.
The distances you will get will be rather consistent, even though they will not be particularly eye-catching.
Who Can Use Them
Golfers with a mid or high handicap who typically have slower swing speeds and have difficulty striking their long irons may find the HB irons to be the most beneficial.
For those with low handicaps, the use of these clubs is unlikely to be of much use to them, but you can still give them a go if you want to switch up your playing style.
Pros And Cons
Pros
Great performance – even if you have never used a club like this before, you will find it very easy to work with, and you should see at least a slight improvement in your performance, though many people perform significantly better using these clubs
Can hit higher and further– for those far away shots, you want to get as close to the hole as possible, which you can do easily with these clubs
Great forgiveness – this is very helpful and can drastically improve your scores
Cons
Expensive – these clubs are on the higher end of the scale in terms of price
It may feel a bit strange to use – if you have never tried hybrid clubs before, these may feel a little strange to use. But they are easy to get used to so this may not be an issue for you
---
Summary – Should You Buy Them?
The HB Irons are excellent clubs and we would recommend them to anyone who has difficulties regularly hitting their long irons.
They are somewhat expensive, but the benefits they provide are well worth the investment, especially if you have a high or mid handicap.