Shop an indoor golf simulators if you want to experience the thrill of a real-life golf game in your home! These high-tech machines are designed with a realistic feel and require only minimal setup before they are ready for play.
But what about it's affordability? How much does a golf simulator cost?
Golf simulators are generally available at a cheaper price range for players who are just starting out. However, professional players might require a high-end simulator as they are designed with high-definition graphics and an advanced golf result evaluation system.
No matter the type of golf simulator you choose, every simulator produces a realistic playing experience for players much like what you'd find at the other golf courses.
In this article, we'll take a look at how retail home golf simulators work and what goes into setting them up.
---
What is an indoor Golf Simulator?
With a golf simulator, golfers can practice their game anytime. It is designed to allow golfers to hit virtual shots and analyze their golf swing in a virtual driving range.
It is the world's most advanced indoor golf training system, designed to replicate putting greens, fairways, and sand traps at your home.
Thanks to its specially designed hardware and software, the right golf simulator provides accurate results and offers an immersive training experience. It engages golfers in a much more effective way to enjoy playing golf indoors than traditional simulators.
Space Required to Set up a Golf Simulator at Home
Buying a golf simulator is not only about choosing the best features. You will also have to consider the simulator's overall measurement. Whilst we have encountered several questions regarding "how much does a golf simulator cost," the asking for "how much room do you need for a golf simulator" was also among the most common queries.
It takes a minimum of 10'W x 10'L x 8.5'H for an indoor golf simulator setup. However, it's best to purchase a simulator best matched to the player height, length, and reaching point along with the room space measurement.
---
What do you need to set up your own golf simulator at home?
Home Golf simulators are worth your investment if you can set them up with the right DIY accessories and products. Here is a list of the essential needs you must purchase for your own home golf simulator.
Computers
Computers are a mandatory need if you are running an affordable golf simulator. It will allow you to run the golf simulator software and process data in place of the launch monitors, which is a required function of all the home golf simulators.
Simulator
The best value golf simulator bundle promotes incredible functions and features that are bound to enhance the player experience.
The world-class golf courses support the use of advanced golf simulation systems so the players can go through flexible playing experiences and perform their best on the golf course.
Projectors
Golf simulators offer more than just a putting green. They can also create the feel of different golf courses in your home with the use of advanced projectors.
Golf simulators make use of projectors, screens and surround sound to turn your living room into a miniature golf club.
For an affordable price and better experience, golf enthusiasts can purchase a projector with at least 3000 lumens of brightness and a screen that provides both space and clear visibility.
High-powered projectors are perfect for use in brighter rooms.
Golf Mats
Golf mats have a unique surface texture that simulates taking a divot and is designed to improve your game while practicing at home.
The lightweight but durable mat allows you to move it around, and when you're not using it, you can fold it up and stick it into a corner without taking up too much space.
Nets and Impact Screen
Average indoor golf simulator users can improve their game by using golf hitting nets and impact screens. These accessories are designed to withstand the pace at which golf balls move toward the screen.
Users can also install both nets and impact screens to increase their overall effectiveness of golf swing performance.
---
Home Indoor Golf Simulator Costs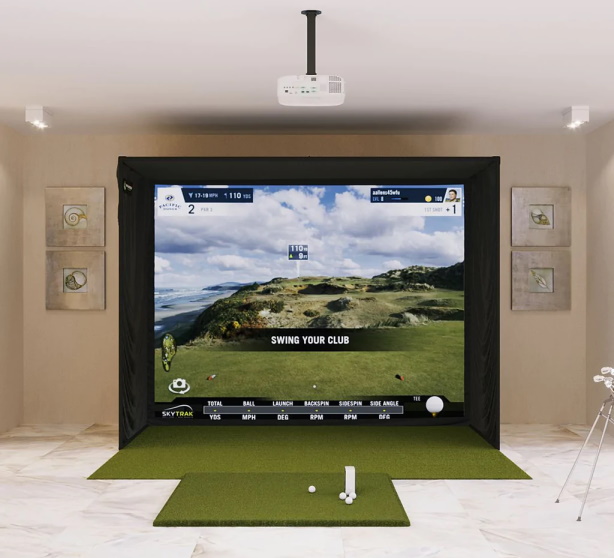 So you are on a budget to design your indoor golf game simulator but don't have an idea of how much the products could cost.
No worries, here you get the best average prices for indoor simulator products that are currently available on the market.
Golf Mat – $300 to $1,000
The cost of a golf mat isn't too expensive as the other products of a golf simulator. Golf hitting mat generally costs around 300 bucks to 1000 bucks; for the cheapest entry-level mat, you can go with the $300 options.
Golf Net or Screen Enclosure – $400 to $4000
Simulator screen enclosures work best to give your simulator a structural build. It's generally intended for protecting the simulator, and therefore the price ranges vary from $400-$4000 – a little high expanse than the golf mat.
Launch Monitors Cost – $299 to $30,000+
A home golf simulator requires launch monitors that basically record, analyze and monitor your gaming progress and showcase numerical data of your results. A golf launch monitor isn't too expensive (Around $299-$30000) unless you want something advanced for the avid golfer.
Golf Simulator Software Costs – $0 to $3,000
The average price range for simulator software varies a lot. With every update and advanced technology launching every now and then, the software setup expanses face ups and downs. However, the basic cost of golf software hasn't risen above $3000 to date.
Golf Simulator Projector – $300 to $7,000
Golf simulator packages should include a projector and screen to showcase your overall progress report while playing golf. It helps you determine the gaming levels you have reached through continuous practice. For the pricing, these projectors may cost around 300 bucks to 7000 bucks depending on the mid-tier, budget-ranged, and advanced setting options.
Accessories
Other than these vital needs, indoor golf simulators require some additional accessories such as cable to connect to the power outlet, adapters, projector shield, golf ball, etc., which will cost you no more than $100.
What is my home golf simulator going to cost me?
Golf simulators are expensive, and the price ranges vary a lot. Thus, people often wonder how much does a golf simulator cost? Or what is my golf simulator going to cost me? To summarise, an indoor golf simulator cost varies from $150 to $70000 with all the initial, intermediate, and advanced levelled simulator setups included.
Oftentimes, people want something within a budget while on their starting point of golfing. On the other hand, the intermediate and the professional players look for different simulator setups that cost a little high and offer some advanced features.
Below is little-to-know information about the various price ranges for golf simulators that you should consider depending on the type of player you are.
To get started, you should probably look for $150-$5000 ranged simulators.
For a mid-tier setup, the price range of simulators should be within $5000-$15000.
And, if you want something high-end to impress, or if you're a semi-pro player, you'd want to get something that's above the price range of $15000.
---
FAQ on Home Golf Simulator Costs
How much does a golf simulator cost?
If you are looking for entry-level golf simulators, it may cost you around $150 to $5000. These cheapest options offer you the OpiShot 2 and SLX Microsim gears. You get this entertainment gear equipped with the ones that cost less than $500 or $250. Essentially, these features are intended for entertainment use only and not for serious game improvement.
Is buying a golf simulator worth it?
Indeed, it's the ultimate best way to improve your overall golf performance. The best golf simulators offer you hours of entertainment while polishing your golf skills to reach new levels.
Several studies have found that players practicing golf simulators have noticed amusing progress in their golf playing skills within a year compared to players visiting the golf course once a week for practice.
How much does a DIY golf simulator cost?
While ready-made golf simulators cost you around $150 to $5000, DIY golf simulators cost almost the same. There is certain equipment, such as a screen, projector, etc., that needs to be purchased for a home golf simulator setup which will cost you around a few hundred bucks each.
Therefore, if we count the entire indoor golf simulator setup cost, you can get it within the $1500 to $3000 price range.
Is an indoor golf simulator worth it?
YES! If the best golf simulator package that you can use outdoors can improve your overall golf performance, the indoor golf simulator package allows you to enjoy that facility in your home. That's even greater! You get all the fun and practicing facilities with your golf balls without going outdoors.
Why are golf simulators so expensive?
Golf simulators offer you some quality products and essential features designed to record, analyze, and project your gold shots onto a screen to better your golfing experience. This is one crucial reason these simulators are so expensive in rate.
Generally, all simulators are set up for initial phase coverage. Therefore, as your performance upgrades over time, you need to upgrade your simulator setup too.