Hybrid clubs are sometimes something a lot of beginners avoid using. The Cobra King F8 One Length Hybrid is a very versatile club which can be used for a range of things.
This is seen as the ideal club for any mid to high handicap players who have been struggling to hit with their long irons.
It is a simple club to properly align up, and the two rails found near the base can help to make tough shots a lot easier.
Although, it is best to note now that this club has a fixed hostel. Which could be a turnoff for some players. Yet, we will let you decide that.
In this article, we will be giving you our honest review of the Cobra King F8 One Length Hybrid.
We will tell you whether this club is worth it and whether you need it next time you go out to play.
---
First Impression Of The Cobra King F8
Some of you may already be familiar with the Cobra One Length irons. Where each club is the same length as the Cobra King F7. However, there is now a F8 range and in that range you can get the One Length Hybrid which we are reviewing today.
We have always liked the Cobra King F7, as it has always been a great club.
While also being ideal for anyone who is looking to purchase clubs, but they have a budget to follow.
For a long time, the F7 has been unbeatable. Now the F8 is here, and it was said to be better than the F7.
Our team was really looking forward to testing out the Cobra King F8 when it first came out.
When we finally got our hands on the F8, the first thing we enjoyed was the fact that on the surface it didn't look as if much had changed.
The appearance of the F7 and F8 are very similar.
From the first look, everything looked great. The first noticeable difference was that the F8 was longer than the F7.
Yet it still felt really comfortable while swinging. It is important to note that there are two versions of the Cobra King F8.
There is the regular hybrid and the one length hybrid. We actually preferred the feel of the one length hybrid that we are reviewing in this article.
What Is One Length Actually?
If you have experience with the Callaway One Length iron clubs, then you could add the Cobra King F8 to that set.
Generally, all clubs will have different lengths. For example, your 3 iron will commonly be much longer in length when compared to your 9 iron.
However, when it comes to one length, they are all the same length.
However, today we are talking about the hybrid one length. Yet it is still the same length as a standard 7 iron.
For someone who is an average golfer, they would benefit from using shorter woods, drivers and hybrids.
This is because a lot of golfers have said that they would hit with the hybrids very well.
Yet when they tried a shorter driver, wood or hybrid, then they instantly noticed that their consistency when hitting the ball improved.
---
What Is New On The Cobra King F8?
We are looking at what has changed between the Cobra King F7 to the F8 One Length Hybrid.
We noticed that on the F8 hybrid, the stainless steel head still uses the same design that is seen on the F7 and other F8's.
Thus, you still get a nice rounded shape, which helps make it stand out from other clubs.
While also, it is important to mention that the F8 hybrid has been painted black while the other F8's are the standard silver.
When taking a closer look at the Cobra King F8 hybrid, we saw that the rails that are at the base of the club are much closer together.
However, we found that with these rails being much closer to one another, it helps to make the club and ball go through thick grass much easier than before.
Alongside that, just like all the other F8 clubs. The Cobra King F8 Hybrid comes with the Cobra Connect app.
This means you can now track your performance with the club, which can help you to improve your swing and game over time.
Cobra Connect can help you see your distances that you are achieving, and they will average them out.
Which then shows where you are missing, and it gives you some drive to know where your weaknesses are and where you need to improve.
---
How Does The F8 Hybrid Feel And Sound?
Some players can be quite particular on how they want their clubs to feel and sound while they use them.
For some players, they want their clubs to sound hollow, while others like a more solid sound. This is down to preference and how you like to play.
As we have mentioned above, the Cobra King F8 One Length Hybrid features a fixed hosel.
This is an advantage for mid to high handicap players. We felt that the fixed hosel made this club feel quite firm while in use.
It is known that people like to spend time adjusting their clubs, so that they can get more fade bias or draw.
Yet, we believe you should put that effort into your swing. You can choose between 4 lofts, which is great for the average player.
This is because spending time adjusting your lie or loft won't really help or benefit your game.
It doesn't keep your score down. Instead, we think you should spend that time on focusing on your swing, as that will affect your game the most.
---
Performance Of The One Length Hybrid
The Cobra King F8 Hybrid One Length has been specially designed to help golfers that may have a low to mid swing speed.
As a result, with particular clubs, you need to give the ball a lot of force to be able to get the best outcome out of it. However, with the hybrid F8, this isn't an issue.
When you tried hitting the ball with this club, we found that the ball managed to go the same distance, as it would have done when hit with a 5 iron.
However, the main difference is that the flight of the ball was much higher.
As a result, this really boosts players' confidence when using this club, but it helps the ball to land a lot softer on the green.
In addition to that, we have found that the F8 hybrid makes chipping much easier as well.
Instead of tapping the ball with the standard 7 iron, we tried the hybrid F8 and the ball felt more controlled and the action was easier to do.
The way to describe the motion was that it felt like you were putting the ball instead.
Yet you are using more loft, which then you control the distance you are chipping the ball much easier and accurately.
You wouldn't be able to do this with a standard hybrid. Thus, this is another positive to the hybrid one length having a much shorter shaft.
We were all very impressed by the performance the Cobra King F8 Hybrid One Length gave, and would use it a lot more often during a game.
---
Who Is This Club Suited For?
So far we have been really impressed by the golf club and we believe it could benefit a lot of players in different ways.
However, for those of you with a high handicap, the hybrid is a club you should start considering to be part of your collection.
This is a club that will work much better than your woods, when you are in a bad or tough spot that you need to get out of.
For example, if you know that one of your weaknesses in the game is controlling your distances when you are chipping.
Then the F8 hybrid is worth considering to use, as you have seen above it is great at chipping and really helps you to control the distance of the ball, better than any woods or irons could.
Overall, we have found that the F8 hybrid is an all-rounder club. It can be useful for anyone, and we can't think of a reason why everyone shouldn't have one in their collection.
---
Pros And Cons Of The F8 Hybrid Club
Our Pick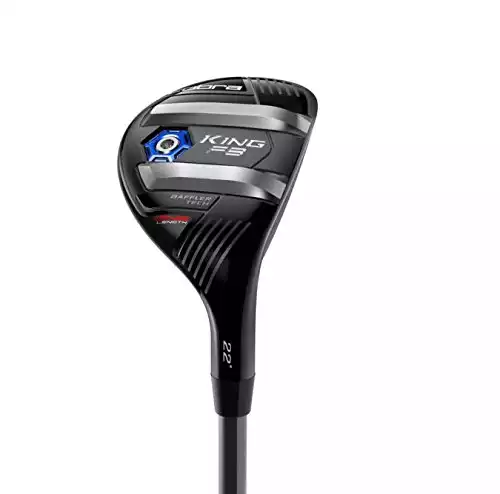 2018 Cobra Golf Men's King F8 One Length Hybrid
Smarter. Faster. More forgiving. Baffler technology delivers maximum playability from all lies. Cobra connect powered by arcos, its our first electronic Enabled hybrid that allows users to track their performance and improve their game.
Pros:
Easier contact with the ball in thicker grass

Lines align the ball much easier and correctly

Easy swing and hit in comparison to the 5 iron

Say goodbye to the 5 iron forever!
Some of the links on this website are affiliate links. This means that, at zero cost to you, we may earn an affiliate commission if you click through the link and finalize a purchase.
If you still aren't sure whether you want or need this club, then below we have put together the pros and cons.
This will help you decide whether you should have the Cobra King F8 Hybrid.
Pros
The rails on the bottom of the club help you to make contact with the ball in thicker grass much easier.
While on your face you will also see white lines. These lines align the ball much easier and correctly.
You will also notice that the club is much easier to swing and hit, then using a 5 iron.
You could say goodbye to that 5 iron forever. It is also great when you want to hit runs or bumps near the greens.
Cons
There aren't many cons with this club. The only real con we found was that the hosel on the F8 hybrid is fixed.
You can't adjust it, whereas you can in some other types of clubs. Yet, this isn't a huge flaw and doesn't really hinder your game or swing. 
Cobra King F7 or Cobra King F8 Hybrid?
When comparing the two, it can be difficult to know which one to choose. The F7 has been a great choice for many years. It was our go to for many years.
However, the length of the F8 is what makes this club much better. It is up to you which you go for, but we would lean slightly more to the F8 as it is a slightly improved version of the F7.
Final Thoughts
If you are looking for a new hybrid, then we can't highly recommend the Cobra King F8 Hybrid One Length.
It is perfect to be used as a standard hybrid and it's great when you are in a bad spot around the green.
As time goes by, there will be newer F8s. However, they will be much more expensive, and you can't really improve much on the F8.
We hope you have enjoyed our honest review about this club, and maybe persuaded you to consider purchasing one of these clubs.
They will help you improve your game and enjoy the game much more.