PGX is a popular brand of golfing equipment – and if you've used any of their offerings before, then you probably can see why.
Their golf clubs are unmatched in more ways than one, such as forgiveness and how they cut through the air on every swing.
The driver is one of the most important pieces in your golf caddy. Without a great driver, you're not going to start your game off as well as it should be.
Any golfer should start with an excellent driver before building their collection of hybrids and woods.
Today, we're going to be looking at the PGX Offset Golf Driver to see if this is the right club for you to invest in.
---
What Is The PGX Offset Golf Driver?
PGX Offset Golf Drivers are the latest innovation from the PGX company.
They are designed to provide maximum distance and forgiveness off the tee.
The drivers feature a unique offset design that allows them to launch higher and straighter than other drivers.
Pinemeadow has been around since 1976 and they are known for their high quality clubs.
Their reputation was built on their innovative designs and superior materials.
In recent years, they have also started producing some of the best equipment in the golf industry.
The PGX Offset Golf Driver has impeccable slice and forgiveness that will suit most players as they seek a lower handicap.
The technology that this driver adapts allows you to enjoy a larger than normal sweet spot for a better record of good driving swings.
This driver also looks the part with a sophisticated matte black finish and lime green accents.
Despite its 460cc size and impressively large sweet spot, this driver only weighs 200g.
Plus, it comes with a cover to keep the head protected!
---
PGX Offset Golf Driver: Technical Specifications
When reading up on a new golf club, the quickest way to get a gauge on whether the club is right for you or not is to look at its specs.
Here are the most important specifications for the PGX Offset Golf Driver:
Name
Pinemeadow PGX Offset Golf Driver.
Hand Orientation
Can be purchased in either left or right-handed, depending on your needs. Left-handed orientation seems to cost slightly more than right-handed.
Club Face
460cc offset clubface made with alloy. Loft angle is 10.5 degrees and the torque is 4.8 degrees.
Cover Included
A standard cover comes with this club in a green, white, and black design.
Shaft
Made from white graphite weighing 78 grams.
Flex
Comes in options for regular or stiff flex.
Length Of Entire Club
45 inches overall.
Grip
0.58 rated grip made from black rubber.
---
Our Pick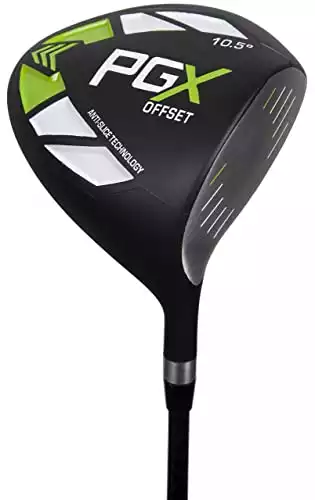 PGX Offset Golf Driver
The PGX Offset Golf Driver was created by Pinemeadow Golf with Offset Technology to give everyone a chance to hit more fairways. The 460cc head provides a massive sweet spot, that all players can consistently strike. The lightweight design means you can swing it hard and produce more speed.
Pros:
Great forgiveness due to its 460cc head size

Attractive design

Anti-slice technology

Choose between different orientations and flex

Great value for money
Cons:
Difficult to adjust for beginners

Not the best for advanced golfers
Some of the links on this website are affiliate links. This means that, at zero cost to you, we may earn an affiliate commission if you click through the link and finalize a purchase.
11/22/2023 01:18 pm GMT
---
PGX Offset Golf Driver: Important Features
There are a number of great features that come with the PGX Offset Golf Driver, all of which contribute to the popularity of this club.
So, let's take a look at the most important features that come with this club to determine if it's the right fit for you.
The Shaft
The shaft length of this driver is between 20 inches and 24 inches. This means that it will be perfect for almost everyone out there.
If you're a beginner or intermediate player, then you'll find that this shaft length suits you perfectly.
The shaft is made from graphite which is a popular material for many club shafts on the market.
It weighs 78 grams and is perfect for offering better forgiveness on the initial swing.
This club has a mid-high angle of launch which works well for seniors and women golfers too.
What's more is that the flex of the shaft helps people with slower swings reach a better potential. This club is excellent for everyone!
The Clubface
The PGX Offset Golf Driver's club face is probably one of the most beneficial aspects of the club.
It is made of alloy, but don't let that deter you just because it's not made from titanium. Alloy can still work well and doesn't always allude to a cheaper club.
The club's overall weight isn't too heavy, which helps keep forgiveness impressively high.
With slower swings like this club is designed for, alloy can actually be better than titanium thanks to its slightly heavier weight than titanium.
You'll notice that the offset design is perfect for people who are just starting out in the golfing game and need some more help with their ball control.
The offset design allows you to still get a decent driving start to your game even if you don't hit the ball in the optimal area of the clubface.
The loft angle for the PGX Offset Golf Driver is 10.5 degrees, which is the standard that you will find in any driver.
However, the other aspects of the clubface make this an excellent option for many beginner golfers out there.
The Flexibility
Every golf club has a degree of flexibility which can help with swing speed and quality.
The PGX Offset Golf Driver comes in both stiff and regular options, with them having both been tested by many reviewers.
The difference is very clear, so know whether you need a stiff or regular flex before purchasing.
Regular stiffness is best for beginners who need a little more help with the power behind their swing.
The added flexibility can help the club create more power to drive the ball with. Women and senior players will also benefit from a regular flex.
Stiff clubs are normally reserved for advanced players who have a fast swing on their own.
However, the stiff model still holds a decent amount of flex so that it can give more power behind the driving shot.
Adjustable Capabilities
You can actually adjust the hosel of the PGX Offset Golf Driver, making it higher or lower depending on your personal preference.
You can also determine the correct length for your body.
Not only that, but you can also add more weight to the club head if you wanted to. You can use either 2 or 2.5 gram plugs.
Not all golfers want to adjust their clubs, but as you get more confident with the game, it can be handy to have the option.
The Sweet Spot
The sweet spot is incredibly important with any driver, and the PGX Offset Golf Driver does not disappoint.
The 460cc clubface is as large as you can get and therefore offers a great sweet spot.
The bigger the sweet spot, the better the forgiveness.
When you're just starting out in the world of golf, a larger sweet spot will be necessary for you to keep improving.
The Grip
While the PGX Offset Golf Driver comes with a slightly lower price point than average, this doesn't mean that it compromises detail.
One thing that many cheaper clubs lack is a decent grip, however, this isn't the case for the PGX Offset Golf Driver. You can always regrip your clubs.
The rubber could stand to be slightly thicker so as not to wear down too quickly, but other than that, there is little to complain about.
You'd probably get around 30 rounds on an 18-hole course from this grip. This is on the lower end of rounds that you'd expect from a club grip.
---
How's The Design Of The PGX Offset Golf Driver?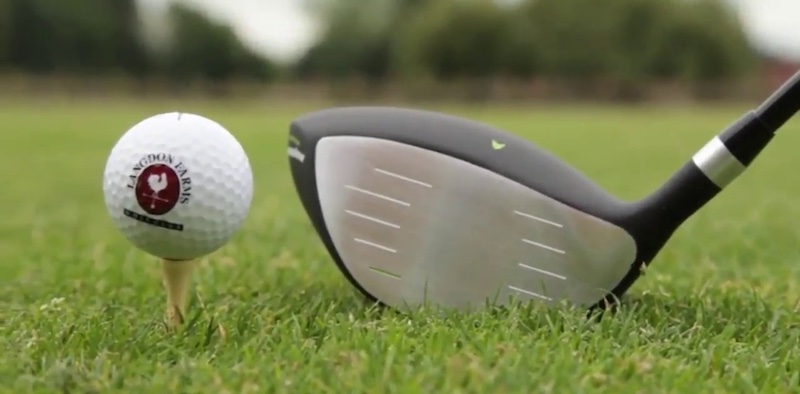 If you're looking for a sleek and stylish driver to add to your club bag, the PGX Offset Golf Driver will not disappoint.
The details are amazing and the matte finish makes it look much more expensive than it actually is.
The size might make you think that the design is going to be simple and nothing to write home about, but Pinemeadow has outdone themselves with this one.
Each piece of the club looks amazing and feels great, and you'll definitely have people complimenting you on this one.
The green and white design makes the club stand out even more without taking away from the sophisticated matte black.
The cover that comes with the club pairs well with the club to give you a more expensive feeling set.
If you care about your clubs looking as good as they work, then this is a great driver for you.
---
How's The Performance Of The PGX Offset Golf Driver?
When it comes to performance, the PGX Offsets are pretty impressive. They offer a lot of forgiveness and control at impact.
The shaft and club face work amazingly together, which some clubs fail to do.
Manufacturers of cheaper clubs often underestimate the importance of this fact, but Pinemeadow is not one of them.
The anti-slice feature helps to set this driver from the rest, allowing you to have more control over the ball without being an advanced player.
This club is excellent for beginners, women, and seniors alike.
Thanks to the 460cc face, this club gives you plenty of room for spin and distance.
It's also worth mentioning that the offset helps to reduce torque when hitting shots into the wind.
This is something that most drivers don't offer, but it's a feature that really adds value to the club.
If you're looking for a forgiving driver that will help you improve your game, then the PGX Offset is the perfect choice.
---
What Are Some Of The Pros And Cons Of The PGX Offset Golf Driver?
As with anything, there are benefits and drawbacks to the PGX Offset Golf Driver. We've listed them down below so that you can get a well-rounded image of the driver.
Pros and Cons of PGX Offset Golf Driver
Pros
Great forgiveness due to its 460cc head size with an excellent sweet spot.
Attractive design.
Anti-slice technology helps beginners get better driving shots.
Choose between different orientations and flex options.
Great value for money.
Cons
Difficult to adjust for beginners during a game.
Not the best for advanced golfers.
The packaging could be a little more secure.
---
Summary
In summary, the Pinemeadow PGX Offset Golf Club is a fantastic driver for beginner golfers, women, and senior players.
It offers a high level of forgiveness, while still providing enough power to keep up with the competition.
Its unique features and attractive appearance will ensure that you receive lots of compliments throughout your rounds.
Overall, if you're looking for an affordable driver to start you off on your golf journey, this is an excellent club for you!