If you're one of the people whose golf grips have worn down, you must regrip immediately.
A shabby old grip can affect your swing, degrading your overall performance!
An old grip can also cause lesser traction, even with an added grip from a golf glove, which means saying hello to consistent shots and bidding goodbye to the chances of getting an albatross.
Don't worry; re-gripping golf clubs is easy. You just have to remove the old grip, replace the grip tape, and install the new grip.
We'll discuss all about why and how to regrip golf clubs in this article.
---
Why you should regrip your golf clubs
If you're still unresolved about whether to re-grip your golf club, as you may feel that your performance is still the same and it may cut off your peaking momentum.
Here are my top 5 reasons that could help change your perspective:
1. Old grips, lesser traction
In time, old grips lose traction due to constant use, sweat, and dirt. As this becomes apparent, how you hold your golf club will feel different as it becomes slippy to the hands.
This situation can affect your swing and change your shots' accuracy and direction.
Newer grips are efficient, and to give you a better idea in buying one, you should keep this in mind:
Choosing your grip type (hard or softer grips): Corded, Rubber, Synthetic, or Wrap-Style grips
Knowing your grip size: Junior, Standard, Midsize, Jumbo
A round grip is best for smooth golfing
A ribbed grip is best for beginners to get better alignment
2. Excessive grip pressure
Since old golf grips no longer have traction, you must exert more pressure to control the entire grip.
This means a higher possibility of having an improper golf swing release, which may cause weak shots, and can impede the following:
Ball direction
Accuracy
Balance
Spine and back impact
Golf experts prefer lighter grip pressure as it's tension-free and plays a vital role in the wrist hinge movement, where the swing power comes from.
3. Heat, sweat, and oil degrade golf grips
The heat, sweat, and oil from when you play golf can significantly affect the integrity of golf grips.
With less durability, you also have lesser efficiency and lesser chances of having a better golf experience.
Nevertheless, when your clubs and grips are exposed to these factors, you can clean them with soapy water and a clean cloth.
4. Budget-friendly
Instead of getting the help of a professional from a golf store, you can regrip clubs all by yourself and save some money.
The average payment for labor for each club regripping is about $2 to $4, and it will cost you approximately $35 to $200 for an entire set.
However, if you DIY, it will only cost you $4 to $20, which means you can save a lot, even just from the professional labor fee.
5. Regripped golf clubs give a better feel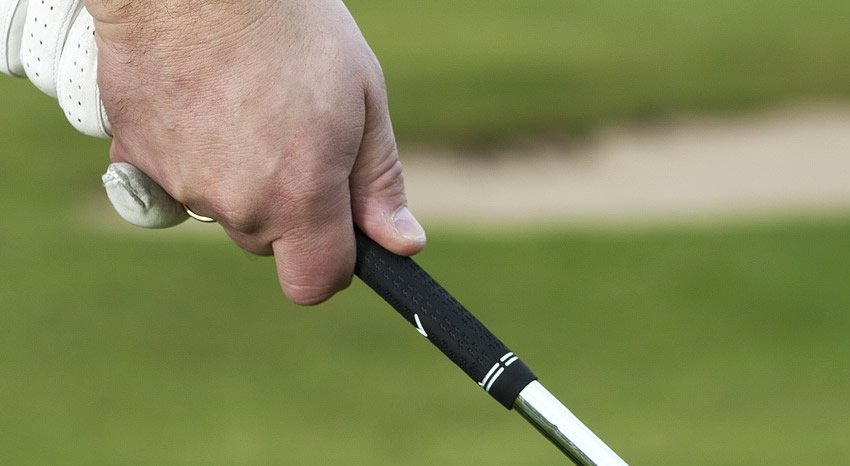 Last, it would be best to regrip your golf club as it will deliver a better feel for your hands, resulting in easier yet more powerful and accurate swings.
It will also improve your control and help you steady the club as you get ready for a swing.
Pro Tip:
Use the same grips on your entire club set for uniformity and a better feel.
---
How to regrip golf clubs
With all these reasons for regripping your golf clubs, it just makes sense that the next thing you should do is to regrip them immediately.
Start by getting a regripping kit based on the method you will use with the following materials:
Grip tapes
Grip (and extra grips)
Grip solvent
Rubber vise clamp
Double-sided tape
Utility knife, straight blade, or hook blade
Now that you're ready, proceed with these 3 easy steps:
Step 1: Remove old grip and old tape
First, remove the worn grip using these different methods:
Cutting using the knife of choice
Using compressed air
When you cut using a knife or box cutter, you must pull the grip backward until it forms a thick layer. Then, start at the top and cut it without hitting the graphite shafts.
You can do the pull-cut method repeatedly until you remove every golf grip from the club. After clearing the grips, just make sure to remove the excess grip tape at the shaft butt.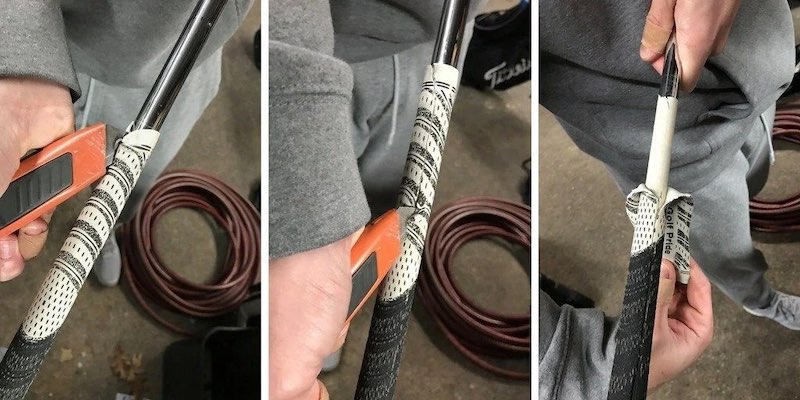 In using an air compressor to get fresh grips, launch short air shoots on the small hole at the butt end of the shaft until the entire grip gets removed.
After that, scrape the old tape away using the same solvent you'll use in inserting grips.
Pro Tip:
When using sharp items, cut in a direction contrary to yours to avoid injury.
Step 2: Replace grip tape
If you're sure there is no remaining residue, proceed to the next step by replacing the old tape with new ones.
Here's what you need to do:
Measure how much tape you need to cover your club's grip by putting the end of the grip and the club beside each other.
Add extra tape length to the measurement.
Apply new tape in a spiral pattern for 3/4-inch and a vertical pattern for 2-inch grip tape.
Press the tape to prevent creasing.
Cut it a centimeter above the end of the shaft butt (end of the grip).
Step 3: Install new grip using grip solvent
After preparing your grip tape, it's time to put on some grip solvent to finish installing your new golf grips.
Grip solvents can be any of these:
Mineral spirits
Water
Hairspray
Paint thinner
To apply, hold your grips upward and cover the bottom hole with your finger or a golf tee.
Then, get a funnel, put it at the top of the grip, and grab your solvent.
Next are the steps on how to replace golf grips:
Put a generous amount of solvent inside.
Remove the funnel.
Cover the hole left by the funnel.
Shake the grip for about 5 seconds.
Get your club, and remove your finger at the butt end of the grip.
Let the solvent run through the club with tape; ensure that all the tape is covered in the excess solvent.
Insertion of the grip begins.
Do these steps again for your other grips.
Pro Tip:
Make sure to catch excess solvent using a container as you run it on the entire shaft to prevent solvent from scattering.
---
You can also use compressed air when installing grips. To do this, you must follow these steps:
Clip club in a rubber vise clamp.
Fit the opening of the grip to the butt end of the shaft.
Lightly hold the grip.
Let the compressed air pass through the hole at the end of the grip.
Push the grip synchronously with every compressed air burst.
Repeat the last step until the grips are fully-inserted.
Lastly, wipe off the residue and let the clubs dry for a few hours (about two hours).
---
In summary
Regripping your clubs to maintain your momentum and performance is CRUCIAL.
A good grip can help you get excellent traction, swing, accuracy, and a better feel of the golf club.
What's great is that you can regrip your club yourself at an affordable price! All you need to do is:
Remove the worn-out grip and tape by knife or air compressor.
Replace the grip tape.
Install the new grip with a solvent or an air compressor.
Now that you know WHY and HOW to regrip golf clubs, do it as early as needed.
Good luck in your next course or driving range session!
---
FAQ – Why and How to regrip your Golf Clubs
If you don't have much time to read everything listed above, here are some of your frequently asked questions and their answers:
How much does it cost to get golf clubs regripped?
Getting your golf club regripped professionally will cost you a $2 to $4 labor fee on top of your grip brand, which in total can be between $35 to $200.
Can I regrip my own golf clubs?
Yes, you can regrip your golf club in three easy ways: remove golf grips, replace grip tape, and apply the new golf grip.
How often should you regrip golf clubs?
Ideally, your golf club must be regripped once a year. But, if you use it more often, regripping every two months is suggested.
What do you need to regrip your clubs?
In regripping, you need to have new grips, new tape, a grip solvent, a sharp blade, and a vise.
How long after regripping clubs can I play?
You must wait at least 6 hours after regripping to let the solvent set properly before you can play.
Can you peel golf grip tape?
Yes, you can peel off the grip tape by using a tape stripper or any sharp materials. Just make sure you don't get too close to the graphite shaft.
How long does it take to regrip a club?
When you regrip a club yourself, it can take at least 15 minutes to 48 hours, depending on what tape you will use and how familiar you are with the process.