Using a GPS on the golf course and a launch monitor at the range is a great way to improve your game and lower your scores in the big games.
But for someone who has never bought a GPS for this purpose before, choosing the right one can be a bit complicated. lan
Garmin's Approach G80 GPS launch monitor is one of the more powerful monitors currently available.
In comparison to other models, the G80 scored highly for accuracy, course selection, battery life, and overall quality.
However, the more features a product has, the more expensive it becomes, which is true for Garmin's Approach G80 as well.
While this may put some people off, after reading this review and seeing everything that the GPS has to offer, you may change your mind. Let's do this!
---
Our Pick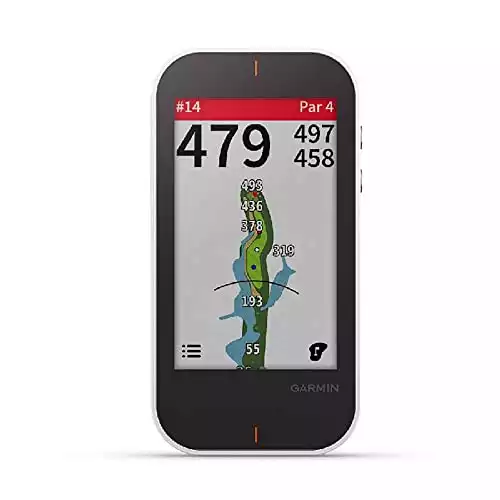 Garmin Approach G80
Why buy a golf handheld and a golf radar separately when it's so easy to get both in a single convenient unit? Approach G80 is the first all-in-one premium GPS golf handheld with integrated launch monitor. Garmin radar technology makes it easy to track club head speed, ball speed, smash factor, swing tempo and estimated distance.
Pros:
Accurate

Good build quality

User Friendly
Cons:
High price

Both a GPS and a launch monitor
Some of the links on this website are affiliate links. This means that, at zero cost to you, we may earn an affiliate commission if you click through the link and finalize a purchase.
09/30/2023 09:53 am GMT
This is Garmin's flagship golf GPS, and it's rather remarkable in that it includes a launch monitor.
This is a wonderful GPS for anyone who wants to keep track of their swing numbers at the range and course information when out on the golf course.
While there are several GPS gadgets and launch monitors on the market, hybrids are uncommon.
Previously, a GPS for the course and a launch monitor for the range was required, which are two separate devices.
A GPS device will effectively tell you how far each shot traveled and how close you are to key sections of the course. This is crucial for shortening your distances and lowering your score.
A launch monitor is a piece of equipment that collects information about your swing, including swing speed, ball speed, smash factor, and a few other characteristics.
Launch Monitor
A golf launch monitor is a device that measures many aspects of your swing. It will inform you of the distance traveled by each club and will also make range practice much more fun.
Although it will not be 100% accurate, it will provide you with an indication of where your game stands.
Here are the things that the launch monitor will track for you:
Swing Tempo
Swing tempo refers to the duration of your entire swing. It will essentially inform you of the smoothness of your swing, which is really important to know.
Accelerating your tempo is a highly effective strategy for increasing your consistency. Your backswing, as a general rule, should be three times as long as your downswing.
Clubhead Speed
Clubhead speed is the rate at which your club is swung. Increased velocity equates to increased distance (generally).
Knowing your clubhead speed can assist you in determining the appropriate shafts to use and the appropriate golf ball to play. All of these things are crucial in elevating your game.
Distance
Distance is how far down the fairway the ball is hit. Obviously, the further, the better.
Smash Factor
The smash factor relates to the amount of energy your club transfers to the ball. Your smash factor dictates the amount of energy sent towards the ball.
The more energy the greater the range. With a smash factor of 1.5, a 100 mph swing results in a 150 mph ball speed. Your driver will have the highest smash factor.
Ball Speed
The term "ball speed" refers to the rate at which the golf ball comes off the club. Increased speed results in increased distance.
While the majority of it is dependent on the club and ball you choose, it is still a helpful statistic to know.
GPS
A golf GPS will show you the distance between various points on the course.
If you have always struggled with distance control then knowing the right yardage to the targets will help you improve your game.
It is also a big help knowing how far you hit each club. Over 41,000 courses from across the world are preloaded on the Garmin G80, so you should hopefully find your local course on there.
If you are a bit nervous about buying this product without knowing if it has your course on it, then you can check the Garmin website.
On there, you will be able to search up your local course and it will verify that it is on the GPS.
Additionally, it will identify your location in relation to the 100- and 150-yard marks. Developing proficiency in these two strokes is one of the most effective techniques for increasing your score.
All that is left is for you to choose the suitable club to get you to the 100 or 150-yard marker.
Here are some of the best features of the golf GPS:
Stat Tracking
Stat tracking is a wonderful tool since it offers a birds-eye view of your game. It will display information such as putts per round, regulation greens/fairways, and a few more things.
Pinpointer
When shooting blind, the pinpointer aids in establishing the green's position. You may be ahead of a cluster of trees, or you may be firing over a hill and so unable to see the flag. This is pretty big benefit of this device
Playslike
Playslike will account for elevation and calculate the right yardage for you.
If you strike downward from 150 yards out, the distance may appear to be 140 yards. This is possibly one of the most usefual traits fo the whole device.
Touch Targeting
Touch targeting may be used to calculate the distance to any place on the course. To obtain your distance, all you have to do is touch a specific location.
Other GPS features
Apart from these excellent features, there are several more packed into the GPS side of this device:
Course preview
View of the green
Yardage to front, middle, and back of the green
Stat tracking
Yardage to doglegs & layups
Scorecard
Shot distance
Practice Mode
The G80's practise mode is an intriguing feature that you will probably appreciate since it makes practising more entertaining.
This feature will boost the challenge and enjoyment of the game. It will give you yardage to hit and a gauge of how near you came. Additionally, it will tell how far to the left or right of the target you were.
You can shoot simulated rounds against a human opponent at the range. This adds some diversity to your swing and applies some pressure to it. It's a lot more fun than hitting ball after ball.
Is The Garmin G80 Accurate?
In compared to other GPS devices available on the market, the accuracy of the G80 is equivalent to that of any other Garmin GPS. Garmin has always been the most precise, and this was the case here as well.
Although the yardages may not always be as precise as those got with the use of a laser rangefinder, they are usually close enough that it does not make that much of a difference to your game.
The most distance it has been off is around 5-7 yards, however it is typically much closer. Now for the launch monitor distance.
Your wedges and drives should be fairly precise, however your irons may sometimes be out by approximately 5-7 yards.
While it may not always be precise, it will come pretty close to the right distance most of the time.
Specs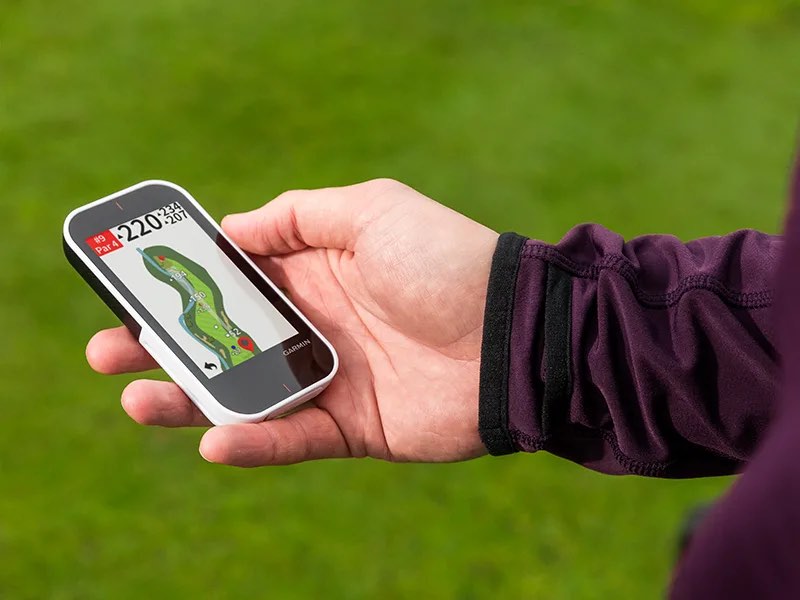 Here are the most important specs of the Garmin G80:
Courses – 41,000+
Size – 59 x 144 x 16mm
Water resistant – yes
Touchscreen – yes
Battery – 15 hours in GPS mode
Screen size – 3.5 inch
Weight – 199 grams
Launch monitor – yes
Preloaded – yes
Touch targeting – yes
Distance To Front, Middle, Back – yes
Playslike – yes
Distance To Hazards/Doglegs/Layup – yes
Manual Pin Placement – yes
Shot distance – yes
Auto shot – yes
Score card – yes
Stat tracking – yes
Pros:
Accurate – though the distance on both the GPS and launch monitor may be out by a few years, it is still farly accurate for a GPS device
Good build quality – when taking a device such as this out onto the course, you want to make sure that it is durable and waterproof as you never know what could happen. The Garmin 80 is a pretty sturdy device
User Friendly – if you have never used a GPS device for golf before, then you will appreciate just how easy to use the GArmin 80 is
Cons:
High price – though it is it packed full of features and is made to be sturdy and durable, there are palnety of other GPS devices on the market that do pretty much the same thing as the Garmin 80
Both a GPS and a launch monitor – While this can also be considered a pro of this device as having both is very useful, if you just want a GPS devioce then thisi may not be for you. Also getting a simple GPS device will be much cheaper than this product
---
Is The Garmin 80 Worth It?
In general, if you are searching for a GPS and launch monitor, the Garmin G80 may be a good option. It is much more convenience to have two integrated devices than have a GPS and launch monitor separately.
There are no other hybrids as well-built, precise, and user-friendly as this one.
It's an expensive gadget, and if you are not very interested in the launch monitor functionality, there may be a better suited golf GPS for you.
There are a few less expensive alternatives that you could try, so do your research to see what will work best for you and your golf game.
---
Frequently Asked Questions about the Garmin Approach G80 Golf GPS
Is the Garmin G80 waterproof?
While the Garmin 80 is advertised as being waterproof, that is not to say that it will survive a fall in a lake. Water resistant is probably a more accurate term.

It is fine if it gets a bit wet in the rain, or if a drink is accidentally spilled on it, but if this happens it is best to dry it off quickly to avoid any internal damage.
What is the battery life of the Garmin G80?
This device has enough battery to last at least 3 full rounds of golf, so you can be sure it will be there when you need it most.
Does Garmin G80 come with a clip?
The Garmin G80 comes with both a cart clip and a carabiner clip. So whether you want to clip it to your cart or your trousers, you can do this with ease.
How many courses do the Garmin G80 have?
The Garmin G80 has over 41,000 courses pre-installed onto the device, so it is probable that your local course will already be on the device.