Barring the most traditional players, most golfers would agree that the more technology available to help them with their game, the better.
And technological aids in golf are nothing new- rangefinders have been around for many years.
But one of the most recent advancements in golf tech, and one of the handiest, is golf GPS apps available on the Apple Watch.
There are many benefits to using these apps, but their tentpole feature is being able to determine the distance from the player to their target, without the player having to guess.
The first golf GPS apps were released on earlier versions of the Apple Watch, but since then the apps have seen notable advancements.
So, are these apps worth downloading if you're an avid golfer? How does the Apple Watch compare to other devices with similar capabilities, and what are the best apps available?
The following will answer all of these questions and more.
---
The Apple Watch: Good For Golf?
While there are digital watches that are designed with golf in mind, the higher quality ones tend to be pretty expensive.
There are plenty of golf GPS apps on the Apple Watch that will improve your game, so if you already own this device, there's not a lot of reasons we'd recommend buying a golf GPS watch.
So what are those features? The apps on the Apple Watch tend to provide you with accurate distances to the front, the middle, and the back of greens, as well as information about key hazards and yardages.
You'll also be able to see an eagle eye view of every hole, track your scores, and track statistics (such as the greens in regulation, and putting).
Some cheap golf watches don't even have all of those features (detailed views of the green, for example), unless you're willing to pay for the priciest ones.
---
The Apple Watch Golf Apps vs The Garmin S60
So, we've established that the golf apps available on the Apple Watch often boast more features than the mid-range golf watches but how do they stack up against one of the most highly regarded golf watches on the market, the Garmin S60?
There are certainly some advantages to the Garmin S60 over apps for the Apple Watch, the main one being that, unlike with the Apple Watch, you won't have to keep checking your phone throughout the game.
All of the information is displayed on the watch itself. They also tend to be a little more user-friendly than the apps for the Apple Watch.
Overall, the Garmin S60 does have the edge over golf apps for the Apple Watch.
But if you already own an Apple Watch, you should only be purchasing a Garmin S60 if you're looking for utmost functionality.
Otherwise, the Apple Watch will get the job done just fine.
Our Top Pick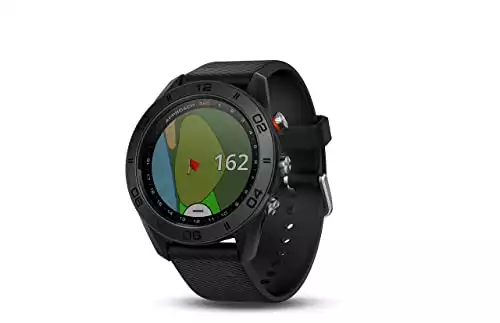 Garmin Approach S60
Look good on and off the course. The Approach S60 golf watch gives you the critical information you need for your round — displayed on a large, 1.2-inch sunlight readable color touchscreen — so you can master your game. And with convenient QuickFit bands, you can change your style without tools to match your activity, so you're always in fashion.
Pros:
Preloaded with 41,000 courses worldwide

1.2 inch diameter, full color touchscreen display

Provides yardages, auto shot tracking and more

It can give you a bird's eye view of the green

Can be paired with your phone for smart notifications

Fitness tracker with several preloaded activity profiles

Reasonably good battery life, even in GPS mode
Cons:
Poor fitness tracker due to lack of heart rate monitoring

Not a budget golf GPS watch
Some of the links on this website are affiliate links. This means that, at zero cost to you, we may earn an affiliate commission if you click through the link and finalize a purchase.
11/23/2023 04:43 am GMT
---
The Best Golf GPS Apps On The Apple Watch
While there are some free golf apps on the Apple Watch that are fairly serviceable (the best of which is probably The Grint), for the best golfing experience you're going to need to pay, and this tends to come in the form of a subscription fee.
Let's take a look at some of the best paid golf apps available on the Apple Watch.
The display of this golf app is simple but efficient, and you'll be able to see front, middle, and back yardages.
If you're looking for a more advanced scoring mode, this can be adjusted in the app's settings. You can also opt for emails after every round, which contain handy analytics.
Apple Watches, even the most recent versions, aren't exactly renowned for their battery life.
Hole19 is one of the best choices when it comes to minimizing battery life, on both your Apple Watch and your Apple iPhone.
A lot pricier than most golf apps, 18Birdies is worth it for its library of instructions, detailed game analytics, and social perks.
The only downside is that the user interface is quite compact, which can make it hard to tap on certain options.
If the extra features appeal to you then this might be the right choice, but you'll get high end apps for a lot less.
The free features of the 18Birdies app include GPS distances, scoring, and auto-switching holes. A two week free trial of the premium version is available.
While there is a free version of SwingU, the paid version is capable of much more, and comes with large yardages and easy to navigate buttons when it comes to scoring.
SwingU also features something that most Apple Watch apps don't; when you get to the green, the display will automatically switch to scoring mode.
One of the most popular golf apps on the market, the GolfLogix app offers advanced options for layup distances, tee times, and green reading.
You're going to need to check your phone quite a lot, though- probably more so than with other golf GPS apps.
Specializing in booking tee times and for working out your handicap, GolfShot is a decent golf GPS app, but its design feels subpar compared to other apps.
Also, while it does display a full overview of each hole, this feature uses satellite imagery, meaning it's not the best quality especially when you're zooming in.
Conclusion: Does Apple Watch Have Golf GPS?
Yes, the Apple Watch does offer golf GPS apps.
For the best experience you're going to need to pay a subscription fee, but if you already own an Apple Watch then said fee would be far more affordable than buying one of the higher end golf watches.
Do golf watches like the Garmin S60 do a better job? Sure.
But they tend to be pricey, and they don't offer many features that aren't available on the Apple Watch apps.