If you are a frequent golf player, then you have probably thought about purchasing yourself a good golf GPS watch.
They use satellite imagery to help you map out your current golf course so you can tactfully plan out your distances per shot to help reduce your number of strokes per game.
This is why golf GPS watches have been picked up by so many golfers over the years. They are incredibly popular thanks to their high accuracy and have been helping golfers all around the world improve their scores.
You definitely do not want to end up spending your hard earned money on a golf GPS watch that is inaccurate or the battery dies in an hour.
In this review, we are going to be comparing the Garmin Approach S62 and S60 – two golf GPS watches from a very acclaimed brand.
We are going to go into each one individually before comparing them to see which of the two comes out on top.
---
The S60 overview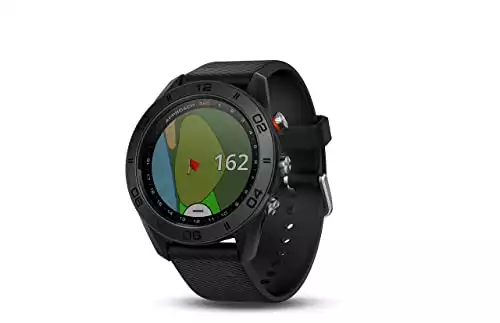 Garmin Approach S60
Look good on and off the course. The Approach S60 golf watch gives you the critical information you need for your round — displayed on a large, 1.2-inch sunlight readable color touchscreen — so you can master your game. And with convenient QuickFit bands, you can change your style without tools to match your activity, so you're always in fashion.
Pros:
Preloaded with 41,000 courses worldwide

1.2 inch diameter, full color touchscreen display

Provides yardages, auto shot tracking and more

It can give you a bird's eye view of the green

Can be paired with your phone for smart notifications

Fitness tracker with several preloaded activity profiles

Reasonably good battery life, even in GPS mode
Cons:
Poor fitness tracker due to lack of heart rate monitoring

Not a budget golf GPS watch
Some of the links on this website are affiliate links. This means that, at zero cost to you, we may earn an affiliate commission if you click through the link and finalize a purchase.
06/09/2023 10:15 pm GMT
Let's start with the older model – the Garmin Approach S60. First released in 2017, the Garmin Approach S60 is quite a few years old now yet is still beloved by golf enthusiasts everywhere.
The price tag, however, is way more affordable than the Approach S62 – but this is understandable considering that the S60 is 3 years older.
But this difference in price can still be a big contributing factor when it comes to golfers going for the S60 or the newer S62.
Those who golf less or are on a budget might not want to sink so much money into the Approach S62, so they choose to save a bit by picking the S60 instead.
This might also be something for you to consider but if price is really not an issue, you will want to focus on other areas of the watch – like it's design or features, for example.
Design And Quality
It's important to note that while most golf GPS watches are not designed to be flash or fancy, the Approach S60 still sports a very sleek and sophisticated overall design.
Although I am sure you don't expect your golf GPS watch to look like a Rolex, you probably expect it to look nice and be made from some fine materials that make it durable and high quality to justify the price tag.
Well, I am glad to say that the Approach S60 is just that. Available in two colors (black or white), the Approach S60 is a beautiful watch made with either a polymer or ceramic bezel.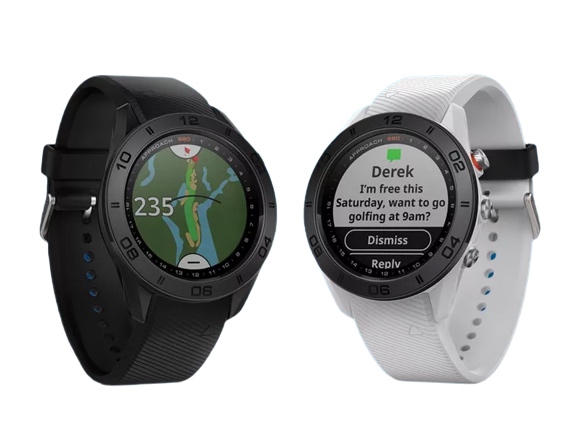 It uses sturdy Corning Gorilla Glass 3 for its lens, meaning that it features native damage resistant technology to make this lens tougher and more scratch resistant.
This makes the Approach S60 quite durable and sturdy, so you can use it freely knowing that it won't break easily. The Approach S60 comes with a Quickfit watch band that is easy to fit on and off your watch with just a snap.
Secure yet easy to switch, you can change up your strap's material from silicone to leather to fit your style and aesthetics.
As for your watch's display, the Approach S60 features a reasonably good display size with a 1.2 inch screen diameter that includes color display and an easy to use touch screen.
You will also clearly be able to see the map of your golf course thanks to the 240 x 240 pixel screen resolution.
It also gestures a sunlight-visible, transflective memory in pixel (MIP) display type which means that you can still clearly see your watch's screen even in harsh sunlight.
As for battery life, it is important for you to consider just how long you spend out on the course in a single game.
The last thing you want is your golf GPS watch to die suddenly while out on the green. Luckily, the Approach S60 has a battery life of up to 10 hours in golf mode so you can definitely enjoy a fair amount of time outside playing golf with the aid of your golf GPS watch.
It also has a 10 day battery life if you just use it as a regular watch – just remember to top its battery up before you switch it to golf mode.
So, overall, we are impressed with the Approach S60's design and quality. It definitely feels like a sturdy golf GPS watch plus you have the ability to swap out the strap or choose a color that best suits your personal taste.
Also, its design features like its MIP display type and fair sized display screen makes it easy for everyone to use. It weighs in at 1.8 ounces, making it light and comfortable to wear. The Approach S60 is off to a good start!
Golfing Features And Use
When it comes to trying out your Approach S60 out on the golf course, you will be impressed with all the options at your fingertips.
Thanks to Garmin's years of research, the Approach S60 has access to preloaded maps for more than 41,000 golf courses all around the world.
This means that you have the ability to take and use your Approach S60 at any golf course you like, whether you are at home or on holiday abroad.
It even offers automatic downloads of updates when you sync to Garmin Connect, the company's own online app that features tools for tracking and analyzing your health and fitness.
So, you are pretty much guaranteed to be able to use the Approach S60 anywhere and be able to use accurate maps at any golf course you play at.
Also, these maps help you get precise distances from every location on the course. It even adjusts yardages to account for slopes and gradients so you can play with the best club even if you are going uphill or downhill.
Not a lot of golf GPS watches in the past accounted for gradients, but now thanks to Garmin's technological research, its Approach series now includes sensors that take gradients into consideration when calculating distances, helping you to choose the right club to get to where you desire.
So how do you find out the distance to the spot you are aiming for? Just use the touchscreen which features Garmin's Touch Targeting technology. Touch any point on the map and it will give you a measurement of the distance from your location to your desired pinpoint.
It really is as simple as that, making this golf GPS watch very easy to use. The Approach S60 also includes a lot of other features that help improve your golfing experience.
You can use your S60 as a digital scorecard and track your statistics such as strokes, putts per round, and even green and fairways hit.
If you choose to sync your Approach S60 to your compatible smartphone (iPhone or Android) then you can even receive incoming calls, texts, and alerts on your Approach S60.
This way, you don't have to be constantly checking your phone for alerts and you can concentrate purely on your game. Connecting to the Garmin Golf app will also allow you to compete on leaderboard with other Garmin golfers.
This is a great way for you to keep in touch and compete with other likewise golf players on any of the 41,000 courses available on your Approach S60.
Regular Features
Of course, the Approach S60 is more than just a golf GPS watch. It features a watch mode that requires less energy so you can use it just like a regular smart watch without draining its battery.
This means that you can also use your Approach S60 not only as a clock up as a timer, alarm, calendar and stopwatch. It is also able to stay fit and healthy by connecting to the Garmin Connect app, allowing you to monitor your sleep and hydration.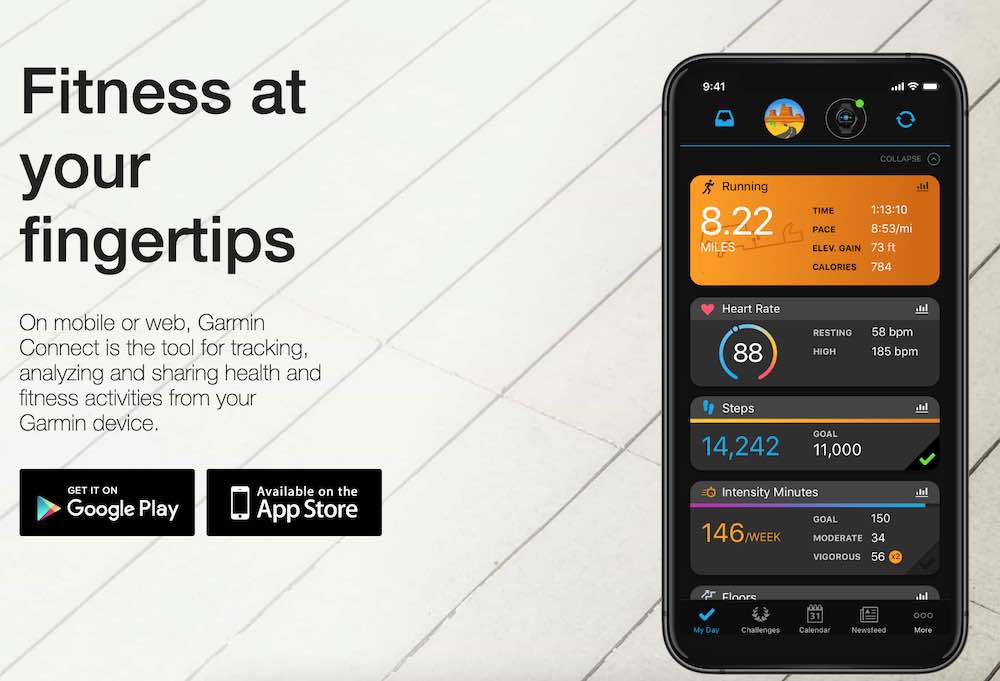 You can also use it for other activities other than golf including running, rowing, swimming and cycling. With a water rating of 5 ATM, this golf GPS watch can also withstand rain or snow, swimming and diving, and even snorkeling.
So, if you are also a sport enthusiast who enjoys water-based activities, you can even wear the Approach S60 as a regular fitness watch and put yourself to the test in the swimming pool.
Overall
So the Approach S60 is a very durable and useful golf GPS watch. Not only is it well crafted and beautifully designed, it also sports all the features you need for an accurate and supportive golf GPS watch.
It is sure to improve your game thanks to its many sensors and pre-downloaded maps, helping you with more precision than any golf caddy could provide.
You can also use it as a regular fitness watch, making it versatile and a great choice for anyone who cares about fitness and activity.
This also means that you are not restricted to using your Approach S60 on the golf course – you can enjoy it's useful features absolutely anywhere at any time.
---
The S62 overview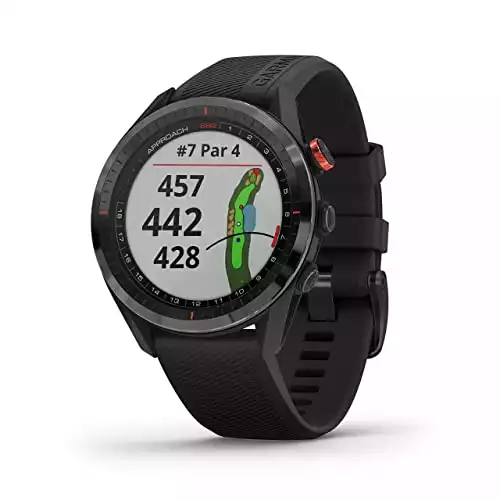 Garmin Approach S62
We've got your game with Approach S62, a premium GPS golf watch that puts critical information from more than 41, 000 full-color course maps worldwide on your wrist.
Large 1.3" easy-to-read color touchscreen display (18% larger than Approach S60) with scratch-resistant ceramic bezel and interchangeable QuickFit bands
Virtual Caddie suggests club based on typical distance the golfer hits that club, factors in wind speed and direction, and indicates where the golfer should aim on the map.
Pros:
Sleek smartwatch with a wide range of helpful features for golfers

Provides slope adjusted distances

Tells you the wind speed and direction

The large display makes this watch easier to use
Cons:
Tracking system sold separately
Some of the links on this website are affiliate links. This means that, at zero cost to you, we may earn an affiliate commission if you click through the link and finalize a purchase.
06/09/2023 10:55 pm GMT
The Garmin Approach S62 is the most recent addition to Garmin's Approach range of golf GPS watches. It was first released in 2020, making it 3 whole years younger than the Approach S60.
Garmin announced that the Approach S62 was meant to be an improvement of the popular S60 model and advertised it as the upgrade all golfers needed.
This would lead us to expect that the Garmin Approach S62 is better than the S60 in many ways – perhaps it's more durable, contains more features or has a sleeker design.
However, not all 'upgrades' are for the better – and we have been stung by products who fall flat when compared to their predecessors.
So, is the Garmin Approach S62 really the superior model? Let's take a look at this watch before comparing it to the Approach S60.
Design And Quality
When it comes to appearance and quality, it is easily noticeable that the Approach S62 is one of the best golf GPS watches out there. It features a simple yet sporty design that, it looks and feels like a sturdy fitness watch.
Its bezel material is ceramic and it uses Corning Gorilla Glass 3 for a scratch resistant and durable lens that is difficult to damage.
This means you can wear your Approach S62 with the confidence knowing that it won't break or damage easily.
It comes with a flexible silicone wristband that fits comfortably around wrists with a circumference of 125-208mm.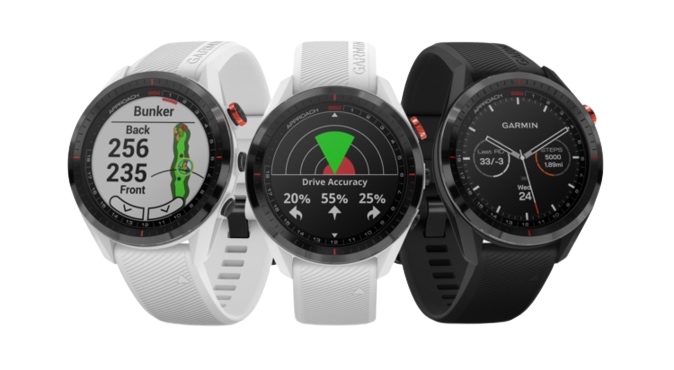 The strap is also Quickfit compatible so you have the ability to swap it out for a different material to suit your own personal style and taste.
Customization does not stop there as you can also choose between two color schemes (white or black) for your Approach S62.
As for display, this golf GPS watch boasts an impressive 1.3 diameter touchscreen with a very clear display resolution of 260 x 260 pixels.
This means that those who hate small and fiddly accessories and gadgets can feel more at ease when using the Approach S62.
It is also very clear to read even in strong sunlight thanks to the MIP technology used in it's design.
With a strong color display and such a large screen size, it is very easy for everyone to be able to use and enjoy this golf GPS watch.
The Approach S62 also includes a built in lithium ion battery that is rechargeable and can be used for up to 14 days in smartwatch mode.
When you are using it out on the greens, it switches to its golf mode and can be used for up to 20 hours – that is plenty of time to fit in more than a few rounds of golf!
So overall, the Approach S62 is a very well designed golf GPS watch. It is also very high in quality and uses materials like Corning Gorilla Glass 3 and silicone to make for a durable watch.
Although it is a little on the heavy side, weighing in at 2.2 ounces, it is still very comfortable to wear. Now – how does it do when it comes to features?
Golfing Features And Use
The whole point of buying a golf GPS watch is to use it to help you improve your game. That is why the features that come with the Approach S62 are so vital and important to consider when looking into buying your very own golf GPS watch.
How does the Approach S62 help improve your golfing experience? Well, first it has access to the 41,000 worldwide golf course maps that are preloaded into the Approach S62 from purchase.
This means that you can take your Approach S62 anywhere and use it on pretty much any course worldwide. It automatically updates and offers you a full vector map of the area with clearly marked hazards and targets.
You can even make your own custom targets with just your finger tip thanks to Garmin's Touch-Targeting technology implemented in this golfing gadget.
This means that not only do you have access to many accurate course maps, you can also personalize it to your game. Just touch your screen, set your targets and allow the Approach S62 to tell you the precise distance measures to your target from your exact location.
This will help influence you to choose the right club for the swing so you can improve your game and take less swings to reduce your score.
It also takes into consideration gradients for uphill and downhill shots, adjusting yardages so you can continue playing with accurate distances.
While this is a massive help when it comes to improving your score, there are other features that come with the Approach S62 that you can also benefit from.
When you connect your Approach S62 to a compatible smartphone (iPhone or Android) and sync it to the Garmin Golf app, you will have access to the virtual caddie feature.
Although most golf GPS watches act like virtual caddies anyway, the Approach S62 takes it one step further by also factoring in wind speed and direction.
The virtual caddie feature helps factor in wind speed and direction when calculating distances on your map and also helps give suggestions on which club you should use.
It does this by looking at your statistics, recognizing which club you are best with when aiming for a certain distance and will advise you to use that club – a huge help when it comes to improving your golf score! It also advises you on which direction to swing your club so your golf ball won't be blown off course.
While this feature may be inconsistent when the wind either picks up or suddenly dies mid swing, it is still a huge feature that can really help you stay on track. Connecting to the Garmin Golf app also offers you more features than just the virtual caddie.
You can use your Approach S62 as a digital scorecard, track your statistics like strokes and putts per round, and also help you compete with other Garmin golfers for that course on a digital scoreboard.
This means you can compete in tournament-like competitions and prove your skill to other golfers!
The Approach S62 offers an abundance of golfing features like the virtual caddie and the impressive course map database.
All of these can really help improve your score by warning you of hazards like water and sandbanks that may be obscured from view.
Plus, the virtual caddie offers very useful advice that can help you out in tricky situations.
Regular Features
Although the Approach S62 is designed specifically for golfers, it is more than just a golf GPS watch.
It offers a range of other features that can help you with outdoor recreation, indoor swimming, and maximize your health.
This means that you can also use your Approach S62 like a fitness watch as well as a golf GPS watch, making it incredibly versatile and useful to those who do more than just golf.
Monitor your health by using your Approach S62's sensors to measure your daily resting heart rate and receive alerts for when your heart rate becomes abnormal.
You can also receive alerts to remind you to relax or do breathing exercises to help you stay calm and stress free all day.
The Approach S62 is capable of recording your activity history as well as monitoring your steps, distance traveled and calories burned while doing gym activities like cardio or treadmill.
You can also take it in the pool with your as it has a water rating of 5 ATM and measures pool swim metrics like lengths, pace, stroke count and swim efficiency.
But, of course, if you are not into fitness and just like a calm game of golf, then you also have the option to use your Approach S62 as a regular watch. Switch the Approach S62 to smartwatch mode and you can use it as a calendar, alarm clock, timer, stopwatch and even use Garmin's new feature – Garmin Pay!
Now, you can pay for things using your golf GPS watch by syncing it to the app on your phone, making payment transactions quick and simple.
Overall
Garmin have really gone all out with their Approach S62.
Not only have they poured much time and research into making a great golf GPS watch, they have also thoughtfully included a bunch of features and design changes to help improve it's user experience.
You can alternate between using the Approach S62 as a golf GPS watch to a fitness watch to a smartwatch depending on whichever mode you require.
Customizable to your needs in both features and design, the Approach S62 is definitely a solid choice for golfers everywhere.
---
The S62 vs S60 Comparison
The approach S62 and the approach S60 are both, on their own, very good golf watches.
They are both beautifully crafted, contain a lot of features that can help you improve your game (it is the whole point of a golf GPS watch after all) plus work brilliantly as fitness and regular watches. But you can only purchase one – so which one is the better option?
Let's go through what is different between the S62 and the S60 when compared side by side. Consider each difference carefully and decide which is the better option for you personally.
The Approach S60 Is More Durable And Sturdy
When compared side by side, the Approach S60 and the S62 are very similarly designed. They also use very similar high quality materials, such as the Corning Gorilla Glass 3 used for the lens material.
However, there is one minor difference when it comes to the bezel material. The Approach S60 offers you the choice between ceramic and polymer, while the Approach S62 only offers ceramic material. Ceramic material is far more brittle than polymer and breaks a lot easier, but this is a relatively minor difference.
However, ceramic is virtually scratch proof so your golf GPS watch will look as good as new even after many rounds of golf. You won't notice a thing – until it breaks. Despite this difference, the two watches are on par with each other when it comes to durability.
However, the difference between ceramic and polymer is still something to consider if you know you are bound to be a bit heavy handed with your golf GPS watch.
The Approach S62 Is Bigger
We are not saying that size matters, but if you are someone with large hands or struggle to see screens up close, then you may be more inclined to go with the Approach S62.
Its screen measures as 1.3 inch in diameter compared to the 1.2 diameter of the Approach S60's screen, meaning that it is easier to map and read the Approach S62.
It still retains a sharp resolution despite its size increase from its previous model so you can use your golf GPS watch with ease.
On the other hand, this increase in size does make the S62 heavier. It weighs in at around 2.2 ounces compared to the lighter alternative of 1.8 ounces with the Approach S60 so if you don't mind the smaller screen and prefer less weight on your wrist while golfing, you might prefer the Approach S60.
Size and Weight Overview
Approach S62 Screen
1.3 inch
Approach S60 Screen
1.2 inch
Approach S62 Weight
2.2 ounces
Approach S60 Weight
1.8 ounces
The Approach S62 Has A Longer Battery Life
This is definitely a dealbreaker for some. A long battery life requires less time charging and you are less likely to be caught out on the greens with a dead golf GPS watch.
Imagine the annoyance you would feel if your watch died and you saw your score steadily increase without its help.
A good, long battery life helps you to avoid this and while both watches offer a fair amount of usage time both in golf and smartwatch mode, the Approach S62 easily wins out here. Its battery life in both golf and smartwatch mode is twice as long as the S60.
While the S60's golf mode battery life of 10 hours might last you a full day of golfing, the S62's 20 hour golf mode battery life will definitely see you through.
So if you want to avoid any unfortunate setbacks in the middle of your game, you will be better off choosing the Approach S62 for it's far longer battery life.
The Approach S62 Features the Virtual Golf Caddy
We have to be fair and say that the Approach S60 still works great as a golf GPS watch. It is very accurate when it comes to measuring distances between your location and your target.
Plus, both watches use the same databases for their maps and receive updates so you know that with both watches, you will be getting a very accurate look at your golf course.
But the Approach S62 also features the virtual caddy, which accounts for wind speeds and directions where the Approach S60 does not.
Wind is a huge influence when it comes to golf as it can blow your golf ball at a slant or work against your ball and slow it down.
The Approach S62 will take this into consideration when calculating the distances and even advise you on which club to use to really maximize your swing's potential.
While the Approach S60 does consider gradients and hazards, it just does not have this additional feature that can really make a difference.
The golf caddy feature enhances the Approach S62's accuracy and makes it the better golf GPS watch for helping reduce your golf scores.
The Approach S62 Works Better As A Fitness Watch
Versatility is also another important factor to consider when choosing your golf GPS watch. Are you only going to use it on the greens? Or do you want to use it as a smartwatch too?
If this is the case, then both the Approach S60 and S62 work as great smart and fitness watches. However, the Approach S62 has additional health and fitness features like the daily resting heart rate monitor with abnormal heart rate alerts.
This is thanks to how the S62 features additional sensors to make more precise and sensitive heart rate measurements, allowing it to measure your heart rate without needing to exercise.
The Approach S62 can also monitor your exercise and fitness while you do various gym activities such as cardio, strength, treadmill and yoga.
The Approach S60, however, is only effective when doing indoor rowing. So if you are a fitness enthusiast and are thinking of doubling your golf GPS watch as a fitness watch, you will have more versatility with the Approach S62 as it has more features and can analyze your performance during more exercises.
Conclusion
So, after all that, it is clear to see that the Garmin Approach S62 is the superior golf GPS watch. After three long years, Garmin released an upgraded model of their most popular watch that really did improve on what was already there.
Garmin built on the foundations of the Approach S60 and rather than scrapping some features to make way for new ones, they kept what golfers loved about the S60 and added much needed upgrades to improve its accuracy and versatility.
The Approach S62 is definitely our recommended golf GPS watch out of these two as not only is it better at helping improve your golf game, it also has additional useful features like a longer battery life and larger screen to help it be easier to use and for longer.