If you have difficulty managing your distances or regularly find yourself in a hazard zone, then you should invest in a golf watch with GPS.
In this article, we will be reviewing the Garmin Approach S40 golf watch so you can decide if this is the right purchase for you. The Garmin Approach S40 has most of the features that you would want in a device aimed at improving your golf game.
It is also extremely well-built and is as accurate as any other GPS device, watch or not. It's significantly more advanced and also slightly more sturdy than the previous model, the Garmin S20.
Because it is not the cheapest watch on the market, you should only consider it if you want to wear it regularly.
The Garmin S40 is incredibly popular with golfers though, even though it does have slightly fewer features than the next model up, the Garmin S60.
It does everything you need it to do when you are out on the course.
---
Our Pick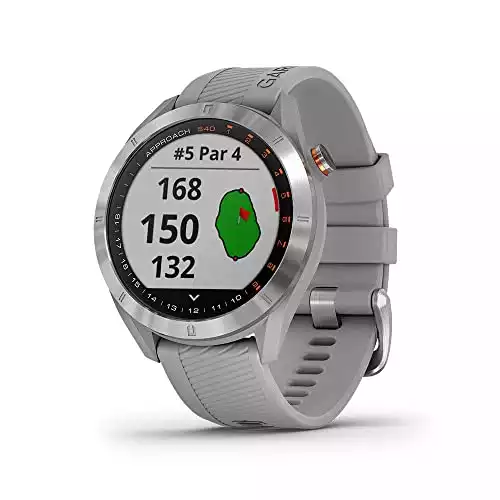 Garmin Approach S40 GPS Golf Watch
The Approach S40 GPS golf smartwatch with color touchscreen looks great on your wrist and on the course. It shows distances to the front, middle and back of the green, hazards and automatically records detected shot distances (lie and ball contact may affect shot tracking). It also lets you manually adjust to today's pin position for accurate approach shots. For even more precise automatic game tracking, pair with optional Approach CT10 club tracking sensors.
Pros:
Responsive touchscreen

Waterproof

Fitness tracking included

Versatile
Cons:
Not very user-friendly

No heart rate monitor

Quite expensive
Some of the links on this website are affiliate links. This means that, at zero cost to you, we may earn an affiliate commission if you click through the link and finalize a purchase.
09/26/2023 02:08 am GMT
Features
The Garmin S40 golf watch is a mid-range model that sits between the S60 and S20. It misses some of the S60's capabilities but is far more complex than the S20.
Hopefully, by selecting the proper club, you will be able to lower your scores. One important difference between the S20 and S40 is that the S40 incorporates non-golf-specific tracking features.
It has a range of timekeeping functions such as a stopwatch and alarm, as well as certain health-related features including sleep and hydration levels.
Additionally, it features a selection of running and cycling accessories. These features make the watch more versatile for use of the course, which may be a selling point for those who want a more all-around product over one that does a specific thing.
The first benefit of this device is that it has over 42,000 courses from all around the world.
Garmin has the most comprehensive variety of courses, including practically all of the main courses in well-populated areas. If you are a bit worried about buying this product without knowing if your local course is on the device, then you can easily check this on the Garmin website.

Garmin is constantly adding new courses to their lineup, so even if yours is not currently on there, there is a high chance that it will be eventually.
On this device, you will see the distances to the front, centre, and back of the green. If you are someone who struggles with direction, then this will help you to not end up on the wrong side of the green.
Additionally, it will display the distance between doglegs and layup locations.
If you miss the proper distance into a dogleg, you will almost certainly have a tough or blind shot into the green. This is not great for your scores, so the device helping you to avoid this is very useful. It will tell your location relative to the 100 and 150-yard marks.
Knowing the distance travelled by each club is crucial if you wish to enhance your consistency. This is one of the few ways to access the data.
What the S20 does not include is the capability to compute distances to custom targets. The S40 on the other hand, enables you to select any location on the course and stores the distance for future reference.
Unfortunately, this must be done manually, and the distance to any point cannot be determined (unlike with the S60).
Another complex feature is statistic tracking. Following your round, you will be able to evaluate your performance and discover areas for improvement.
It will track the number of putts made every round, the proportion of greens in regulation, and the percentage of fairways hit. The Autoshot feature maintains track of your club distances, providing you with an average of the lengths travelled by each of your clubs.
This will aid you in deciding which club to attack from a variety of different distances.
Also, you may inspect the green shape and operate the pin to get a desired distance. This is another improvement on the S20, where this is not possible. At times, the pin may not be in the centre of the green, in which case this feature is useful.
Finally, the S40 has a digital scorecard, maintains track of your handicap, and can be used in connection with the Garmin CT10 to measure club stats automatically.
Pros:
Responsive touchscreen – this makes the watch easy to use once you get the hang of it
Waterproof – according to Garmin, the S40 is waterproof up to 50 meters. This is useful for any accidental drops in water, spillages, or a sudden heavy downpour of rain
Fitness tracking included – this watch is able to track several things that are useful to know when playing other sports, or for when you are just out and about. It is especially useful for running and swimming exercises.
Versatile – as the watch can be used to track your fitness level and health as well as help imporve your golf game, you may feel happier spending more money on this product due to its versatility
Cons:
Not very user-friendly – this watch definitely takes some getting used to, and learning all of the features while also getting used to a touchscreen watch can be difficult. Bit once you get the hang of it you should be fine
No heart rate monitor – it is odd that a watch that contains so many health and fitness features does not have a heart rate monitor built-in
Quite expensive – this watch is not cheap, though with so many features built into it that is to be expected
Design
What everyone wants in a watch's design is its comfort and ease of use. Both are crucial, even more so if you are not a watch wearer and so will notice more if a heavy device is on your wrist.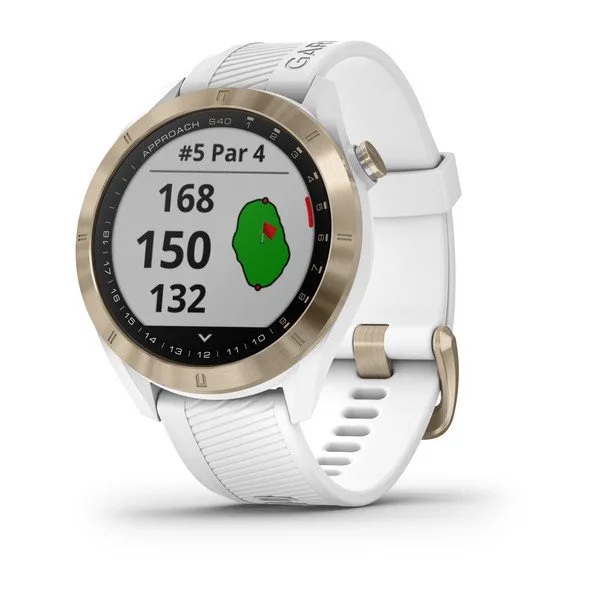 Despite the fact that the watch is filled with features, the S40 is significantly more comfortable to wear than the vast majority of its competitors. It is somewhat larger than the S20 but substantially better.
There is a distinct difference in comfort between the less expensive watches and the S40, which is good given the range of materials available.
It comes with removable straps that allow you to experiment with different colors and materials. This is an option that the majority of golf watches do not provide.
It is designed similarly to the Garmin Forerunner 945 and boasts a 1.2-inch color touchscreen display.
The screen appears to be quite durable and should not be as easily scratched or broken as the screens on some other smartphones.
That said, the watch's user interface was first a little hard to get used to, which you may notice even more if you have never used a smartwatch before. But once you get the hang of it it should be smooth sailing from there.
Performance
When it comes to performance, people are most concerned with the battery's life and the watch's accuracy on greens and hazards. These are the major factor to consider while shopping for a golf GPS.
Battery life usually is slightly under three complete rounds, or just 3 rounds if you play quickly. You can be sure that it will last at least two rounds though, which is the standard for many golf watches.
Your location was quite precise in relation to the greens and hazards (as is the case with the majority of Garmin GPS systems), and it always appeared to be within 4-5 yards of the course markers. This is a very common occurrence with all Garmin watches.
---
Specs
Here are the all-important specs of the Garmin S40:
Golf courses – 41,000+
Size – 43 x 43 x 12mm
Water rating – 5 ATM
Quick-release bands – yes
Battery life – 15 hours in GPS mode
Touchscreen – yes
Weight – 43 grams
Strap material – silicone
Club tracking – need CT10
Preloaded – yes
Custom target – yes
Distance To Front, Middle, Back – yes
Manual Pin Placement – yes
Distance To Hazards/Doglegs/Layup – yes
Autoshot – yes
Shot distance – yes
Stat tracking – yes
Scorecard – yes
---
Is The Garmin S40 Worth It?
In summary, if you are in the market for a new golf watch and plan to use it regularly, then we definitely suggest the Garmin S40. It is a very good "mid-range" golf watch and the one a lot of both casual and pro golfers go for.
This watch loses a few of the capabilities featured in the Garmin S60 but costs around $130 less.
In comparison to the Garmin S20, the investment is certainly worthwhile if you want to use it regularly. In any event, all three of these watches are excellent golf watches, and you could go wrong with any of them.
Frequently Asked Questions about the Garmin Approach S40 GPS Golf Watch
What is the difference between the Garmin S10 and S40?
The Garmin S40 is a huge step up from the S10 model, which looks practically useless in comparison. The S40 has improved on everything from the S10. The S10 does not have a touchscreen, the screen is smaller and has less resolution, and also does not have quick release bands.
What is the difference between ehe Garmin S40 and S60?
The Garmin S60 packs loads more features into it, though it does not have quick-release bands like the S40. The S60 has many more golf features including touch targeting, pinpointer, and playslike. 

It is also able to control the music on your phone so you can listen to your favorite playlist while you are out on the course.
Does the Garmin S40 monitor heart rate?
No. For a device that is able to monitor many health and fitness levels in your body, including your hydration levels and quality of sleep, it is not able to monitor your heart rate.
Is the Garmin S40 waterproof?
Yes, the Garmin S40 is waterproof. Garmin themselves say that the watch is rated at 5 ATMs, which means that it is waterproof to a depth of up to 50 meters.

This makes this watch very durable to use on the course as you won't have to worry about protecting it in the rain, and if you drop it in a puddle then it will still work perfectly. This also makes the S40 a suitable watch to wear swimming to keep track of your health and fitness levels.