When it comes to golf it has to be one of the most difficult sports to even just get good at.
It takes years of practice and dedication to get to a high standard and lessons may not be a viable option for everyone as they may not have the time to attend or have the money to book a coach. 
With the development of technology in sports, especially in golf, luckily, you're able to buy some great equipment to help you improve your game.​
If you're looking to improve your swing and get a better analysis of how your swing affects the ball flight, then the Garmin TruSwing may be the perfect golf gadget for you.
---
Our Pick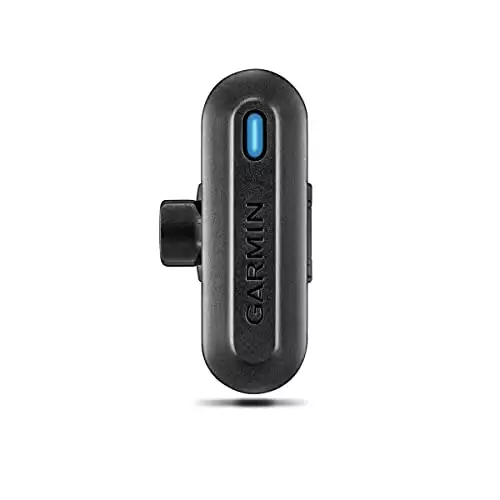 Garmin TruSwing, Golf Club Swing Sensor for Advanced Metrics
Garmin TruSwing: Train your swing with game-changing metrics!
Use TruSwing golf swing sensor metrics to see how your mechanics affect ball flight and shot results. Metrics include swing tempo, speed, club-path measurements, critical club angles and more. Easily upload data to Garmin Connect online golf community for 3-D swing reviews. Integrates with Garmin Approach golf devices¹ for at-a-glance swing data. Small, light, unobtrusive design mounts securely below your club grip.
Pros:
Easy to use

Affordable

Compact
Cons:
Understanding the data

Only connects to a limited number of devices

Limited information
Some of the links on this website are affiliate links. This means that, at zero cost to you, we may earn an affiliate commission if you click through the link and finalize a purchase.
Introduction to Garmin TruSwing Golf Swing Sensor
This small piece of equipment that simply attaches to your club without you even knowing it's there and will allow you to track the swing tempo, critical club angles, speed, and club path measurements, and then using this data it can provide a 3D swing for you to view and analyze in the Garmin Connect app.
This is brilliant because when it comes to improving your swing, being able to see exactly what you're doing is a big advantage, and typically this is very difficult to achieve accurately without this kind of technology.
When connected with the app and you connect to the online community, you're able to get frequent recordings of how you're playing, this is super advantageous because being able to compare yourself with previous results can show improvement and what needs changing.
Once in the app you're able to get feedback in the 3D model of how your swing made the ball travel, and how different changes you make can affect the ball, like changing the path that you swing the club in or changing the angle of the club face.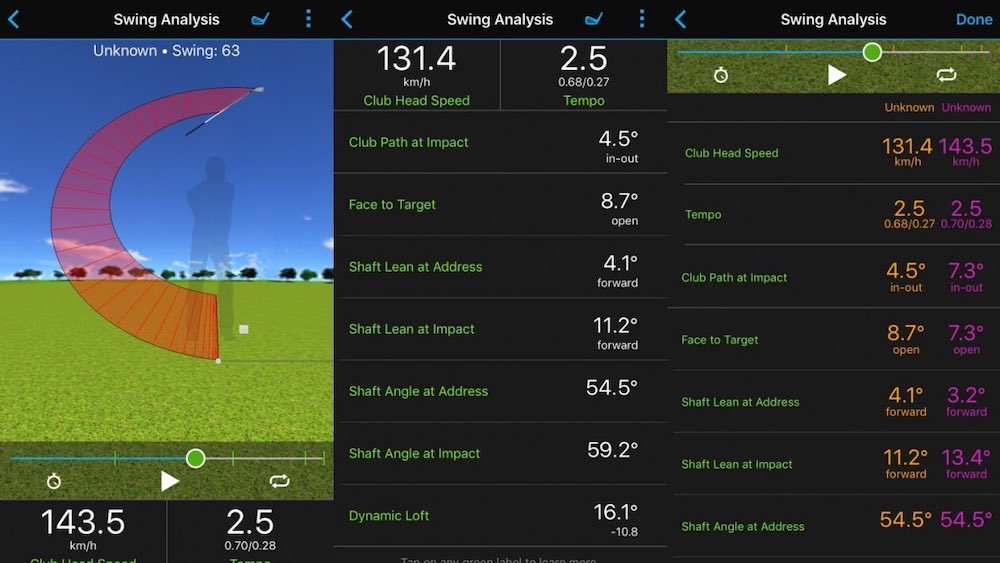 Another feature to pair with the app is the GPS watches provided by Garmin to get even more accurate results by analyzing your wrist path.
---
Specifications and Features
Specs:
The sensor is only 2.39" x 0.63" x 0.80"
The device only weighs 0.98oz or 28 grams
Lithium-ion, rechargeable battery
12 Hour battery life
Connectivity, USB, and Bluetooth Low Energy
Features:
Swing Tempo
Swing Speed
Face to Target
Dynamic Loft
Shaft Angle
Club Path
Club Path Coordinates
Shaft Lean
Shaft Lean Wrist Path Coordinates
Pros:
Easy to use, just clip onto the club, connect it to your smart device and swing.
Affordable, the price range doesn't break the bank and most golfers will be able to purchase this product.
Small/ compact, combined with easy to use, it's barely noticeable when attached to the golf club.
Cons:
Understanding the data, according to a lot of user reviews the data is difficult to understand and may take some time to get to know what the information provided means.
Only connects to a limited number of Garmin smart devices.
Compared with other devices users have used, it doesn't provide that much valuable information.
---
User Reviews
Now we know what this product is capable of, it's capable of. The best way to see how good this device is, is to look at what real people who've used it have to say about it.
Now a quick google search will provide 30 user reviews leveling out at 4.6 stars out of 5 which is very promising with the majority of the reviews being 5 stars.
One of the top 5-star reviews outlines how using the Garmin TruSwing helped to correct their swing by over 15 degrees and improve the flight of the ball when they hit it.
Then they go on to state that being able to save a view of their previous practice sessions is a massive bonus as it's great for improvement.
A 4-star review says that it's super easy to pair with their smartphone and that all the information that the Garmin TruSwing provides is great for developing their swing.
However, they do say that it takes some getting used to, but if you go with a plan in mind, you should have no problem getting used to it.
A 3-star review tells us that the device does actually provide some good data when it comes to what you're doing wrong with your swing, and that the graphics and details are good, but the problems they face are that the device doesn't give much or if any guidance on how to correct your swing or any adjustments that need to be made.
Any reviews lower than 3-star don't seem to be super valid as there are so few and vague, mostly seem to be the user not being able to use the equipment properly.
Does TruSwing Really Work?
Most reviews and articles surrounding the product do claim that it works, but as mentioned people say that you need to be able to read and understand the data yourself as it doesn't provide information on whether what you're doing is wrong or right.
Looking online there will be plenty of information on how to read the data and you'll be able to tell if yours is any good or not.
Once finding out what the information provided actually means, you'll then need to learn how to correct that data, this can be done by simply watching and reading information based on what you need to do.
The idea is to get all of the statistics down to zero, so you may need to find information on how to under or over correct the way you swing, how you hold the club face and what angle the club face needs to be at.
To Conclude
This particular piece of equipment seems to be very useful in the right hands, meaning that if you're fairly knowledgeable about golf and its input information it could potentially improve your game a lot.
However, if you're a beginner then the Garmin TruSwing probably isn't worth purchasing just yet as it seems to be for slightly more advanced golfers who know the stats a bit more and how to adjust their swing properly.
This doesn't mean that the equipment isn't good though, in fact if you already have some of the compatible devices then it seems like a decent piece of equipment to buy, especially for its price range.