The Vivoactive 3 was an incredible offering from Garmin, so it should come as no surprise that many people were eager to get their hands on the Vivoactive 4 when it made its grand debut on the market.
If you are thinking of buying this fantastic watch, you may be wondering what its selling points are and whether it's worth buying.
First of all, let's get one thing out of the way. We're pretty big fans of this watch, and it's significantly better than its previous version.
The features are pretty similar to the Vivoactive 3 except with a few extra welcome additions.
Of course, you won't get the same level of advanced technology that you would get with the Garmin S60 or S62, but this watch is still incredibly versatile and great for a wide variety of different activities.
You can get it in many sizes depending on your needs, the battery life is fairly impressive and you will even have the opportunity to put your own music on the watch that you can play on the go.
It's an incredible watch and it does cost less than this version that we are reviewing today. It's definitely worthwhile to invest in the Vivoactive 4 if you do want to take advantage of all of those nifty extra features, however.
There are also a bunch of great golf GPS watches out there too that are also worth considering. 
---
Our Pick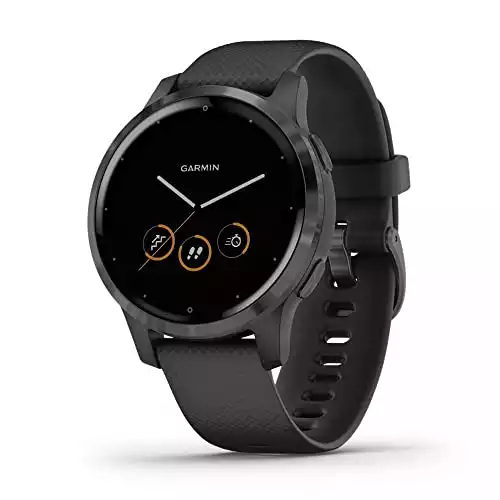 Garmin Vivoactive 4
Tune in to your body, and tone up with the 45mm Vivoactive 4 GPS smartwatch. It has the broadest available range of all-day health monitoring features, music storage and on screen, Animated workouts To help you reach your goals. Boost every activity by downloading your favorite Spotify or Deezer playlists (may require a premium subscription with a third party music provider) straight to your watch. Bezel material: Stainless steel.
Pros:
Body Battery Energy Monitoring

Hydration Tracking

Built-In Sports Apps

Smart Notifications

Tracking Features
Some of the links on this website are affiliate links. This means that, at zero cost to you, we may earn an affiliate commission if you click through the link and finalize a purchase.
11/23/2023 11:50 am GMT
---
First Thoughts On The Garmin Vivoactive 4
If you do a number of different sports in your free time, then you will almost definitely be impressed with the Vivoactive 4.
It's the quintessential sports watch for people that love to be active. It's pretty similar to its previous iteration, the Vivoactive 3, but it has a bunch of additional features that make it even more spectacular than the 3.
One thing that you will get with the Vivoactive 4 is that you can choose between two separate sizes, so you are almost certainly going to be able to get a size that will work for you. You can get either a 40 or a 45 mm edition.
The 40 mm is a little smaller which is ideal for some people, especially those with smaller arms, but if you prefer to have a larger watch then the 45 mm is also a great option.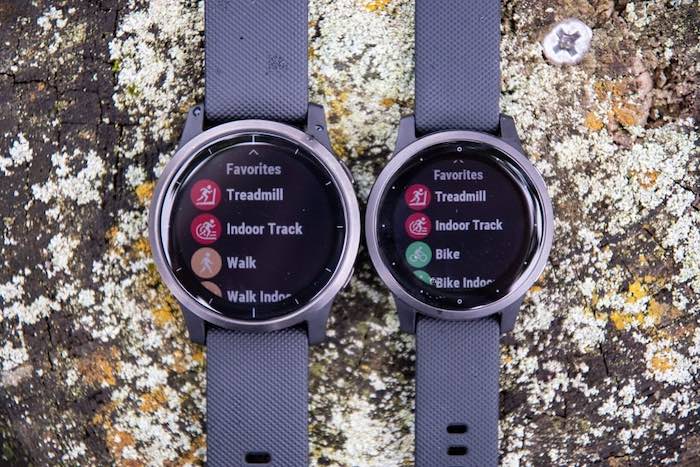 Another thing that the Vivoactive 4 has that the previous version doesn't is music storage. You could buy a subscription separately for music with the Vivoactive 3, but with the 4 it comes with the watch itself so you won't need to pay extra.
The music subscription was quite pricey, so it's definitely a welcome addition. With it, you can use Amazon music, Spotify and a bunch of other music streaming platforms too.
Last but not least, you will also get a much better battery life. With this watch you are going to get a battery that's better than what you would get on the previous versions.
With this version of the watch you will get around 8 days of battery life when using smartwatch mode, whereas you'd get 7 days with the 3. It's not a massive difference, but it's certainly worth noting.
Pros:
There are a lot of things to love about this watch. For starters, it has impeccable battery life when being used as a regular watch.
You can use it effectively with a wide variety of different devices.
The touchscreen is high quality and very responsive.
You'll also get a bunch of fantastic features – there are so many that the chances are that you will never get around to using every one of them.
Cons:
While the battery is decent when used as a regular watch, it isn't the best when you use it for the GPS or when you are listening to music.
The watch is somewhat expensive – may not be the perfect option if you are on a budget.
It would also be good to see more golf specific features in the watch similar to the S60.
Golf Features
Of course, there's a good chance that you are thinking about getting this particular watch because of the golf features that it comes with.
Here's the thing that you need to remember. This is ultimately a multisport watch, meaning that you won't get the same golf functionality out of it that you would from a golf specific watch.
It's best that you don't expect features that are quite that in depth. With that being said, you can get everything you need out of this watch, albeit without all of the fancy features of a golf specific watch.
To begin with, download the course that you are going to be playing. This is something that's pretty simple to do – go on the Garmin Connect app and then search for the course there.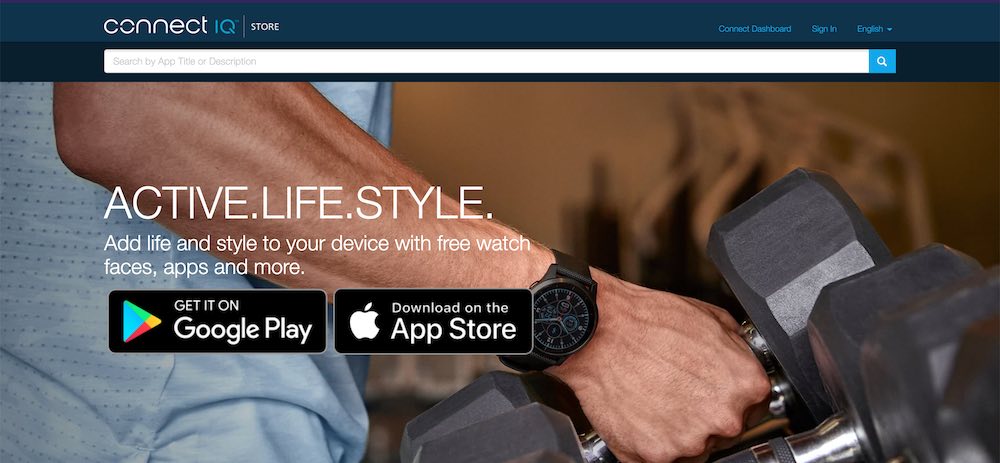 Luckily, it will be saved on the app when you want to visit the course in the future, which is pretty handy.
When you are using the watch, it will tell you the hole that you're currently on, your current par, the distance to certain parts of the green and what the overall shape of the green is.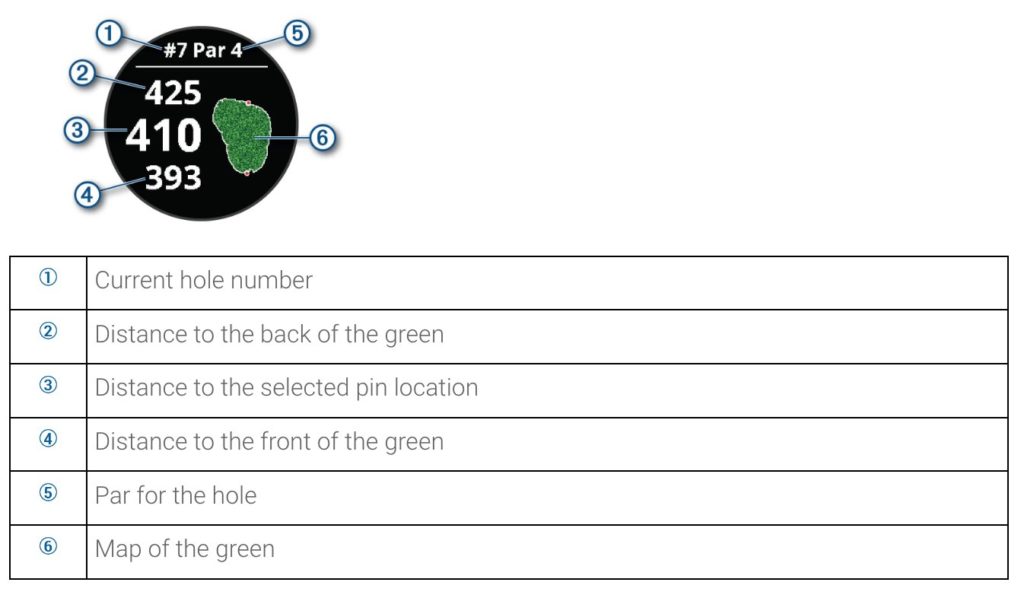 If you want to measure specific distances then you can also move the pin to your heart's content. It's also possible to see things like doglegs, layup spots and hazards on every hole that you visit.
The watch will show you the distances of the hazards, the kind of hazard you're facing and where it actually is on the green.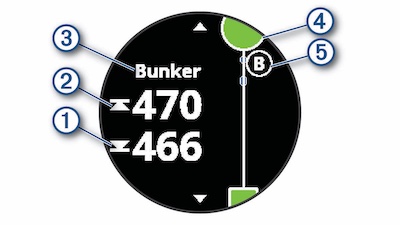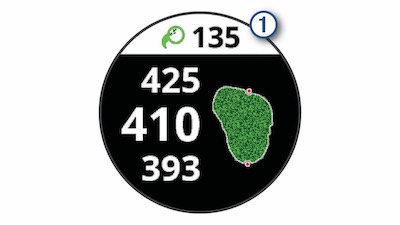 In addition to this, you can also see the shot distance when you hit the ball, and it will keep a record of that in the watch that you can see.
After you have finished your golf round you can then take a look at the history of the round to see how you did and how you can improve.
In case you're bad at keeping score, the watch will also do all of the heavy lifting for you so that you don't have to worry.
---
Specifications
Size – 45 x 45 x 13mm
Glass – Gorilla Glass 3
Material – Stainless Steel/polymer
Touchscreen capability
Quick release bands
Material of strap – silicone
Size of screen – 1.3 inches
Weight – 50 grams
Water rating – 5 atm
Battery – 18 hours when used in GPS mode
Courses – more than 41,000
Distance on green and from hazards/doglegs/layout
No preloaded courses – need to manually download from phone
Scorecard
Shot distance
Stat tracking
Pinpointer
Manual pin placement
Autoshot
Club tracking needs CT10 to work
---
Other Features
If you want a watch that's good for more than just golf, you will be happy with this particular option.
In the event that you would prefer to have something just for golf then you may be better suited to the S60, but if you want to have a bunch of other additional features then you are sure to love the Vivoactive 4.
This watch can be used for tracking your general fitness, and you can use it for other sports activities like running, cycling, swimming and so much more. The main features worth talking about are health, fitness and sleep tracking.
With this you can keep track of your daily steps, hydration, calories, quality of sleep and if you want to then you can even look at your workouts on the watch screen. As we previously mentioned it's also possible to play music right from the watch itself.
This makes quite the difference from a lot of other fitness watches where it is only possible to control the music using your phone. You can use Spotify or Amazon Music with this watch.
You will also get a built in GPS with the watch which is incredibly handy. It can be used for a range of different activities including boating, hiking and driving.
With this, there will be no need to carry around a huge, heavy GPS device when you're going from one place to another. With the watch you will get over 20 sports apps that you can use that are pre-loaded onto the device.
Some of these include climbing, cycling, running and swimming, though there are plenty more than just this. If you are very active then this will certainly be useful for you.
---
Design Of The Watch
One of the best things about this watch other than the features is the way that it's actually designed.
We were pretty fond of the design of the 3, but the 4 looks a million times better. If you're making a choice based on the aesthetics of a watch, you'll certainly be happy with this offering.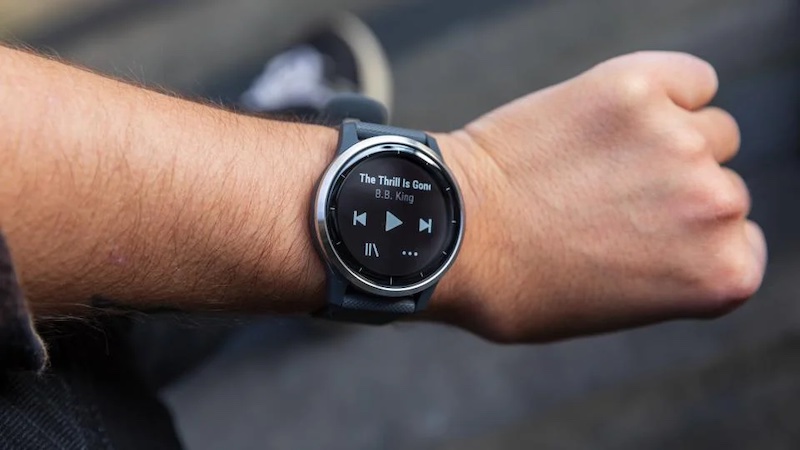 It's not just the aesthetics either. As we mentioned before, there are two sizes available with this watch.
The 3 before it would only give you a 43mm option, whereas you can get a 40mm or a 45mm option with this.
You can choose which one works for you and is most likely to be comfortable. It may seem like a minor thing to mention but it's something that we were certainly happy about.
---
Performance
So, what's the performance like on this watch? Let's start off by talking about two main things – what's the battery like, and how are the golf features?
These are the things that you are most likely to be wondering since you're here to find a watch for golf. The battery is the first point of discussion. What's great about this watch is that allegedly it lasts around an hour longer than its predecessor when it's used in smartwatch mode.
It's honestly not too different from its predecessor despite this claim, but it's plenty good enough either way.
If you're using the watch normally and the GPS isn't always running, this watch can run for around a week without any trouble.
When you are using the features, it tends to last for a few days. In essence, you really don't need to panic about a poor battery life with this watch – you will be covered.
Okay then, what about the golf features? It's worth noting that this watch isn't nearly as good as the S60 as a golf watch, but it's still very good to use for golf. It's a lot like the Garmin S10/S20 in many respects, and is an all around decent sports watch.
The GPS is fairly accurate, with around 5 yards of error, give or take. This is pretty great for most people.
Conclusion
If you're a golfer that is looking for a high quality watch to help you to improve your game, then the Garmin Vivoactive 4 is most certainly a fantastic choice for you.
It's a versatile watch that will be suitable for a variety of different sporting activities too, so you can use it even when you aren't on the golf course.
It's definitely worth considering this fantastic watch.