The Fitbit Sense 2 has been a revelation, and it might be the best device for you.
It has accurate fitness, health, stress, and sleep-tracking mechanisms, which are considered needs for sports and wellness enthusiasts like golfers, joggers, and tempo runners.
It offers blood glucose tracking, relax breathing sessions, automatic exercise tracking, and a multi-path optical heart rate sensor, which elevates the game for a smartwatch device.
Although it has a wide variety of apps, one of the downsides of the new Sense 2 is its lack of third-party app support, such as in Google Maps, Google Play Store, Google Assistant, and Google Wallet.
Nonetheless, this Fitbit device is still interesting to look at in-depth — especially if you're a golfer — and that's what we'll do in this Sense 2 review.
---
First Thoughts On The Fitbit Sense 2
As we laid our eyes (and hands) on one of the new Fitbit models, the Sense 2, mixed emotions came rushing through because of its advanced fitness specifications helpful in managing a golfer's health.
First, we love how it became 10% thinner and 15% lighter than the original Sense, making it a compatible watch on the go, especially when you need to switch golf courses.
It also has a physical button and rounded edges, enhancing functionality and appearance that can match any golf attire.
More than that, the apps connected to the new sensors make this smartwatch one of the premium choices on the market (possibly an Apple Watch Series 8 and Google Pixel Watch alternative).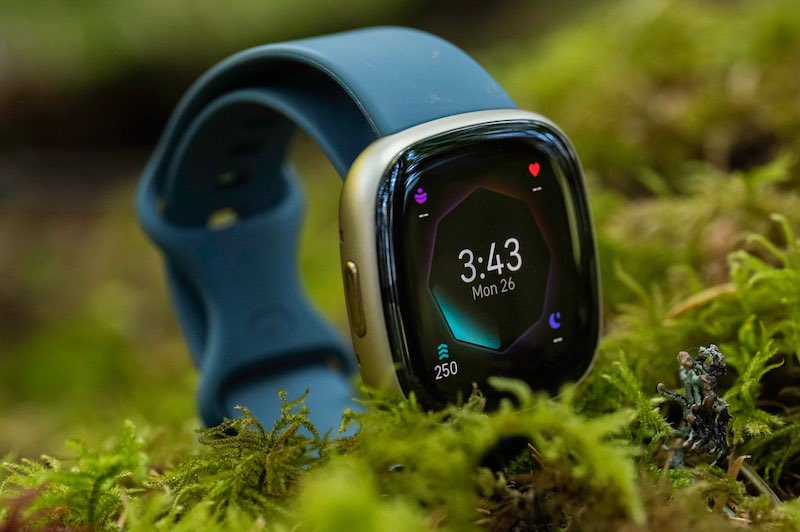 To give you a glimpse of what we're gushing about, here's what you can expect:
Electrodermal Activity (EDA) scan for stress management (higher score, fewer signs of stress) through tracking the skin's sweat level.
Skin temperature sensor to track if you have a fever and other important health matters.
Sleep profile and sleep score to analyze your sleeping pattern and sleeping quality data.
Aside from these features, you can also set up phone calls and Fitbit app notifications from your phone to the Sense 2.
However, what we don't like about the Sense 2 are the following:
The always-on display mode, which causes frequent charging.
Lack of Google support as a third-party device.
Nevertheless, the Sense 2 has quick settings where you can quickly turn off the always-on mode, and it also has built-in Alexa to replace Google's Assistant feature.
Our Pick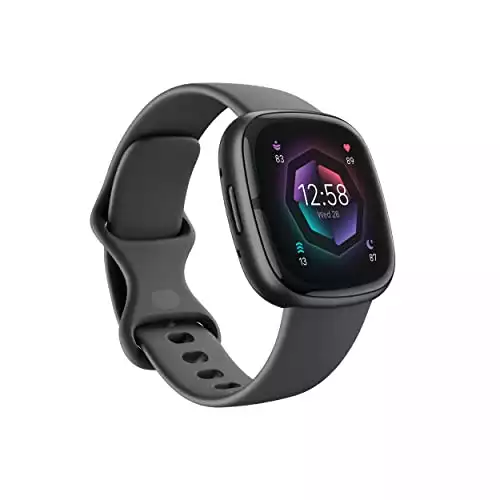 Fitbit Sense 2, Advanced Health and Fitness Smartwatch with GPS
Learn to manage stress & sleep better with the most advanced health & fitness smartwatch from Fitbit.
Measure and improve sleep quality: personalized Sleep Profile(5), daily sleep stages & Sleep Score, smart wake alarm and do not disturb mode.
Enhance activity: built-in GPS and workout intensity map, Daily Readiness Score, Active Zone Minutes, all-day activity tracking and 24/7 heart rate, 40+ exercise modes and automatic exercise tracking.
Designed for all-day wear: on-wrist Bluetooth calls (coming soon), texts and phone notifications, customizable clock faces, Fitbit Pay, Amazon Alexa built-in, Google Wallet & Maps (coming soon), sleek, slim and water resistant to 50 meters, 6+ day battery & fast charge.
Some of the links on this website are affiliate links. This means that, at zero cost to you, we may earn an affiliate commission if you click through the link and finalize a purchase.
11/22/2023 12:18 pm GMT
---
Main features of Fitbit Sense 2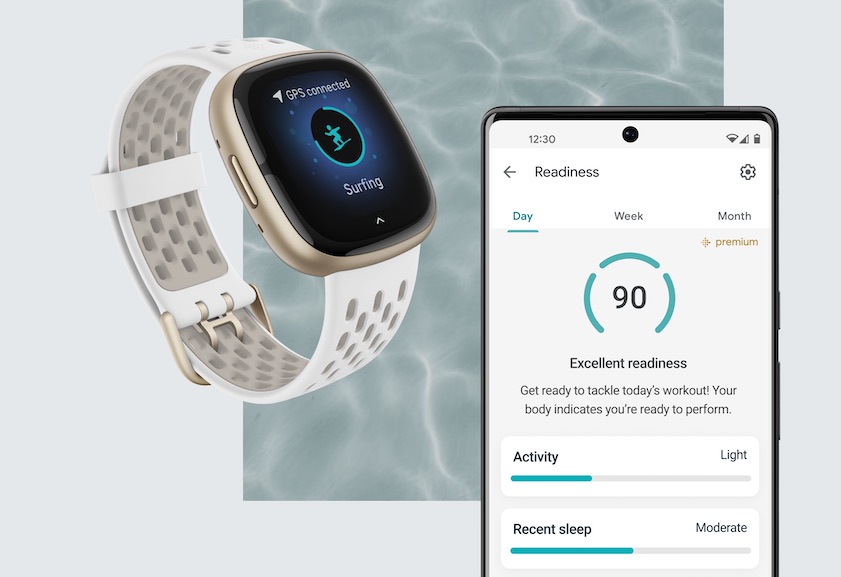 Lithium polymer as battery type for longer battery life that can last 6 or more days of consecutive golfing
Multi-path optical heart rate sensor for resting heart rate, sleep patterns, and calorie burn monitor helpful in overall heart rate tracking
Inclusive operating system catering to iOS and Android users
Automatic exercise tracking app with built-in GPS and GLONASS
Health features include a skin temperature signal and an EDA sensor that elevates stress management features
---
Pros and Cons of Fitbit Sense 2
Pros
10% thinner and 15% lighter
6-day (or more) battery life
Stress, sleep, health, and fitness tracker
Cons
Only has built-in Alexa without Google Assistant and Google Wallet
---
Specifications
These are the main specifications of the Fitbit Sense 2.
Size – 1.5″ L x 1.5″ W x 0.45″ H
Glass – Corning Gorilla Glass 3
Material – Aluminum
Battery life – 6+ days
Charging time – 2 hours (0-100%)
Color – Shadow Grey, Lunar White, Blue Mist
Payment method – Fitbit pay
Heart Rate Monitor – Yes
Software – New Fitbit OS
Water-resistant – Yes
Operating Temperature – -14° to 113°F
Package inclusions – Sense 2, small and large bands, charging cable
---
Other features
Sense 2 has a variety of features, including the following:
Breathing rate
Exercise modes (e.g., indoor climbing)
Heart rate variability
50-meter swim-proof
Active zone minutes
---
Golf features of the Fitbit Sense 2
Similar to Fitbit devices like the older sense model, Versa 2, Versa 3, Versa Lite, and Ionic, the Sense 2 can connect with different Golf apps.
This Fitbit app feature works because of the incorporated Global Positioning System, which allows pace and distance tracking at the comfort of your wrist.
---
Conclusion
With all its new and enhanced features, this Fitbit device is a great watch on the market that can satisfy your essential health and fitness tracking needs with its accurate sensors.
However, we admit that its price doesn't match the range of features offered. Yet, it can still be of big help as it's an ideal smartwatch for golfers.
Nonetheless, you can buy other Fitbit smartwatches at a much lower price that can match the Apple Watch series and Google Pixel Watch, like the Fitbit Versa 4.
---
FAQ – Fitbit Sense 2
Can you use Fitbit Sense for golf?
Yes, you can use it for golf, as the Global Positioning System is integrated into its setup, which helps monitor pace and distance.
Does the Sense 2 have a built-in GPS?
Yes, the Sense 2 has a built-in Global Positioning System which can be used even without connecting to the phone.
Is Fitbit's Sense 2 a good watch for golfers?
Yes, this is the best for golfers among Fitbit's models because of its tracking features, which enable more data monitoring.
Is the Fitbit Sense 2 waterproof?
Yes, this smartwatch is waterproof as it has the Swimproof feature, allowing it to immerse in at most 50 meters of water.