If you're looking for a smartwatch that has a lower price than the Apple Watch SE and Garmin watches, a Fitbit Versa 4 is worth looking at.
This Fitbit model offers features to track heart rate, blood glucose, and sleeping pattern, a Fitbit app that can wake you optimally, different workout modes to keep you monitored, and an integrated Global Positioning System.
Yet, what we don't like in this new watch is the unavailability of third-party app support, specifically Google Maps and Google Wallet.
To know what else the Fitbit Versa 4 can offer to a golfer like you, we have this article all about the Fitbit Versa 4. Read through!
---
First Thoughts On The Fitbit Versa 4
Fitbit has been selling a new generation of watches that can rock the world, like the Fitbit Versa 4. It resembles the new Fitbit Sense 2 but lacks an EDA sensor, skin temperature sensor, and ECG app.
Nonetheless, in terms of price comparison, the Versa 4 is more economical, especially for those who want to use the smartwatch for golfing and other light-intensity sporting activities.
Moreover, we were amazed that the Versa 4 could charge in 12 minutes and give you a full day's worth of battery life, which is enough as the average golfing time is around 4 hours and 30 minutes.
It also has a haptic button instead of a physical button which makes touching the button feels more comfortable and immersive.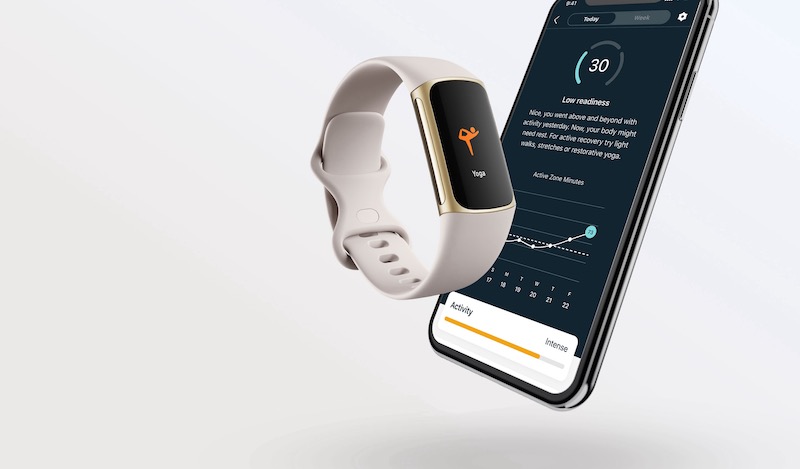 When buying this fitness tracker, you also get to have access for six months to the Fitbit Premium membership, which includes the following:
Video workouts
Mindfulness sessions
Sleep Profile
However, we were disappointed that it lacks specific essential details, like:
Google third-party support
Music support
Wi-Fi activation
Regardless of these missing links, this device still provides a stable connection (improved a few weeks after release) with the GP System and Alexa (long press needed).
All these help you achieve a better experience in fitness and workout, especially when golfing.
Our Pick
Fitbit Versa 4 Smartwatch with Daily Readiness, GPS, Golf Features
Get inspired and stay accountable with Versa 4 + Premium - learn when to work out or recover, see real-time stats during exercise and find new ways to keep your routine fresh and fun
Built for better fitness results: Daily Readiness Score(1), built-in GPS and workout intensity map, Active Zone Minutes, all-day activity tracking and 24/7 heart rate, 40+ exercise modes and automatic exercise tracking
Tools to measure and improve sleep quality: personalized Sleep Profile(1), daily sleep stages & Sleep Score, smart wake alarm and do not disturb mode
Some of the links on this website are affiliate links. This means that, at zero cost to you, we may earn an affiliate commission if you click through the link and finalize a purchase.
09/26/2023 07:37 am GMT
---
Main features of Fitbit Versa 4
Heart rate tracking with high and low-rate notifications to monitor you while on the golf course
Blood glucose tracker to quickly check your levels even before, during, and after eyeing for a hole-in-one
Smart wake alarm for alarm system based on your sleeping patterns, stirring you up before a crucial golfing game efficiently
Exercise modes to keep your exercises on track, including community challenges
In-built Global Positioning System to help elevate your golfing game as you can track the exact location, distances from yards and hazards, and pacing
---
Pros and Cons of Fitbit Versa 4
Pros
User-friendly simple workout screen & side button
Excellent battery life lasting six or more days
Higher syncing range of 30ft
Efficient GP System tracking
Cons
Heart rate tracker tends to be unreliable in high-intensity activities
Unavailability of third-party apps
---
Specifications
These are the main specifications of the Fitbit Versa 4.
Size – 45 x 45 x 13mm
Glass – Gorilla Glass 3
Material – Stainless Steel/polymer
Battery life – 6+ days
Charging time – 2 hours (0-100%)
Color – Black, Waterfall Blue, Pink Sand, Beet Juice
Payment method – Fitbit pay
Heart Rate Tracking – Yes
Syncing Range – 30 ft.
Water-resistant – Yes
Operating Temperature – -14° to 113°F
Package inclusions – Versa 4, small and large bands, charging cable
---
Other features
The Fitbit Versa 4 is a good watch that is cheaper compared to others, even the Fitbit Sense 2.
It has other essential qualities that make it a cop for golfers, like:
Find My Phone
Automatic exercise tracking
Stress management score
Motivational community challenges
---
Golf features of the Fitbit Versa 4
As Versa 4 users, you can jump with joy as the GPS integration allows you to download the Pocket and Golf GPS applications.
Although it cannot record your golf swing, it can still give you accurate measurements of your cardio fitness, blood glucose, steps, distance, calories, and breathing, which can help you be in the best state when swinging your shot.
More importantly, you can connect your data to your phone as it has Bluetooth 5.0 and is compatible with the following:
Apple iOS 13.3 and above
Android OS 8 above
---
Conclusion
With the visually-appealing design of the Versa 4, including the well-thought-of incorporation of fitness trackers and health applications, this smartwatch is a good one for golfers.
Although it has its lapses in terms of Google support, music, and high-intensity workouts, the Fitbit Versa 4 is still a great golfing GPS watch with a lesser cost compared to the Sense 2.
---
FAQ – Fitbit Versa 4
Can you use Fitbit Versa for golf?
Yes, you can use this for golfing with its GPS and other apps accurately designed, for example, to monitor a golfer's health and wellness.
Does the Versa 4 have a built-in GPS?
Yes, it has GPS with high efficacy in tracking locations, distance, and pacing, showing on the screen.
Is Fitbit Versa 4 a good watch for golfers?
Yes, it's a good watch for golfers as it makes use of GPS technologies (i.e., Pocket Golf App and Golf GPS App).
Is the Fitbit Versa 4 waterproof?
Yes, it has a water resistance feature that can survive at most 50m in a shower or pool.