A good golf GPS device can be an excellent tool to help your game on any golf course. But they are not all created equally. This is why you should read articles like this one that do a deep dive in assessing such devices.
This article is focused on the GolfBuddy Voice 2, and we're going to start with the basics, explaining what it is and what it does.
Then we're going to look at how this newer model is different from the original version. I will then present to you my personal experience using the device, before summarizing the device's various pros and cons.
I will then wrap up with my final verdict, before adding another handy section where I answer some of your most frequently asked questions on the subject.
Please feel free to scroll ahead to any section that catches your attention.
What Exactly Is The GolfBuddy Voice 2?
If you missed the original model, you might be forgiven for wondering just what exactly is the GolfBuddy Voice 2. It's basically a small, portable golfing GPS unit that speaks to you.
I guess the best way to describe it more fully is to start with what the original model did, and expand on that with the features of the newer model.
What Do The GolfBuddy Voice Devices Actually Do?
It features thousands of golf courses from all over the world already downloaded onto the device. And you can download more.
How It Compares To Regular HandHeld GPS Units
They are significantly smaller than a regular handheld GPS unit, and feature a clip on the back of the device.
This makes it much more lightweight than a regular GPS unit, though the presumably smaller antenna doesn't seem to affect the ability of the device to get a good satellite signal on the golf course.
The great thing that makes it quite different from regular GPS trackers is that you don't have to pay any subscription fees in order to use it. And you don't get charged for extra downloads. All there is to pay is the one-off purchase for the device itself.
What The Device Actually Does
Once turned on, the device will look for a satellite signal, and once found it will detect which hole you are focusing on, and you can press a button for yardages to the center, front, and back of the green. It can bring up a picture of each hole. And, perhaps more importantly, it can also tell you how far you've hit each shot.
And the beauty of having this data conveyed to you by voice, is that you don't have to go fishing around to look at the display, you can just listen to the yardages, without removing your eyes from your surroundings and preparing for your next shot.
Each device is completely rechargeable, so you can ensure your device is fully charged before you go play a round or two.
Where To Keep Your GolfBuddy Voice Device On The Course
The great thing about the clip on the back of the device is that this means you can just clip it to your cap or to a pocket, or to your belt, or to your golf bag, keeping your hands free for other things, like your clubs or your sunglasses or whatever.
I would argue that the best place to keep the device is clipped to your sun visor. That way it's right by your ear, so you can hear the yardages crisp and clear.
What Are The Advantages Of the GolfBuddy Voice 2 Over The Original Model?
In fairness, the GolfBuddy Voice 2 has quite a lot in common with the original model. But that said, it does have a little more to offer and has been considerably beefed up.
For example, the Voice 2 has an extra 2,000 more golf courses than the original model, taking the new total to a whopping 40,000 courses altogether, which puts it on a par (excuse the pun!) with Garmin golf GPS devices.
But the upgrade does not stop there. Whereas the original model has a battery life of just 9 hours on a full charge, the battery life of the Voice 2 comes in at more than one and a half times that at a full 14 hours on a full charge.
The Voice 2 model is also available in 11 different languages, including English, Spanish and French. This requires the use of the GolfBuddy Manager, which is free to use. The original model featured only 8 languages.
And another great thing about the Voice 2 over the original model is that it can show you the front, middle and back of the green all at the same time.
Our Pick
GolfBuddy Voice 2 Bundle
PLAY MODE: Provides yards (or meters) to the front, back and center of the green of the course hole being played.
SHOT DISTANCE MEASUREMENT: Measure the distance covered by each golf shot.
DYNAMIC GREEN VIEW: View current hole number, par information, and shape of the green for current hole.
MULTI-LINGUAL: Choose between 11 display languages, 8 preloaded.
Some of the links on this website are affiliate links. This means that, at zero cost to you, we may earn an affiliate commission if you click through the link and finalize a purchase.
05/23/2022 04:15 am GMT
My Personal Experience Of The GolfBuddy Voice 2
I must admit that when I first heard about the GolfBuddy Voice, I had imagined that it hadn't been built to be sunlight readable, because the manufacturer would concentrate more on the audio rather than the visual aspect of the device.
However, I was pleasantly surprised to see no glare on the display, and I found it clear and easy to read, even under direct sunlight.
I was also surprised that the Voice 2 doesn't weigh any more than the original did. I'd have thought with the extra tech it might be heavier, but that was not the case.
I also liked that it's available in a choice of colors, namely pink, blue and black options. (My favorite is the pink one).
When I had the device clipped to my belt, I struggled to hear it clearly, but when I clipped it to my visor, I could hear every word crisp and clear.
I also liked the fact that I could switch between using a male or female voice. I found the male voice was much clearer.
I've used various GPS devices on the golf course before, so I already knew just how much they can help my game.
I took a Garmin GPS device with me when testing the device, and I found that the yardages always matched, so I'm very pleased with the device's accuracy.
Pros
It's very reasonably priced
Audio readouts of yardages
Choose male or female voice
Convenient clip on the back
Cons
Poor after-sales support
Display is basic and not in color
No slope or elevation compensation
Relatively short product lifespan
---
GolfBuddy Voice 2 – FAQ's
How Accurate Is The Golf Buddy Voice 2?
The Golf Buddy Voice 2 is accurate to within +/-1 yard, which is about the same level of accuracy you would get with a laser rangefinder, which is pretty impressive if you ask me. It's all the accuracy you need.
Wrap Up
I would argue that the GolfBuddy Voice 2 is excellent value for money.
It has all the features you would want in a GPS device for the golf course, and with some excellently convenient features besides, such as audio readouts of yardages, and the fact that you can use it completely hands-free.
A worthy investment. And you can use it straight out of the box.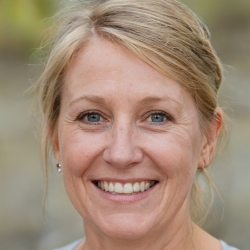 Latest posts by Naomi Hagen
(see all)