Many golfers choose to rely on a caddy, to help to keep a measured eye over the game, and to provide support and recommendations to the player.
But not all of us have a caddy, and nor do we always have the money to afford to pay one.
So what do we do without a caddy? Utilize technology! Modern golf is blessed with the invention of countless smart caddy devices that seek to make playing golf relaxing, stress-free, and even more rewarding.
Amongst many of the popular smart golf handhelds is the Golf Buddy VTX Talking Handheld GPS.
---
How Accurate is The Golf Buddy VTX?
One of the most vital features of this device is its GPS. It's the reason you'd want to pick it up in the first place!
So how accurate is it? In our tests, we found that the device was incredibly accurate, and gave us a great reading of the course ahead of us. It was also able to give us an accurate sense of our position within a course so that we were always sure where we were.
The map system makes use of both GPS and GLONASS, which is the Russian equivalent to GPS. This gives it double the accuracy compared to other devices of its ilk.
When you're looking to find out your exact distance from the hole, this is the perfect device to tell you.
Much like a human caddy, the Golf Buddy VTX will suggest which of your clubs you should use, and how much power you should put into your swing, in order to reach the hole with one stroke.
This is great for improving your play in the moment but also helps you to train as a player in the long term, as you can more easily teach yourself how to control your swing.
How Easy Is The Golf Buddy VTX To Use?
This is another area where the Golf Buddy VTX device really shines. The device itself is simple in its design, with only two buttons; one on the face, and another on the side. These help to control basic on and off functions.
The unit is considerably large but still lightweight. This makes the screen very easy to read while out on the course, while also being easy to place into your pocket or into a bag.
The user interface of the digital display itself is simple and efficiently designed, with great use of shape and color to denote different menus and functions.
Navigating through the various digital menus is a breeze, and simply takes a few button presses.
The main map screen features all of the information you would need at a glance, with advanced and in-depth information being accessible with just a few taps through the various menus.
The map itself uses clear colors to denote the various terrains of the course, with contrasting colors used to display distance and power information.
And it would be foolish to not mention the main attraction with the Golf Buddy VTX; the automated voice function.
With the option to choose between a male or female voice, you can receive spoken advice, recommendations, and information about your play, and the golf course.
This helps you to keep your mind entirely focused on the game, while also feeling like there is a personal element to the GPS device.
What Is The Battery Life Of The Golf Buddy VTX?
Despite its incredible wealth of features, the Golf Buddy VTX actually boasts an incredible 15-hour battery life, when in GPS mode.
This is an incredible length of time, which would more than account for multiple games in a single day.
And to make the deal even better, the device can easily be recharged, in around 1 to 2 hours. This means that should you ever have to charge it mid-game, you won't be waiting around too long for it to reach full charge!
You could even easily charge the device with a portable charging device, to allow you to increase its 15-hour lifespan even more!
We cannot possibly gush anymore about how good the battery of this device is. It's that impressive.
Can You Track Your Score With The Golf Buddy VTX?
Another potentially troublesome element of any game of golf is keeping track of your score. Luckily the Golf Buddy VTX helps to make scorekeeping as simple as a few button presses.
The digital scorecard makes it easy to keep track of your score, and compiles your scores over the course of a game so that you can quickly see your finishing score without having to calculate it yourself!
The digital scorecard can also be used to track the scores of 3 other players so that you can host some competitive matches easily, and all on one device.
The digital scorecard also allows you to save your scores to the device's memory, so that you can compare scores from match to match, in order to gauge performance improvements.
However, the only scores that can be saved are your own, which might be disappointing for some, but won't prove too troublesome.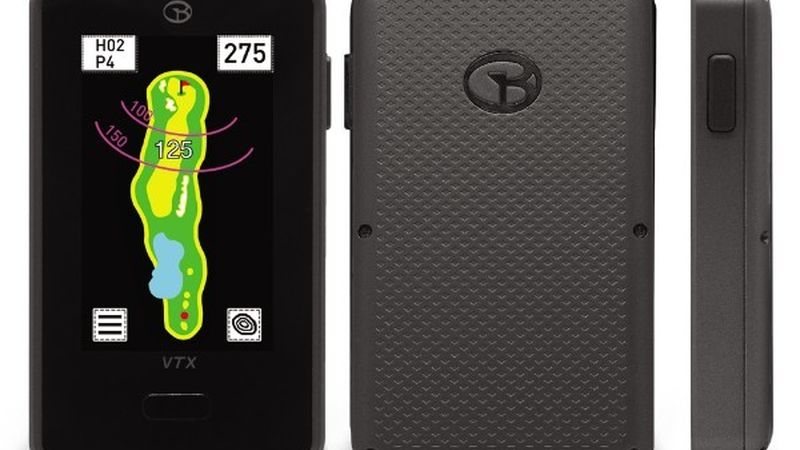 Can You Connect The Golf Buddy VTX To Other Devices?
Yes! One of the best features of the Golf Buddy VTX is its ability to connect to other smart devices. The Golf Buddy VTX makes use of Bluetooth to wirelessly connect to smart devices that have the Golf Buddy smartphone app installed.
The Golf Buddy app is incredibly simple and easy to navigate and allows you to access even more in-depth map and GPS data, to improve your day-to-day golfing.
You can also use the application to find any Golf Buddy devices that you may have lost.
Through the use of Bluetooth, your phone can search for the paired Golf Buddy device. However, this can only be done at a close range, such as if you lose it at home, or in a bag.​
---
Our Pick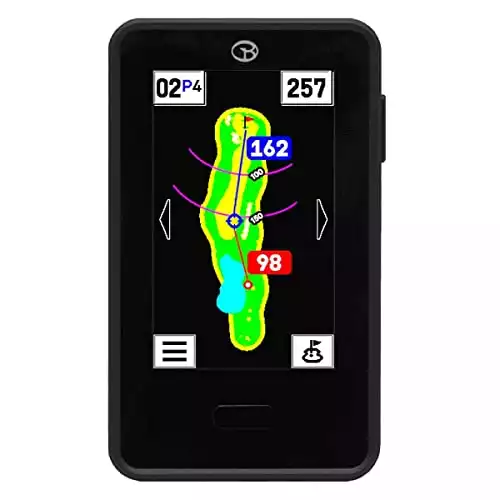 Golf Buddy VTX Talking Handheld GPS
Golf Buddy's handheld comes jampacked with features like voice audio and bluetooth connectivity. It's slim, lightweight design make it the ultimate rangefinder that offers the fine golf GPS experience. Pre-loaded with an 38,000+ global courses, the Golf Buddy VTX continues to innovate in the handheld category.
Automatic course and hole recognition. Option of male or female voice. Plastic holster included. Distance to hazards. Automatic course update wirelessly with Golf Buddy Smartphone App. Preloaded with over 38,000+ global golf courses. Colored hole layout with current position of the player. Slim, lightweight design. Rechargeable lithium-ion battery provides up to 15 hours in GPS mode.
Pros:
Incredibly large and vibrant screen

The VTX can connect to a compatible smart device

Automated voice function

The VTX is truly a valid replacement for a caddy
Cons:
Cost of the device is quite significant

Searching for a missing VTX device on the smartphone application can only be done at close range

The device does not always last for 15 hours on a full charge
Some of the links on this website are affiliate links. This means that, at zero cost to you, we may earn an affiliate commission if you click through the link and finalize a purchase.
Specs For The Golf Buddy VTX Talking Handheld GPS
Weight: 5 Pounds
Maximum Battery Life: 15 Hours
Battery Recharge Time: 1 – 2 Hours
Display Type: LCD
Dimensions: 8 x 6 x 4 Inches
Battery Type: Lithium-Ion Battery
Screen Size: 2.7 Inches
Screen Type: Touchscreen
Pros:
The VTX boasts an incredibly large and vibrant screen but is still incredibly lightweight, and perfectly sized for pockets or bags.
The VTX can connect to a compatible smart device and the associated application to access more in-depth map data. Using the application also allows you to search for missing Golf Buddy devices.
The VTX's greatest feature is its automated voice function, which communicates, through sound, how you are playing, and gives recommendations for which club to use, and how much power to put into your swing. The VTX is truly a valid replacement for a caddy.
Cons:
The cost of the device is quite significant, and this could be a major downside for some.
Searching for a missing VTX device on the smartphone application can only be done at close range, which makes a lost VTX difficult to find while out on the green.
Some users have reported that the device does not always last for 15 hours on a full charge, despite the battery life that has been advertised.
Conclusion – Is The Golf Buddy VTX Talking Handheld GPS Worth It?
We can say, without a shadow of a doubt, that the Gold Buddy VTX device is well worth the price of admission.
Though it may have quite a hefty price tag, the features, such as the spoken information, and the Bluetooth connectivity, make it all well worth it.
The device is easy to use and to read thanks to the large display, and its unassuming design.
The device is easy to control, with a touchscreen and a simple UI, as well as minimalistic buttons across the surface of the device.